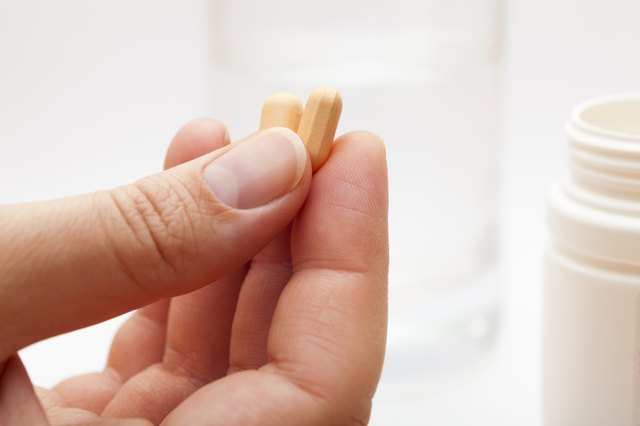 Multivitamins can generally help you meet most of your B-vitamin needs, including biotin. The B vitamins are a team of nutrients that give you energy through a series of conversions of macronutrients -- carbohydrates, protein and fat. While you may think that extra biotin can rev up your metabolism even more, it isn't likely to have any extra benefit. It's probably safe to take a biotin supplement in addition to your multivitamin every day, but get clearance from your physician first to be certain.
Why You May Want More Biotin
In addition to playing a role in energy production, biotin is often promoted as a miracle vitamin for growing strong nails and treating hair loss. However, research does not support claims that biotin supplements will definitely strengthen nails or minimize hair loss. Usually brittle nails and hair loss are signs of a biotin deficiency, which is rare. Cracked lips and rashes on your face are other warnings of a biotin deficiency. Thus, taking biotin and meeting your biotin needs could improve these conditions, if they are indeed caused by low biotin levels.
Safety of High Doses
Like most water-soluble vitamins, biotin doesn't stay in your system for long. Any amount that isn't needed simply leaves your body when you urinate. Because your system excretes it, biotin isn't generally toxic, even in large doses. While many vitamins have a tolerable upper intake level, letting you know the maximum amount you can have, biotin doesn't have an established toxic dose.
Potential Problems
Biotin interacts poorly with a few medications, so if you decide to take it alongside your multivitamin, you should check with your doctor first. Anticonvulsant drugs, certain antibiotics and therapeutic doses of pantothenic acid, or vitamin B-5, are some of the pills that can impact biotin absorption, possibly affecting how much you should take.
Multivitamin Considerations
The back panel of your multivitamin bottle lists all of the amounts of each nutrient, based on the percentage of daily recommendations. A multivitamin should ideally have 100 percent of each of the vitamins and minerals listed. Read through the list and look for biotin. If your multivitamin already contains 100 percent of it, you probably don't need to take any extra of the vitamin since it will just be flushed out. However, if your multivitamin doesn't have biotin or has a low amount of it, taking a separate biotin supplement could be warranted.