Chamomile tea is made from the flower heads of the chamomile plant. The medicinal use of chamomile dates back to the ancient Egyptians, Romans and Greeks. Side effects are minimal, but you should consult your physician before drinking medicinal amounts of chamomile tea. Select dried chamomile formulated from whole flower heads to get the most from your tea.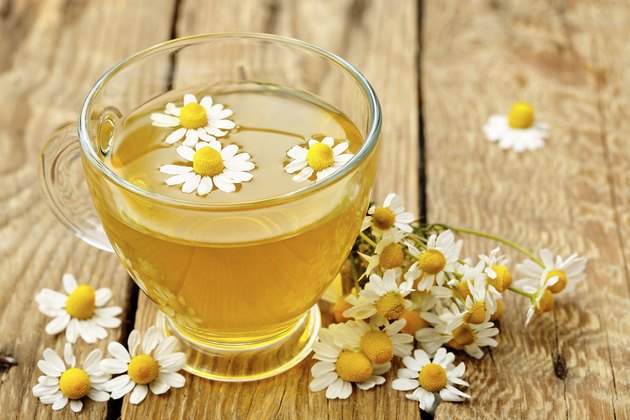 Internal Benefits
Chamomile tea is commonly used as an aid for digestion. Individuals with gastrointestinal complaints relating to indigestion, colic, ulcers, diarrhea, irritable bowel syndrome and gastritis may benefit from drinking chamomile tea. In addition, drinking chamomile tea may help relieve menstrual cramps and tension headaches. Laboratory studies indicate that chamomile has antibacterial, antifungal, and antiviral properties, notes the University of Maryland Medical Center.
Therapeutic Benefits
A study reported in the January 2006 issue of the "Journal of Agricultural and Food Chemistry" indicates that the therapeutic benefits of drinking chamomile tea include relaxed muscles and a boost to the immune system. The same study reports that chamomile tea acts as a sedative and helps fight infections associated with the common cold. The study found that drinking chamomile tea results in increased levels of hippurate, which is a byproduct of plant-based compounds called phenolics. Phenolics are known to increase antibacterial activity, which could explain the boost to the immune system and the increased ability to fight infections.
External Benefits
Chamomile is often used topically in a cream or ointment to soothe irritated skin, especially in Europe. It can help soften skin, may reduce skin rashes and inflammation, as well as provide sunburn relief. Preliminary evidence suggests that it may be moderately effective in the treatment of eczema, according to the University of Maryland Medical Center. You can apply chamomile inside your mouth to help relieve gum and other mouth irritations, but studies on its effectiveness for this use are conflicting. When used as a mouthwash, chamomile has been found to prevent mouth sores associated with radiation and chemotherapy. Add chamomile tea to a warm bath or soak a cloth in warm chamomile tea to make a compress prior to applying it to external surfaces.
Side Effects
While chamomile tea is considered safe, side effects such as nausea and vomiting may result from tea made with high concentrations of chamomile. Allergies related to daisy and aster plant family may indicate an allergy to chamomile; consult your physician prior to drinking the tea. Pollen allergies, such as hay fever or ragweed, may also indicate a potential allergy to chamomile. Chamomile is a natural blood thinner and as such, if you take blood thinner medications you should avoid drinking chamomile tea.