What to eat before and after working out is a hot topic. Before your workout, the goal is to energize your body to sustain exercise. After working out, your muscles may be fatigued and therefore need replenishment. Consuming peanut butter after a workout may maximize how quickly you recover.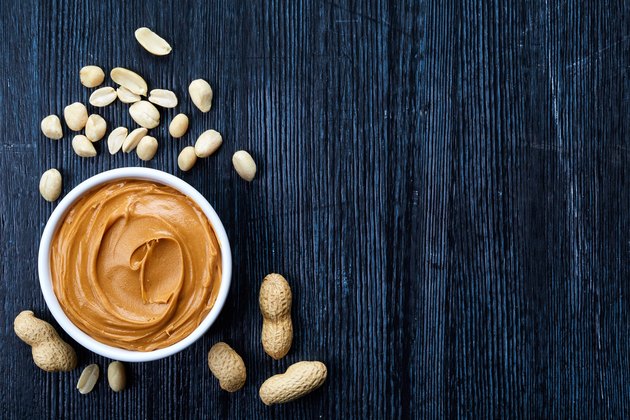 Peanut butter is one of the most popular nut butters. It is accessible, affordable and delicious. Certain peanut butters can also provide a decent amount of healthy fat and protein. For people who are not allergic to peanuts, peanut butter can be part of a healthy post-workout snack.
Pre-workout drinks and post-workout snacks are popular ways to fuel your body leading up to exercise and replenish afterwards. Peanut butter is a potent source of calories and nutrients that can easily be incorporated before and after working out.
Peanut Butter Nutrition Facts
Peanut butter is commonly referred to as a healthy source of fat, but that is not the only nutrient that makes this nut butter a great post-workout snack. Peanut butter is also a great source of protein, carbohydrates, omega-6 fatty acids, potassium, magnesium and vitamin E.
96 calories
3.5 grams of protein
8 grams of fat
3.5 grams of carbohydrates
Since peanut butter is a good source of protein, it can be part of a high-protein snack or meal after a grueling workout. To stay within your macronutrient targets, look for a peanut butter brand with peanuts as the main ingredient. Some peanut butter brands are higher in calories, saturated fat, sugar and sodium from added ingredients.
The carbohydrates in peanut butter can also provide energy before a workout. The body converts carbohydrates into ATP molecules, which can be used for energy. Carbs are also stored as glycogen for later use. It is not uncommon for professional athletes to load up on carbohydrates before a training session.
Health Benefits of Peanut Butter
Peanut Butter for Weight Loss
To lose weight, one must create a caloric deficit. This can be accomplished through exercise, diet or a combination of the two. To create a caloric deficit through diet, first establish your basal metabolic rate and subtract a certain amount of calories from your food consumption. To lose one pound per week, you would ideally subtract 500 calories per day from your caloric intake.
Peanut butter is a tasty source of many nutrients. Though it is not considered a low-calorie food, peanut butter can be part of your weight management program. It has even been shown to promote weight loss in both adults and children.
In an October 2018 study published in the European Journal of Nutrition, researchers found a positive correlation between nut intake and reduced weight gain in adults. Over the course of five years, participants who had the highest consumption of various nuts, including peanuts, had a lower risk of becoming obese or overweight.
Eating peanuts and peanut butter may also help children maintain a healthy body weight. A 2015 study published in the Journal of Applied Research on Children found that overweight children in the high peanut consumption group saw significant greater decreases in BMI than the low adherence group.
Peanut Butter for Building Muscle
Peanut Butter After a Workout
Experts agree that snacking on peanut butter after a workout provides a healthy source of protein, fat and other nutrients. The calories will refuel your fatigued muscles and the micronutrients will help prevent nutritional deficiencies.
Peanut butter also has proven health benefits, and it can aid in both weight loss and muscle gain. Depending on your fitness goals, you may want to consume more or less peanut butter. Remember that a 2-tablespoon serving of peanut butter has nearly 200 calories.
Some post-workout snack ideas with peanut butter include:
Peanut butter on whole grain toast
Brown rice cakes smeared with peanut butter
Peanut butter dressing on quinoa salad
Dollop of peanut butter on oatmeal
Though peanut butter is not a complete protein source, it can be combined with other proteins to provide all the essential amino acids after a workout. As long as you consume peanut butter with other proteins within two hours of your workout, you will reap the post- workout benefits.