All carbohydrates aren't alike. While some foods in this group are extremely healthy, others are extremely unhealthy. Choose your carbohydrates carefully. Fruits, vegetables and whole grains are beneficial for wellness while sugary foods and refined grains are detrimental.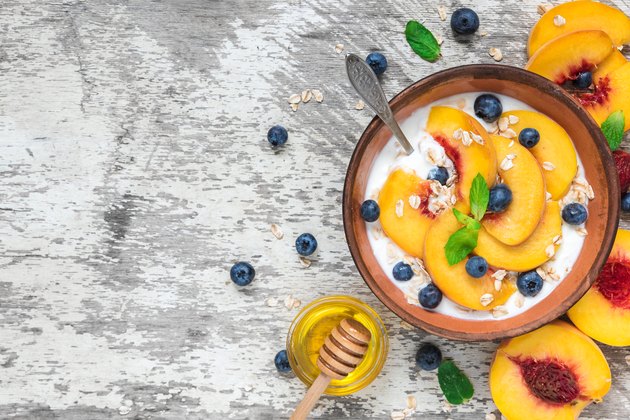 Types of Carbohydrates
Starches, also called complex carbohydrates, include lentils, peas and beans, along with vegetables like potatoes and corn. Other food sources of starches are grains, which can be subdivided into two categories: whole grains and refined grains, notes the ADA.
Whole grains involve unrefined grains like brown rice, oats, barley and baked goods made of 100 percent whole-grain flours. These grains are much higher in vitamins and minerals than refined grains, which include white rice and baked goods made with white flour such as white bread, pasta, crackers, cookies and cake.
Sugars encompass the natural sugars found in milk and fruit, as well as added sugars such as molasses, honey, brown sugar, white sugar, maple syrup and high-fructose corn syrup. Manufacturers use sugars from the latter category in a host of processed foods.
Fiber comes from the indigestible portion of plant foods. Sources include beans, fruits, vegetables, nuts and whole grains. No animal foods contain fiber.
Benefits of Healthy Carbohydrates
Carbohydrates have an array of health benefits, reports the Mayo Clinic. Most important is that they're the body's main source of fuel. A November 2014 article in Advances in Nutrition explains that carbohydrates supply glucose, which is the primary energy source of the brain, central nervous system and red blood cells. Glucose is also stored as glycogen in the muscles.
According to Harvard T.H. Chan School of Public Health, a diet plentiful in fruits and vegetables offers disease prevention. The foods can reduce blood pressure, prevent some types of cancer, improve blood sugar and curb appetite. In addition, they reduce the likelihood of heart disease, strokes, eye disorders and digestive maladies.
Whole grains contain bran, the fiber-rich outer layer of grain kernels, which is plentiful in vitamins, minerals and phytochemicals. Bran and fiber slow the breakdown of starch into glucose, which promotes a steady level of blood sugar rather than causing sharp spikes.
Fruits contain simple sugars, such as sucrose, fructose and glucose, which are associated with obesity. However, an October 2016 study published in Nutrients found that, instead of promoting weight gain, they have an anti-obesity effect. The authors attribute this benefit to the food's content of phytochemicals and fiber.
Aside from fruits, vegetables and whole grains may also help control weight, says the Mayo Clinic. Their fiber content promotes a feeling of fullness, which leads to lower calorie consumption.
Fiber also promotes regular bowel movements, lowers cholesterol and prevents blood clot formation that can lead to a stroke or heart attack. A mechanism of action that may underlie the effects of fiber is that it nourishes the beneficial bacteria in the gut, which has broad implications for wellness, notes the Physicians Committee for Responsible Medicine.
Effects of Unhealthy Carbohydrates
How Much Carbohydrate to Eat