The 2010 Dietary Guidelines for Americans recommend that you should get between 45 percent and 65 percent of your daily calorie intake in the form of carbohydrates. However, the Nutrition & Metabolism Society, an independent health organization, claims that most Americans, especially those who are overweight or affected with diabetes, can benefit from a carb-restricted diet. Fruits and grains are both significant sources of carbs in the standard American diet, as are starchy vegetables, sugar and legumes.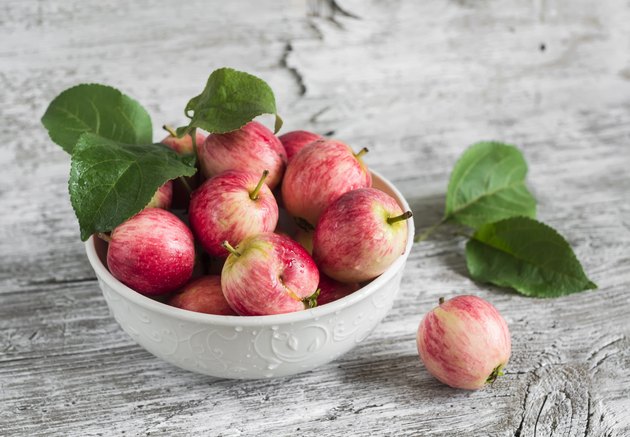 Carbs
Carbs are a macronutrient that can be divided into three distinct components called starches, sugars and fibers. The structure of carbs found in fruits and in grains differs slightly, but both kinds of carbs when digested contribute to raising your blood sugar levels after a meal. Only fiber does not raise blood sugar, because your body does not digest or absorb fiber. You can get fiber in fresh fruits but not fruit juices, as well as in whole grains but not in refined grains; fiber promotes regular and easy bowel movements.
Fruits
The main type of carbs found in fruits is sugar, including varying proportions of fructose, glucose and sucrose. Fructose and glucose consist of one single molecule of sugar, while sucrose is two molecules of sugar bonded together. These sugars can quickly be digested and absorbed into your bloodstream. A medium piece of fruit, or about 1/2 cup, provides an average of 15 g of carbs. Larger fruits such as a whole banana, a large apple or a large orange provide 30 g of carbs. Fresh fruits also contain fiber. Dried fruits have approximately 15 g of carbs per 2 tbsp serving, and an 8 oz glass of unsweetened fruit juice has approximately 30 g of carbs.
Grains
The carbs found in grains are mainly in the form of starches. Starch is a long chain made of many molecules of glucose attached to one another. After eating grains, the enzyme amylase can easily break down starches to obtain single molecules of glucose, which can be absorbed from your intestines into your bloodstream. A typical serving of grain products provides around 30 g of carbohydrates; a serving is two slices of bread, 2/3 c of cooked rice or pasta, or four small cookies. The fiber content of whole grains varies among grain products. In the case of refined grains however, fiber is stripped out during the manufacturing process.
Simple vs. Complex Carbs
The carbs in fruits are sometimes called simple carbs, and the carbs in grains are sometimes called complex carbs. However, the Harvard School of Public Health says that this classification is not helpful in assessing the healthfulness of different carbs; it says the glycemic index is more appropriate to distinguish between carbs that can make your blood sugar levels peak and those that help keep them more stable.
Glycemic Index
Whole fruits have a low glycemic index, which is beneficial for controlling your blood sugar levels. The glycemic index of grains varies depending on many factors. White bread, pretzels, bagels, white rice and most breakfast cereals, even the unsweetened brands, have high glycemic index values and can make your blood sugar levels spike. On the other hand, quinoa, millet, pasta, sourdough bread, steel-cut oats and basmati rice have lower values and can help prevent large variations in your blood sugar levels after eating.