When food enters the lungs instead of the esophagus, it affects breathing and can cause choking and other problems. The structures inside the mouth and neck each have a distinct role in breathing, speaking and swallowing. The swallowing mechanism is a complex process that, when it works properly, moves food to the esophagus for transport to the stomach. Dozens of muscles and nerves work to move food in the right direction. A piece of cartilage called the epiglottis plays a key role in ensuring that food does not enter the windpipe or the lungs.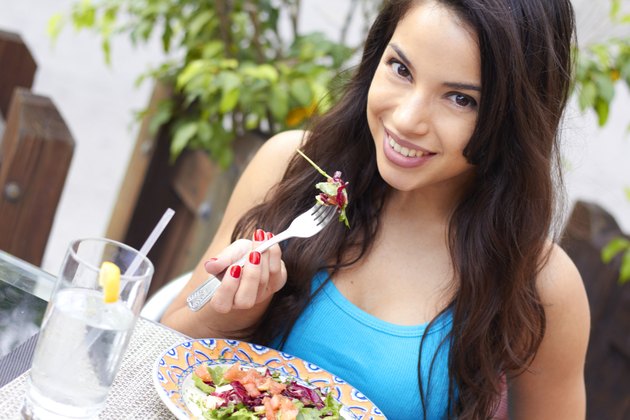 Breathing and Swallowing
The respiratory system consists of several organs, including the mouth, nose, larynx, pharynx, trachea and the lungs. The larynx is the voice box, the pharynx is the throat and the trachea is the windpipe. The esophagus and trachea, not part of the respiratory system, occupy an area that is located between the two lungs. The cartilage flap called the epiglottis is located in front of the larynx and behind the tongue.
Epiglottis
The epiglottis moves back and forth to prevent the passage of food and liquids into the lungs. The usual upright position of the epiglottis allows air to flow into the lungs and the larynx. When you swallow, the epiglottis flattens backward to cover the entrance to your larynx and prevent food from entering the lungs and windpipe. The epiglottis returns to its usual position after swallowing.
Swallowing Mechanism
The swallowing mechanism consists of three stages, beginning with the oral phase that begins in the mouth. The second stage, called the pharyngeal phase, triggers the swallowing reflex that moves food through the throat, or pharynx. During the pharyngeal phase, the larynx closes and breathing stops while food begins to move through the throat to the esophagus. The closing of the larynx is accomplished by the epiglottis. During the third stage, food is moved down the esophagus to the stomach.
Complications
You might occasionally experience "food going down the wrong way" after breathing food into your respiratory tract, which is called aspiration. Some medical conditions cause problems with swallowing. People with dysphagia have problems swallowing and might experience pain or the aspiration of food into the larynx, lungs and windpipe. Food can become stuck in the respiratory tract and cause breathing difficulties and choking. Aspiration of food can lead to aspiration pneumonia, which can damage to the lungs and cause blockage, infection and swelling. Inflammation of the epiglottis, a rare condition called epiglottitis, results from bacteria causing swelling of the epiglottis and is a life-threatening disease that requires emergency medical care and hospitalization.