Losing underarm fat does not demand the use of specialized gym equipment. In fact, the best way to get rid of excess body fat, under your arms and elsewhere, entails burning it off through cardiovascular exercise, resistance exercise and calorie control. You cannot target underarm fat with diet and fitness, but you can replace overall body fat with lean tissue wherever you tend to store fat. Once you have trimmed arm fat, focus on sculpting your triceps, pectoral and back muscles to tone your upper body. If you have injuries or medical concerns, speak with a doctor before implementing a weight-loss or exercise program.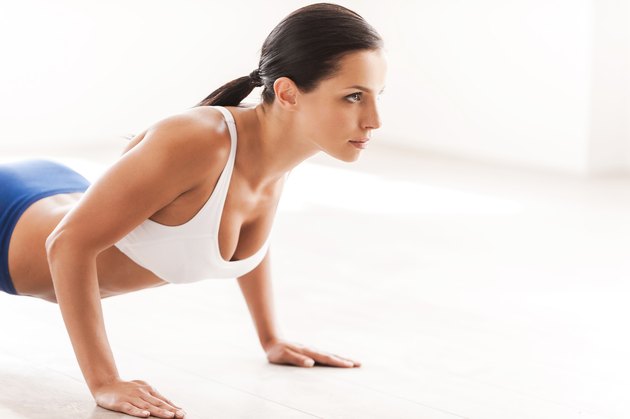 Step 1
Limit your daily caloric intake. Eliminate junk food and processed food and stick to single portions of whole foods from plant sources such as legumes, oats, quinoa, wheat berries, whole wheat, barley, fresh produce, nuts and heart-healthy fats such as olive oil, seeds and avocados. If you cut 500 calories from your daily diet, you may be able to lose 1 pound per week.
Step 2
Stay hydrated with plain water. Soda, energy drinks, coffee beverages, packaged smoothies and juice drinks contain added sugar and syrup, which pack on calories without providing much nutritional value.
Step 3
Exercise at a high intensity for a minimum of 60 minutes per day, every day. Burn more than 500 calories by doing vigorous workouts such as running, jogging, speed-walking, climbing hills or stairs, kickboxing, martial arts, swimming laps, high-impact dance or calisthenics. This regimen will help you burn 1 pound of body fat per week. Combined with cutting 500 daily calories through your diet, you may be able to lose 2 pounds per week.
Step 4
Add muscle-building work to your exercise regimen. Rather than use equipment, use your own weight for resistance. Consider power yoga, boot camp, circuit training or calisthenics such as jumping jacks, lunges, deep squats, planks, triceps dips and abdominal crunches. As you add muscle tissue, you raise your basal metabolism, burning more calories even while resting.
Step 5
Tone your arms, back and chest muscles with resistance exercises. As you trim fat, you will see the difference in having defined and toned muscles. Moves that work your upper body without using equipment include pushups, pullups, yoga sun salutations and triceps dips.