Sacroiliac joint injuries are painful and can undermine any runner's training schedule. A large pair of joints located in the buttocks region on either side of the base of the spine, the SI complex includes much of the rear part of the pelvic girdle. Each SI joint is stabilized by an intricate set of ligament connections and supported by a network of muscles. When you are upright, the SI joints support the entire weight of your upper body. It is easy to imagine how SI joint pain can bring even the most enthusiastic runner to a halt.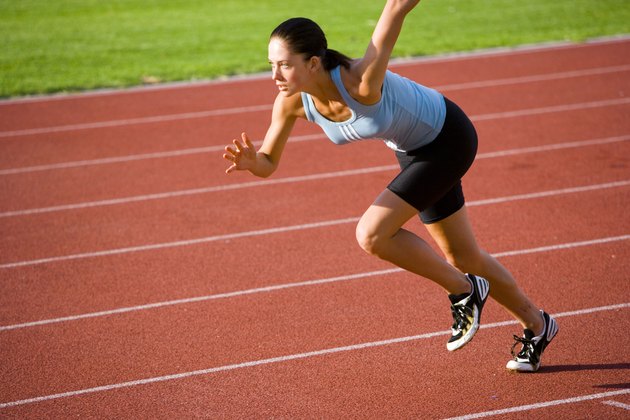 Symptoms Of An Injury
SI joint injuries are a frequent cause of low back pain, affecting 15 to 25 percent of people who go to their doctors with low back problems. Symptoms include relatively constant soreness localized to one side of the low back and ranges from aching to sharp. SI joint pain often radiates to the buttocks and groin, and may also spread to the leg, causing it to be mistaken for sciatica. Symptoms are generally worse when standing or walking, and can become excruciating when sitting on a hard surface or rolling over in bed. Pain and stiffness upon getting out of bed in the morning or after sitting for long periods, especially while driving, is typical.
SI Joint Pain Causes
SI joint pain occurs when an injury or condition irritates the joint surfaces or supportive muscles and ligaments around the joint. It may be the result of a single traumatic event, such as a hard fall on the buttocks, or come on over a longer period of time as a result of altered biomechanics, such as overpronation of the feet or muscular imbalance around the pelvic girdle. Hormonal changes during pregnancy influence increase laxity of ligaments, which changes the dynamics around the SI joints and places women at greater risk for injury during and after pregnancy. Normal wearing of the joint surfaces that occurs with aging is another possible reason for SI joint pain.
Reducing The Pain
Regardless of cause, the first steps in recovering from acute SI joint injury involve reducing pain and inflammation. Taking a break from activities that stress the joint, such as running, is a necessary start. Anti-inflammatory medications provide relief for most people in the early stages while symptoms are most acute. Always consult a doctor before taking any new medication. Cold therapy is also useful, but never apply ice packs directly to skin or for more than 15 minutes at a time. Chiropractic and physical therapy such as pulsed ultrasound and mobilization of the SI joints may also be helpful.
Getting Better
Once inflammation has been controlled, focus your treatment focus on restoring normal function in the joint and preventing future problems. Anti-inflammatory nutrition, including spices such as turmeric and ginger, along with supplementation of key antioxidants and omega-3 fatty acids, will help keep inflammatory pain at bay. Pelvic stabilization and core exercises are essential for correcting muscle imbalances and adding supportive strength around the SI joints. Regular stretching of hip and leg muscles is necessary for further balancing muscles around the pelvic region and ensuring normal motion across all joints.
Bottom Line
Unfortunately, SI joint injuries can take weeks to months to resolve, and running through the pain only increases the likelihood of further damage. An extended break from running, while continuing non-weight-bearing activities such as cycling, will increase your odds for recovery.