If you like baking your own loaves of bread using a bread maker, there's no need to put the machine on a shelf now that you're on a low-carb diet. Use recipes featuring low-carb flours, such as coconut, almond or soy, to create a variety of breads that fit your diet plan. You'll still count "net" carbs -- total carbs minus grams of fiber -- in your slices of homemade low-carb bread, and you may be able to fit in one or two slices of bread a day, depending on how many grams of carbohydrates you're allowed.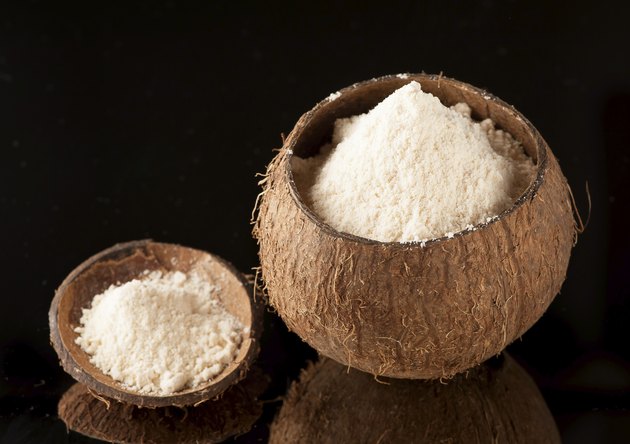 Bread Machine Tips
Before you begin, read through the instruction manual of your bread maker. Add ingredients in the order suggested, whether liquids first and then yeast, or liquid, flour and then yeast. This ensures your yeast proofs properly, which is necessary for rising. Consider using yeast specifically designed for bread machines. This yeast is finer than traditional baking yeast and may help improve the quality of your bread. Don't be afraid to check on your dough when it's mixing or rising. Add dry or wet ingredients as needed to get the consistency you're looking for, soft and tacky. If using perishable items in your recipe, such as eggs or cottage cheese, don't use the delayed baking feature -- bake the bread right away. Bacteria may grow If such ingredients are left at room temperature for too long, ruining your entire loaf.
Low-Carb Wet Ingredients
The wet ingredients for your low-carb bread may vary depending on the recipe. While many of the ingredients, including eggs, butter, almond milk, whipping cream and water, are low in carbs or carb-free, you might find some high-carb items, too, such as honey, brown rice syrup, applesauce or bananas. These ingredients add sweetness or color, but most importantly, they promote proofing. To grow, yeast needs liquid, warmth and food, such as the simple sugars in these high-carb foods. But don't worry so much about the carbs in these ingredients. Adding 1 tablespoon of honey or 1/2 cup of applesauce or sliced bananas adds about 15 grams of carbs to the entire recipe, which is only about 1 gram per slice.
For a better loaf of bread, wet ingredients should be at room temperature before baking.
Lower-Carb Dry Ingredients
Like the wet ingredients, the dry ingredients used in a low-carb bread machine recipes vary. Common low-carb flours used in these recipes include almond, soy or coconut flour. Almond flour has the least number of carbs, with 2 grams of net carbs per 1/4 cup, while soy has 5 grams and coconut has 6 grams of net carbs per 1/4 cup. Low-carb flour may be a bit pricier than your usual wheat flour, and it needs to be stored in an air-tight container in the refrigerator or freezer to maintain quality.
Vital wheat gluten, yeast, baking powder, salt and sugar substitute are also common dry ingredients found in a low-carb bread recipe. Ready-made low-carb bread mixes are available as well and contain a blend of low-carb flours, along with some of the other dry ingredients.
When baked, a slice of low-carb bread can have anywhere from 3 to 6 grams of net carbs.
Getting Creative With Ingredients
Just like in traditional bread baking, you can add other ingredients to your low-carb bread to change the texture and flavor. Herbed bread made with naturally carb-free rosemary or basil makes a nice savory loaf that goes well with your chicken salad. Or make a loaf of Parmesan cheese bread -- 1 ounce of Parmesan cheese has only 1 gram of net carbohydrate -- to cut up and make into croutons for your salad. If you want bread with a little crunch, add chopped walnuts or sesame seeds, which have only 2 grams of net carb per serving. Toss in some chopped black or green olives, then serve the olive bread as an appetizer or snack, with a little dish of olive oil for dipping.