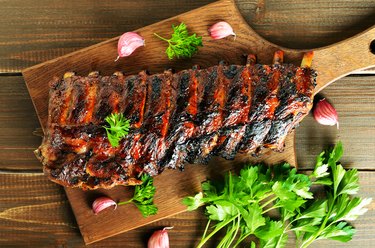 Cooking ribs in a Crock-Pot on high for four hours will result in a tasty main dish. To prepare them, brown the ribs under a broiler for 15 minutes and then place them in a slow cooker with seasonings and sauces. You can vary the flavor by using different dry and wet ingredients.
Tip
To make ribs in a slow cooker in four hours, use high heat. First, sprinkle the ribs with salt and pepper and then place them in a slow cooker with barbecue sauce mixed with cola.
Slow-Cooker Boneless Ribs
1 cup vinegar
1/2 cup ketchup
2 tablespoons sugar
2 tablespoons Worcestershire sauce
1 garlic clove, minced
1 teaspoon paprika
1 teaspoon ground mustard
1/2 teaspoon salt
1/8 teaspoon pepper
2 pounds pork spareribs
Mix all the ingredients, except the ribs, in a slow cooker.
Cut the ribs into serving-size pieces.
Place them under the broiler for 15 minutes to brown.
Discard the excess fat that drips into the broiling pan.
Put the ribs in a slow cooker and cover.
Cook four to six hours, on low, or until tender.
Instead of calling for a dry rub, this recipe suggests mixing the dry and wet ingredients together. Other recipes suggest spreading the dry ingredients over the ribs and then adding sauces afterward. An example of a Crock-Pot ribs dry rub might include a mixture of brown sugar, white sugar, chili powder, oregano, salt, black pepper, cayenne pepper and oregano.
As a variation, try a recipe for Crock-Pot ribs with Coke. For 3 pounds of ribs, combine a bottle of barbecue sauce with 6 ounces of cola. Sprinkle salt and pepper over the ribs and place them in the slow cooker with all but 1/2 cup of the sauce. Cook on low heat for eight hours or on high heat for four hours. When done, brush on the reserved sauce.
Cooking Ribs in an Oven
In an interview with LIVESTRONG.com, Executive Chef Luis Cuadra at the District in Los Angeles, California, shares advice on how to prepare ribs. Aside from cooking them in a slow cooker, you may also cook them in the oven.
According to Cuadra, cooking baby back ribs in a 200-degree-Fahrenheit oven takes about four to five hours. However, the time varies, depending on the size of the racks and the type of oven that's being used. "I would recommend checking them for tenderness after the fourth hour," Cuadra says. "The trick is to not cook them until they are falling off the bone but to cook them right up to the point before that happens."
Remove them from the oven at this stage, allow them to cool and cut them into half-racks for easier handling. Then, after glazing them with barbecue sauce, finish them off on a hot grill. "They'll be just right and not overcooked or too fragile to work with," Cuadra notes.
Cuadra says that this method does the trick:
Spread the ribs with mustard and a generous amount of barbecue rub.
Wrap each rack tightly in foil.
Bake in an oven heated to 300 F for 2 1/2 to 3 hours.
"This method gives you a rib rack that is just as great as one that is cooked more slowly," Cuadra states. It's actually the method he currently uses in his restaurant.
In an article published by Stratford University in August 2017, Tuffy Stone, a classically trained French chef and owner of Q Barbeque in Glen Allen and Midlothian, Virginia, advocates applying the spice rub about an hour before cooking. This gives the seasonings enough time to penetrate the meat, but isn't long enough to decrease the moisture.
Removing Membranes and Bones
Cuadra doesn't always remove the membranes from baby-back ribs, but he suggests removing them if the rib racks are large. "Typically, scoring the relatively thin membrane with your knife three or four times, running down the whole length of the ribs, provides a great finished product," he says. "This practice, along with cooking them for hours, allows the membrane to break down and be a nonissue."
If you'd like to remove the membrane, first dry the racks so they're less-slippery. "Then, look for any area where the membrane has begun to peel off," Cuadra suggests. "With a paper towel, pinch the membrane and gently but firmly tug it away from the meat." Removing the membrane shortens the cooking time by 25 percent.
To remove the bones, let the ribs cool to room temperature after baking. "Simply leave the ribs on the baking sheet or cutting board and twist each bone from side to side, clockwise and counterclockwise, to separate the meat from the bone. After a handful of turns, the bones should easily slip out when you pull on them," Cuadra notes.