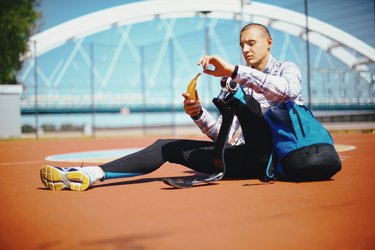 Running track requires speed, focus and all-day energy — and that starts with sound nutrition. And if you're spending all day at a track meet, you'll need to bring high-quality calories with you to ensure you can fuel up.
Eating foods that help repair muscles while also providing energy can help a track and field runner to prevent both injuries and burnout. That means that ideal snacks deliver carbohydrates and maybe contain electrolytes, such as sodium, potassium and magnesium (which you sweat out). A little bit of protein is good, too.
And while you'll want to eat a larger meal several hours before your meet, try to keep portions small for the rest of the day, so that you can refuel between races without being slowed down by a full stomach.
"I've had trouble perfecting the race-day diet for the past decade," Matt Wisner, a runner for Oregon Track Club and former Duke University track athlete, says. "But I think I've finally got it figured out: I feel best when I eat a big meal like five hours before a big effort and then small snacks when it gets closer to the race."
The Best Snacks for Track Meets
"I like for athletes to think about doubling their carbs and reducing their fiber by cutting back on raw fruits and veggies," Kylee Van Horn, RDN, registered dietitian nutritionist and owner of FlyNutrition, says. "Carbohydrates should be more simple carbs and not contain too much fiber."
That means no brown rice or whole-grain crackers during race day. And the big exception to the reduced raw fruits rule: bananas.
"There's always a banana in my track bag," Wisner says. "I've always had a sensitive stomach and try not to eat immediately before running, but bananas are easy on me."
Van Horn agrees, and says that bananas are lower in fiber and easily digestible, while delivering carbs — a perfect snack for a track meet. They also have potassium, magnesium and vitamin C.
Not a banana fan? Van Horn also likes athletes to try dried fruit, fruit leather or smoothie packs, all of which are great carb sources that tend to be easy on the stomach. Bojana Galic, LIVESTRONG.com's associate fitness editor and a former high school and collegiate runner, recommends keeping an eye out for artificial sweeteners, like sucralose. Fruit-flavored snacks can hide artificial sugars, which can cause bloating and gas in some runners.
Both Wisner and Van Horn recommend nut butter. Peanut butter is easy to digest and contains a little protein, plus monounsaturated fats, potassium and magnesium. That combo of protein and fat means it'll help with satiety (keeping you full) so you don't need to keep snacking.
Wisner likes to combine his go-to banana with a spoonful of peanut butter two hours before running. And for a meet where you're running multiple events, Van Horn suggests bringing a "good old peanut butter and jelly sandwich." Just make sure it's on white bread to keep it low-fiber.
This might feel like a no-brainer, but it can be easy to become dehydrated while at the track all day. Drinking enough water helps keep your body temp regulated and your joints lubricated, according to the American Academy of Family Physicians. And water transports nutrients throughout your body, so if you're not getting enough, all those good carbs you're eating will have a harder time fueling your muscles.
Plain water is likely enough to keep your hydration levels up, but if you're sweating a lot, it's a particularly hot day or you have back-to-back races, you might need to supplement with sports drinks that contain electrolytes or add electrolytes to your water.
Looking for Post-Race Meal Ideas?