Lactic acid training is used by body builders and other athletes who want to lose weight quickly but also gain muscle and endurance. A variety of exercises can be included as part of lactic acid training, but all of them involve pushing your body to its limits using resistance training.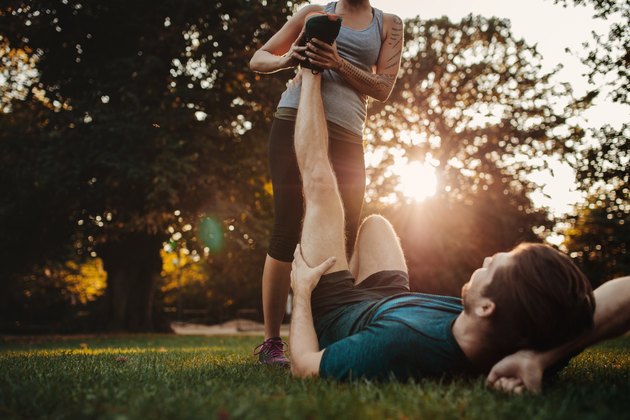 Lactic Acid
Lactic acid, sometimes referred to as lactate, is a by-product of working your muscles when there is no oxygen to fuel the metabolic processes, as is commonly the case when lifting weights. Your muscles use glucose instead of oxygen to fuel contractions, and the glucose eventually breaks down into lactic acid.
When your muscles reach their limit, the amount of lactic acid produced increases to the point it causes a burning sensation in your muscles. This burning sensation is a signal that lactic acid is slowing down muscle contractions to prevent cell damage.
Lactic Acid Training Theory
In addition to causing a burning sensation, lactic acid also causes an increase in both growth hormone and testosterone secretion in the body. Growth hormone stimulates muscle function while testosterone helps to break down fat.
Lactic acid training forces your body to produce high amounts of lactic acid, increasing both muscle growth and loss of fat. The amount of growth hormone released in lactic acid training can be up to nine times the amount produced under normal circumstances.
Pushing Your Limits
On it's most basic level, lactic acid training is fairly simple, according to certified trainer Nick Nilson, in "Metabolic Surge Rapid Fat Loss and Muscle Building." Choose any resistance exercise that you can perform for 20 to 50 repetitions.
For example, to build your chest muscles, you could do bench presses. Perform the exercise as many times as you can, stopping when only when you can't perform the exercise anymore. Rest for 20 seconds, then repeat the exercise for as many repetitions as you can. After you complete your second set, rest again for 20 seconds. Repeat this sequence for up to six to 12 sets per exercise.
Use Professionals for Safe Training
In theory, lactic acid training is straightforward, but a variety of factors can influence its effectiveness, including both your levels of fitness and your diet. To get the most out of training, and reduce the likelihood of injury, work with a certified trainer.
A trainer can spot you if you are using weights, as well as give you more detailed instruction regarding the training. Consult your doctor before beginning the training, particularly if you are on medication or have a medical disorder.