Jaundice
Jaundice is a yellowing of the eyes and skin as a result of the accumulation of bilirubin in the blood. Bilirubin is a yellow pigment that is part of red blood cells and is typically broken down for excretion by the liver. Many infants have elevated bilirubin levels at birth because their livers are not mature enough to break down the pigment, according to the Mayo Clinic. Jaundice can also be the result of extensive liver damage or the result of a hereditary disorder called transient familial hyperbilirubinemia, which can cause newborns to have severe jaundice. In this case, the bilirubin can rapidly build up and cause neurological damage.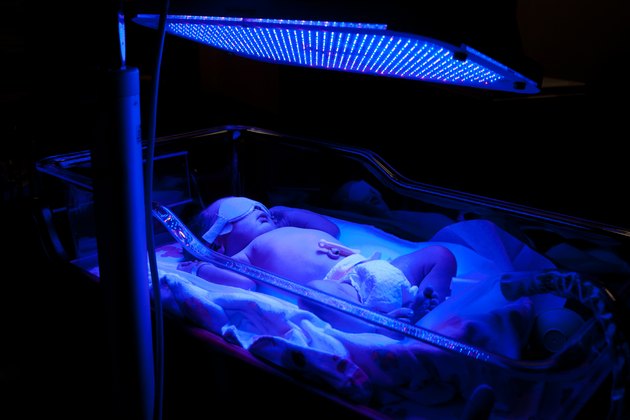 Phototherapy Mechanism
Phototherapy works by changing bilirubin into a compound that can be broken down and excreted by the body via the urine and feces, explains Pregnancy Today. Certain wavelengths of light can change bilirubin into two other compounds, called lumirubin and photobilirubin. These two chemicals are isomers of bilirubin, which means that they are made of the same atoms, but their structures have been rearranged. These light wavelengths can be produced by fluorescent lights. When they penetrate the skin, they convert the bilirubin into its isomers, which can be removed from the body without the involvement of the liver.
Clinical Use of Phototherapy
Infants with jaundice typically receive their phototherapy either in the hospital or at home, using special "bili blankets" that emit light for the phototherapy. The purpose of phototherapy is to reduce bilirubin levels, not to cure the underlying cause of the jaundice. In the case of newborns with neonatal jaundice or transient familial hyperbilirubinemia, the liver will eventually become able to process the bilirubin and the treatment can be discontinued. For patients with severe liver damage, a liver transplant may be necessary. Typically, the only side effect of phototherapy is dehydration, which means that infants receiving the treatment may need intravenous fluids. There is no conclusive evidence that phototherapy can lead to any problems of the brain, skin or any other organ system, according to Pregnancy Today.