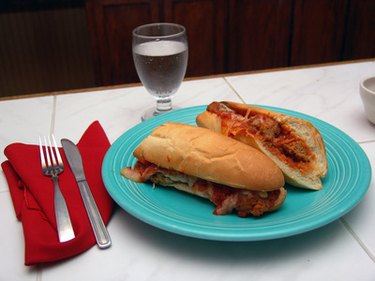 Subway is a popular restaurant that primarily serves submarine sandwiches which can be eaten in the restaurant or ordered as takeout. Subway touts its sandwiches as healthy food choices. Most sandwiches are available cold or toasted and salads, side dishes and drinks are also offered.
Meat Choices
Many meat choices exist for Subway sandwiches. Most restaurants have turkey breast, ham, chicken breast, roast beef, tuna, turkey salami, beefsteak, bacon, meatballs, pepperoni, Genoa salami, turkey bologna and shaved steak. Sandwich names include sweet onion chicken teriyaki, meatball marinara, Philly cheesesteak, cold cut combo, spicy Italian and the feast. Meat adds protein and minerals to a diet.
Cheese and Condiment Choices
Subway offers a variety of cheeses, including white American cheese, cheddar cheese, provolone cheese, pepperjack cheese, Swiss cheese and shredded Monterey cheddar cheese blend. Cheese adds protein and calcium to a diet.
Available condiments include mayonnaise, light mayonnaise, mustard, brown mustard, vinegar, olive oil blend, ranch dressing, honey mustard, chipotle sauce, sweet onion sauce, salt, pepper, oregano and Parmesan cheese. All of the condiments except mayonnaise, light mayonnaise, ranch dressing and salt are considered nutritionally acceptable and add minerals or antioxidants to a diet.
Vegetable Choices
Lettuce, tomatoes, red onions, green peppers, pickles, black olives, cucumbers, banana peppers and jalapeno peppers can all be added to a sandwich. Grilled onions and green peppers are available for some sandwiches. Vegetables add vitamins and antioxidants to a diet.
Bread Choices
Breads that are available at most Subway restaurants include Italian, nine-grain wheat, honey oat, Parmesan oregano, sourdough, roasted garlic, Italian herbs and cheese, hearty Italian and Monterey cheddar. Breads are available in a 6-inch and 12-inch size. These breads add fiber, calcium and iron to a diet. Breads containing herbs or spices also add antioxidants.
Healthy Options
To make a healthy sandwich, consider beginning with the 6-inch honey oat or nine-grain wheat bread, as these contain the most fiber. The breads with the lowest calories are the Italian, sourdough and nine-grain wheat bread. According to Subway, the lowest-fat meats are the turkey breast, chicken breast, ham and roast beef. These meats are not low in sodium and, therefore, not appropriate for all diets. All of the vegetables are healthy choices, as are the oregano, pepper, olive oil blend, Parmesan cheese and vinegar. Cheese can be part of a healthy sandwich if calorie-counting is not an issue, with cheddar, provolone and Swiss cheeses providing the most nutritional punch.
Subway has a list of 6-inch submarine sandwiches that contain 6 or fewer g of fat. These sandwiches are the vegetable, turkey, ham, turkey and ham, chicken, roast beef, sweet onion chicken teriyaki and club. These sandwiches contain 230 to 380 calories. Calculations are based on ordering the sandwiches with nine-grain wheat bread and tomatoes, lettuce, green peppers and red onion. Sodium counts may need to be considered when ordering these submarine sandwiches.