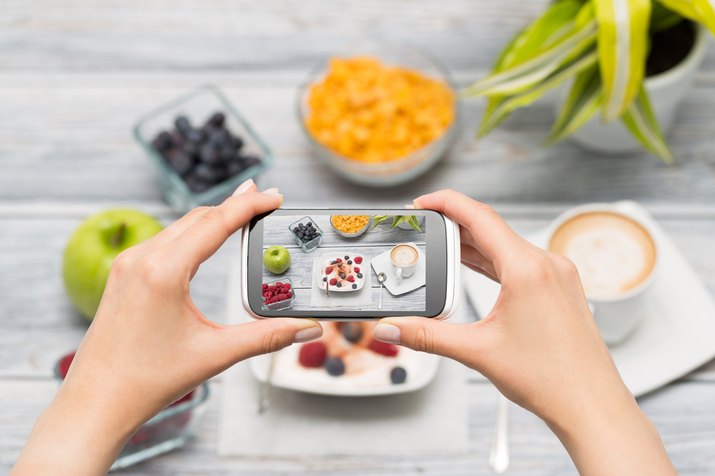 1 of 10
You open the fridge and see absolutely nothing to make for dinner. Sure, there's an avocado and some carrots toward the back, but you're far from inspired. If you can relate, check out these incredible chefs — artists, really — who are making their marks in the kitchen and on Instagram with beautiful food creations. While some of them may be purely aspirational — like Yotam Ottolenghi's marketplace of culinary delights — all of them will get you sharpening your chef's knife and ready to cook.
Image Credit:

scyther5/iStock/Getty Images
2 of 10
1. Yotam Ottolenghi, @ottolenghi
Yotam Ottolenghi and his empire of eponymous London eateries started a trend toward vegetable-focused restaurants in the European capital — and maybe even took a step toward peace in the Middle East. The Israel native's business partner is Palestinian chef Sam Tamimi. He has launched a series of cookbooks that puts Middle Eastern ingredients at the center of his eclectic meals, and he journeys around the world seeking inspiration. He is currently testing cookbook recipes and traveling. Find everything from Georgian specialties to roasted rhubarb on his Instagram, and get cooking with "Plenty," "Plenty More" and "Jerusalem."
Related: Ottolenghi on Instagram
Image Credit:

Credit: Instagram.com/ottolenghi
3 of 10
2. Jason Neroni, @jasonneroni
Rose Cafe in Venice Beach has been a surfer and hippie outpost since the 1970s. But it recently underwent a transformation under chef Jason Neroni, who revamped the grungy brunch spot into a hip place where Silicon Beach coders hang out next to stilettoed models. It's the food that's the highlight, though: Who would have thought you can roast an avocado or make purple spaghetti using beets? Neroni's Instagram features stories from the restaurant as well as features on his family, who all get in the mix in the kitchen — just like at your house.
Related: Jason Neroni on Instagram
Image Credit:

Credit: Instagram.com/jasonneroni
4 of 10
3. Violet Cakes, @violetcakeslondon
Clare Ptak's cakes may not be low-calorie, but the London-via-California baker has a focus on ancient grains like spelt and oats that are naturally low in gluten or gluten-free and always uses fresh ingredients from her local East London markets. Ptak is a Chez Panisse alum and infuses her fresh, Northern California style into traditional English specialties like Bakewell tarts and scones. No fake stuff here! Discovering "grandfather grains" can help you maintain a lower-gluten or gluten-free diet and still have delicious baked goods.
Related: Violet Cakes on Instagram
Image Credit:

Credit: Instagram.com/violetcakeslondon
5 of 10
4. Sarah Gim, @thedelicious
Farmers markets like the one in Santa Monica, California, are a haven for foodies and cooks. If you live a little farther from the fresh produce of the West Coast, Tastespotting founder Sarah Gim's Instagram feed, @thedelicious, will take you there virtually and then have you running to your local market to find similar delights for topping your toast or organic grain bowl. Gim's over-the-top crudite plates are a rainbow of market goodness. Following her is also a great way to get turned on to other hot chefs: She's always posting cool inspirations from around the web.
Related: The Delicious on Instagram
Image Credit:

Credit: Instagram.com/thedelicious
6 of 10
5. Jessica Koslow, @proscuittosnacks
You don't get to be the most sought-after new chef in Los Angeles without a clever Instagram feed (@proscuittosnacks) and some killer jam. Koslow won her way onto the scene with her homemade toast-and-jam masterpieces and continues to delight with farmers market finds, personalized plates and interesting discoveries from her travel and food adventures. Her culinary aesthetic has introduced a whole new food trend: picnic chic.
Related: Prosciutto Snacks on Instagram
Image Credit:

Credit: Instagram.com/prosciuttosnacks
7 of 10
6. Hemsley Hemsley, @hemsleyhemsley
Two healthy chefs are better than one! The Hemsley sisters took the English food scene by storm, bringing a little bit of California New Age inspiration and clean eating to the thriving farm-to-table scene in the U.K. They now have a cafe in the famed Selfridges department store in London and their own series of cookbooks.
Related: Hemsley Hemsley on Instagram
Image Credit:

Credit: Instagram.com/hemsleyhemsley
8 of 10
7. Anna Jones, @we_are_food
Anna Jones made her name with the groundbreaking vegetarian cookbook "A Modern Way to Cook." Her gorgeous interpretations of classics like Moroccan tagine and new ideas like celeriac steak are innovative and mouthwatering. A few minutes perusing her feed or reading recipes on her blog and you'll forget what meat is.
Related: We Are Food on Instagram
Image Credit:

Credit: Instagram.com/we_are_food
9 of 10
8. Magnus Nilsson, @magnusfaviken
If you're a fan of the Netflix show "Chef's Table," you're probably familiar with Magnus Nilsson, the somewhat out-there king of fermentation, running his Michelin-starred hut … er, restaurant … out in the Swedish countryside. Nilsson is the chef at Faviken, where he pickles and jars local delicacies, grows endive with something of an obsessive eye and bottles his own beer. When you feel too lazy even to make a salad, take a look at Nilsson's feed and remember how your ancestors had to hunt and gather when that didn't mean ordering Seamless.
Related: Magnus Nilsson on Instagram
Image Credit:

Credit: Instagram.com/magnusfaviken
10 of 10
Which chefs are you paying attention to online or in real life? What are some of your favorite restaurant dishes that you've recreated at home? Share you thoughts in the comments!
Image Credit:

GeoffGoldswain/iStock/Getty Images