Do you assume that following a low-carb, high-protein keto diet means you have to give up your favorite Mexican foods? The truth is, you can make plenty of dishes that won't kick you out of ketosis, as long as you're willing to get a little creative.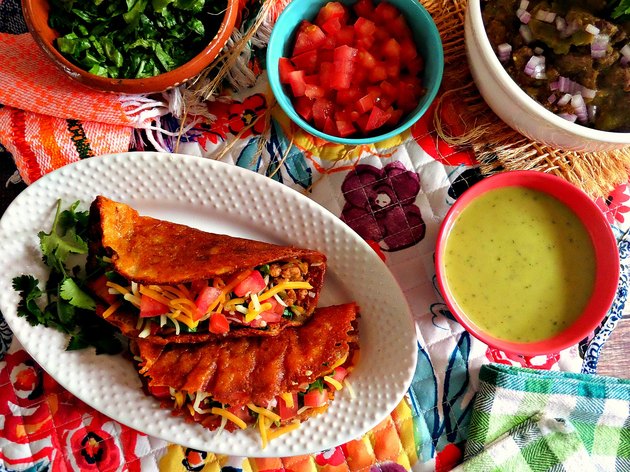 For starters, swap the traditional corn-based taco shells with shells made entirely of cheese, or substitute pork rinds for tortilla strips in classic tortilla soup. And you can still enjoy everything from carnitas salads to spicy shrimp fajitas without sacrificing that low-carb lifestyle. Whether or not you decide to splurge and enjoy a shot of tequila or a few margaritas with your meal — well, that's up to you!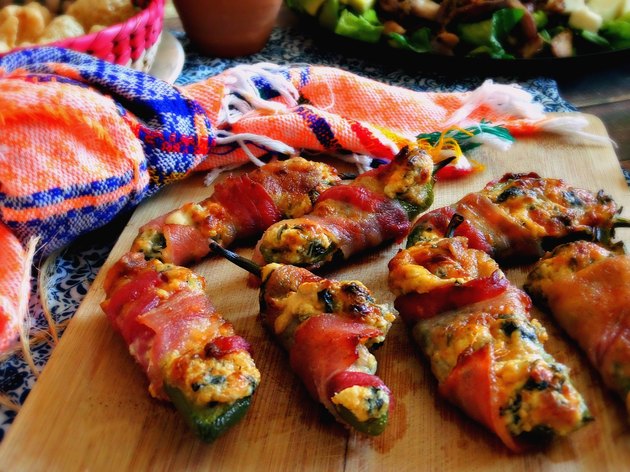 1. Bacon-Wrapped Stuffed Jalapeno Poppers
Kick-start your Cinco de Mayo celebration by serving jalapeño poppers stuffed with a cream cheese-spinach dip and wrapped in bacon. To save some time, stuff and wrap the jalapeños the day before your party, and then pop them in the oven 15 minutes before your guests arrive.
While jalapeño peppers are known for their heat, you can bring the spice down a couple of notches by removing the seeds and rinsing the chilis with cold water. Pro tip: Wear plastic or latex gloves when working with fresh chilis, and clean your hands with soap and water when you're finished to avoid potential burns from residual chili oil. (Anyone who's touched their face after chopping a chili knows exactly what we mean.)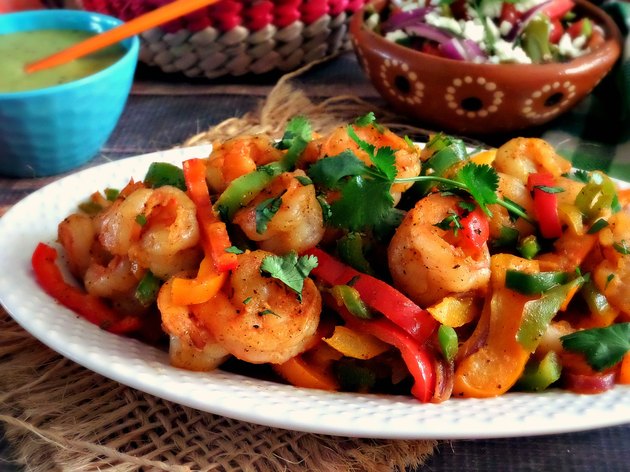 2. Spicy Shrimp Keto Fajitas
Sizzling shrimp fajitas are always a hit, and shrimp are a good source of protein, which makes them a great addition to your keto-approved Mexican feast. Toss in a few colorful, vitamin C-packed bell peppers along with onions and chilies and you have a delicious low-carb main. (We promise, no one will miss the side of tortillas.)
The heat in these shrimp fajitas comes from ground chipotle peppers, which have a distinctive smoky flavor. If spicy food is not your thing, feel free to substitute a chili powder that packs less heat, such as ground California chili powder.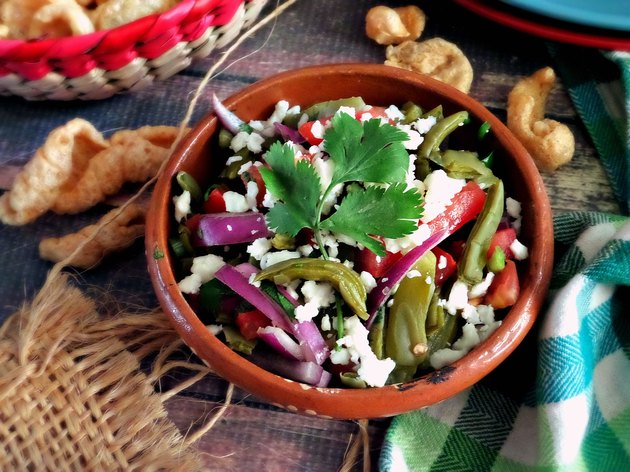 3. Nopales Keto Salad
The wide, flat parts of the prickly pear cactus, called nopales, happen to offer a host of health benefits. In addition to helping reduce blood sugar levels, nopales have anti-inflammatory and antioxidant properties. You can turn chopped-up nopales into a salsa and serve with pork rinds for a fun, keto-friendly take on chips and salsa.
Or stir strips of nopales into your scrambled eggs to supercharge your breakfast. Go a more traditional route by serving the cactus paddles in a salad with chopped onion, tomato, serrano chilies and cilantro. And don't forget to stir in some crumbled queso fresco, because who doesn't love cheese?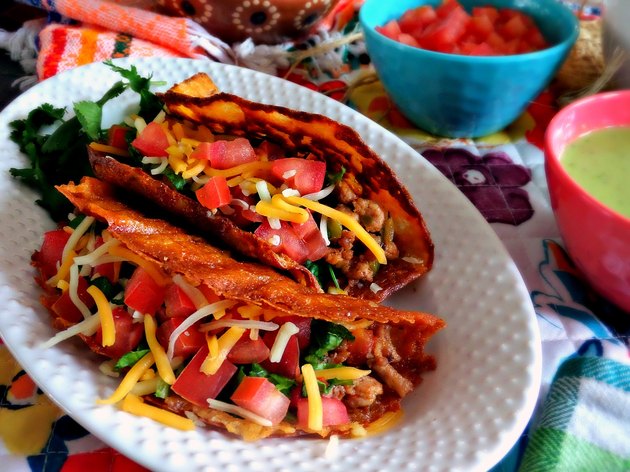 4. Ground Beef Keto Tacos
Who says you can't have tacos while on keto? To make these Tex-Mex ground-beef tacos low-carb, we've swapped the typical corn taco shells for ones made entirely of cheese. It may sound complicated, but they're incredibly quick and easy to make.
All you need is a good nonstick pan and shredded cheese spread into a circle. Once the cheese starts to melt and the edges start to brown, shape the "taco" by laying it over the handle of a wooden spoon. Let the shells cool completely before filling them with ground beef, shredded lettuce, chopped tomato and colby jack cheese.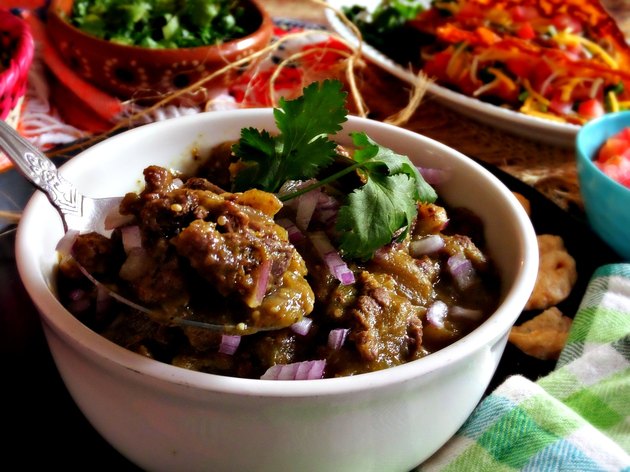 5. Keto Steak Salsa Verde
Steak salsa verde is a simple, traditional, home-cooked Mexican dish with big flavors. The beauty of this dish, aside from it being high in protein, is that it comes together quickly, whether you are making dinner for two or you're feeding a crowd. And while nothing beats thin strips of tender grilled beef accompanied by a homemade salsa verde, if you're looking to save time in the kitchen, canned green enchilada sauce can be used in a pinch.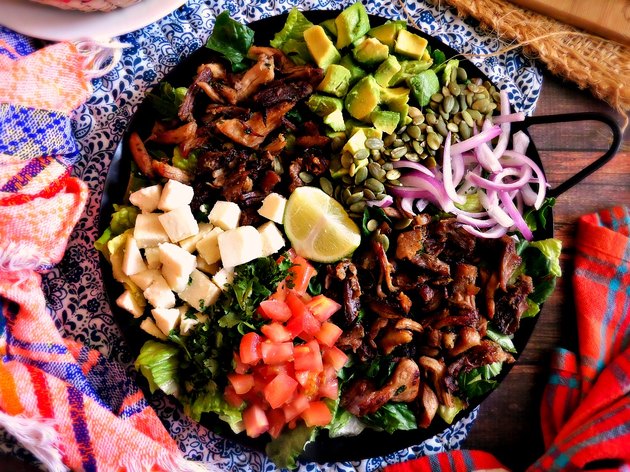 6. Keto Carnitas Salad
Traditionally, Mexican carnitas are slow-cooked in lard in a large copper pot over a wood-burning fire. But for this recipe, we're keeping things quick and easy by using leftover shredded pork from Sunday's pot roast and frying it up in a pan with a little bit of lard for that traditional flavor. (If you don't have lard, you can substitute bacon grease or coconut oil.)
Serve the carnitas over salad greens and get creative with toppings. Some of our favorites include creamy avocado, crunchy pumpkin seeds and salty queso fresco.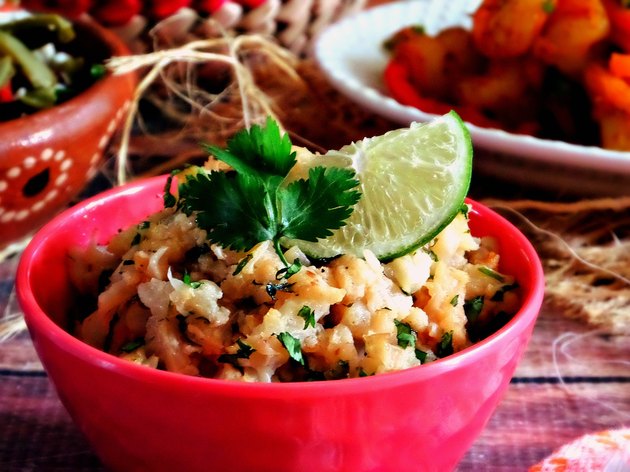 7. Cilantro-Lime Cauliflower Rice
Cauliflower rice doesn't have to be plain or boring. This tangy and delicious side dish stands up to regular rice, and you can serve it alongside all your Mexican favorites. Add a little onion and garlic to the water used to cook the cauliflower rice, much like how it's done in traditional Mexican rice recipes, to build complex flavor.
Another trick to keep your taste buds happy: Finish the rice with chopped fresh cilantro and a squeeze of fresh lime juice.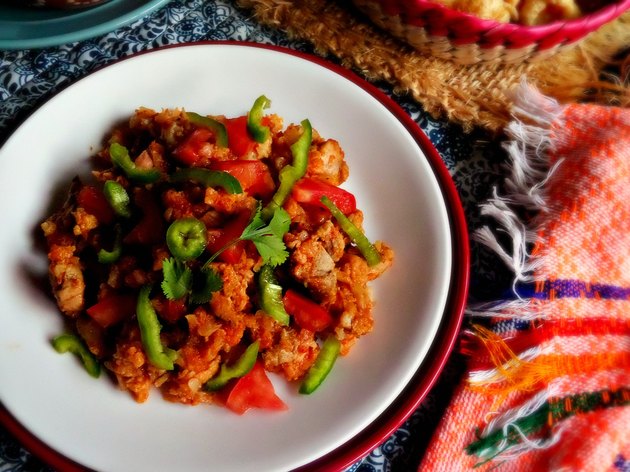 8. Keto Cauliflower Arroz con Pollo
The literal translation of "arroz con pollo" is rice with chicken, and throughout Latin American countries, it's the epitome of comfort food. Making arroz con pollo at home is typically easy, and this keto-friendly version is simple, too. Just substitute finely chopped cauliflower for long-grain rice.
Seasoned with onion, tomato and garlic along with an assortment of spices like ground ancho chili powder, dried Mexican oregano, ground cumin and just a pinch of saffron, you still get the taste of old-world cuisine from this dish while meeting your keto diet needs.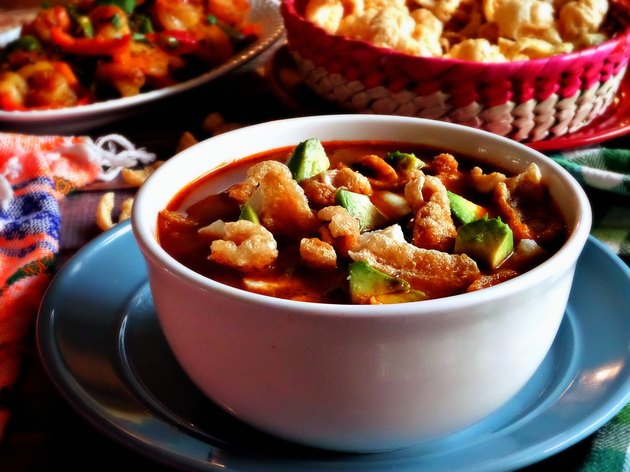 9. Keto Tortilla Soup
Known as Sopa Azteca, this rich tortilla soup features a flavorful broth made with chicken, tomato and dried ancho and guajillo chilies. While the soup is traditionally garnished with fried tortilla strips, you can easily swap in pork rinds to make this classic Mexican dish more keto-friendly.
Arrange bowls with all the garnishes buffet-style on the table so your guests can add as much or as little of their favorite toppings as they want, and don't be afraid to top this soup with a generous dollop of Mexican crema or sour cream.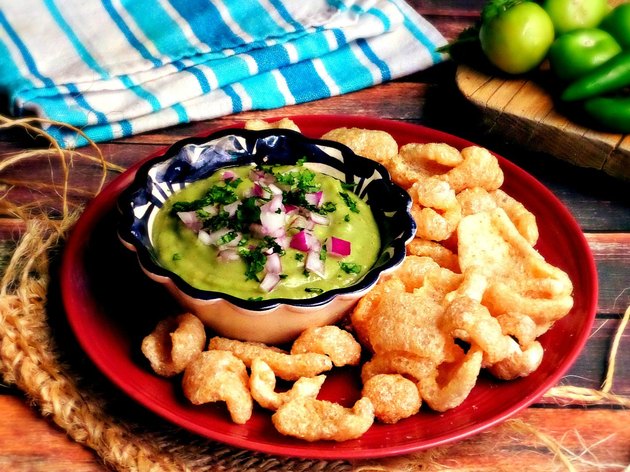 10. Avocado Keto Salsa Verde
Keto enthusiasts know that avocado makes everything better. The avocado lends this salsa its extra creamy texture, while the serrano chilies add a spicy kick. Feel free to toss in some fresh tomatillos, onion, cilantro and/or garlic, depending on your flavor preferences. Serve the avocado salsa verde alongside crisp pork rinds for dipping, or use it on top of grilled meats or even as a dressing for salads.