Skin peeling from the bottom of the feet can result from a few different causes. However, the most likely reason can be a fungal infection, although this condition is more commonly associated with skin peeling and itching between the toes. Two other possible causes include eczema and psoriasis.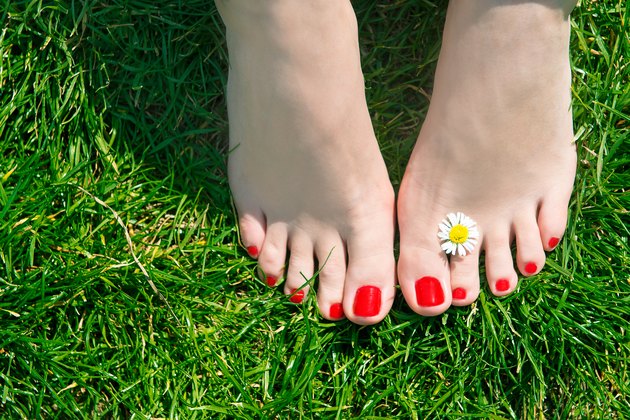 Athlete's Foot Can Cause Skin Peeling
According to the Mayo Clinic, athlete's foot, also called tinea pedis, can cause symptoms of intense itchiness and peeling skin between and around the toes. Other symptoms may include scaling, flaking and peeling skin on the bottom of the feet, which can extend from the heel to the toes. Although it's commonly thought to be a bout of dry skin when an itch isn't present.
Sometimes, a doctor may be able to diagnose a case of athlete's foot by just looking at it. However, to help confirm the diagnosis and rule out other conditions, the doctor could also scrape skin samples from the infected area and view them under a microscope or send it to a lab for testing.
According to American Family Physician , to effectively treat athlete's foot, an over-the-counter antifungal cream or spray should be sufficient. It could also be a good idea to wash both feet with soap and water twice a day, and dry the feet completely before applying any medication. Seek the advice of a medical professional if the infection doesn't clear up within a couple of weeks or if the feet become red and sore.
Fever Can Cause Skin Peeling
A high fever that causes sweating can lead to skin peeling on the bottom of the feet, according to Net Doctor. This is because a fever may cause retention of sweat in the soles of the feet (as well as on the palms of the hand), where skin tends to be thicker than elsewhere on the body. Fever may even cause skin to form blisters that will later break down and slough away.
Reactive Arthritis is a Rare Condition
According to the Mayo Clinic, reactive arthritis, previously called Reiter's syndrome, is a disorder that can cause inflammation not only in the joints but also in the skin, mouth, eyes and urinary tract. It's believed to involve an immune system reaction to a bacterial infection.
One possible symptom includes the formation of tiny blisters on the soles of the feet (and palms of the hands). As the blisters heal, the skin can become flaky and peel, which can cause an appearance that looks like psoriasis.