Anxiety is a normal response to stress. Anxiety can be good in that it can motivate one to succeed, meet deadlines or set goals, but when anxiety becomes excessive and overwhelming, it can manifest itself in physical symptoms such as heavy chest pain.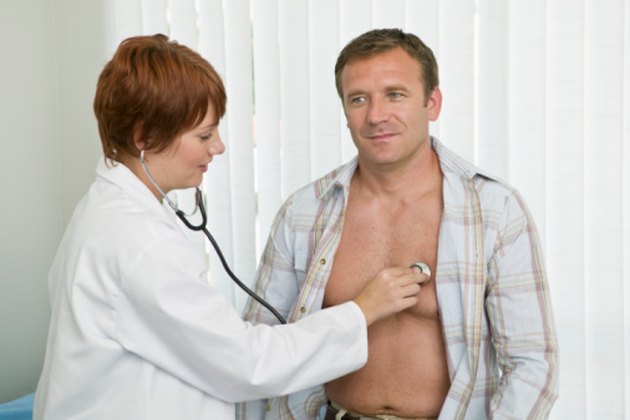 Definition
According to the National Institute of Mental Health, anxiety attacks, or panic attacks as they are sometimes called, are repeated episodes of intense fear that can involve chest pain, heart palpitations, dizziness, shortness of breath or abdominal distress.
Facts
According to AnxietyPanic.com, one out of 75 people worldwide will experience a panic attack at some time in their lives. In any given year, approximately 40 million American adults age 18 and above are affected by anxiety disorders.
Causes
Anxiety attacks can cause chest pain as the body releases adrenaline when one feels threatened. This release of adrenaline is the body's fight or flight response to a perceived threat. As the body prepares to either fight or defend itself or flee from the perceived threat, blood rushes to the areas of the body that would help the body act. Anxiety will increase the amount of blood flow entering and exiting the heart as the body prepares to respond to flight or fight. This adrenalin release can also cause heart palpitations and increased breathing.
Symptoms
Individuals who complain of a heavy chest or are experiencing an anxiety attack usually describe their pain as a sharp feeling or heaviness or pressure right above their heart. The heavy chest feeling can be accompanied by pain in the neck, shoulders or back. Sweating, blurred vision, ringing in the ears or light headedness with a feeling of panic or confusion are also possible symptoms.
Treatment
Deep breathing or focusing your concentration elsewhere can aid in relieving the heavy chest feeling. Using visualization techniques can help you do this. Visualization is using mental images to help alleviate a physical distress. Cognitive behavioral therapy with a therapist will help identify the behaviors that may trigger anxiety and the heavy chest feeling. Personal psychotherapy is also know to help in improving relationships and the social aspects of an individual's life. Therapy coupled with medication such as anti-depressants is also used to manage anxiety disorders.
Warning to Other Diagnosis
If you suspect or are concerned that your heavy chest pain is not anxiety related, seek advice from your medical doctor. Chest pain can be a symptom to many medical ailments. Other causes for chest pain could include diabetes, smoking, high cholesterol, high blood pressure, drug abuse, pulmonary embolism, angina, gastric ulcer, pneumonia or heavy coughing.
Is This an Emergency?
If you are experiencing serious medical symptoms, seek emergency treatment immediately.