Methamphetamine, or crystal meth, is a dangerous and addictive drug that stimulates your central nervous system to induce a high, euphoric feeling. You can take the white crystal meth powder by snorting, dissolving and drinking, or by injecting it. According to the National Institute on Drug Abuse, there are many side effects of meth including anxiety, seizures, vomiting, hallucinations, and even death. In addition to these side effects, meth can also wreak havoc on your skin.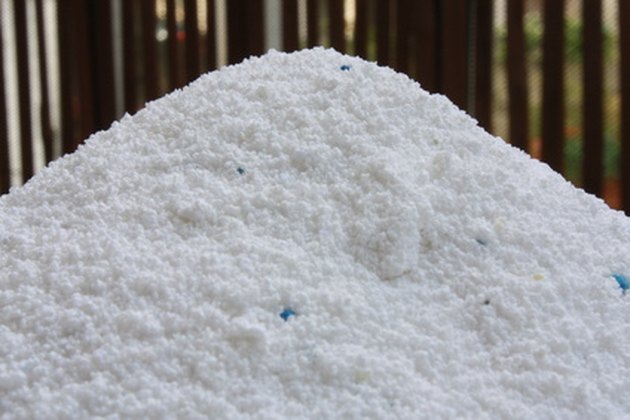 Oily Skin
Because crystal meth is a stimulant, taking the drug raises your heart rate and body temperature. This increase in heat causes you to sweat more, which ruins your skin's delicate balance of normal perspiration, and causes oily skin that can result in acne. According to the National Institute on Drug Abuse, long-term meth users also begin to care less about personal hygiene as they begin to care about the drug. They are less likely to bathe or wash their faces, and therefore more likely to develop oily skin.
Grey, Leathery Skin
Not only does meth make your skin more oily, it also makes it changes its texture and color. PBS.org explains that meth constricts your blood vessels and lessens blood flow to your skin. Eventually, meth usage destroys your blood vessels to the degree that not enough blood can get to your skin to keep it healthy. Your skin on meth becomes unnaturally grey and leathery, and acne sores that develop, cannot heal properly.
Sores
Skin that cannot properly heal is a huge problem for meth users. They are so prone to skin sores that doctors have developed the term "meth mites" to describe the condition. Dr. Kathleen Hectorne, a Mayo Clinic physician, says that meth mites occur because meth commonly makes users feel as if bugs are crawling on their skin. Meth addicts who are hallucinating bugs on their skin obsessively pick at their skin with their nails, or other sharp objects to the point that it bleeds. Not only do these sores take longer than normal to heal because of the restricted blood flow and repetitive picking, but they can also become infected, according to emergency room Dr. Sullivan Smith. The skin infection can lead to even more health problems for the meth user.