While typically not a serious concern, a dry and itchy throat is a common -- and irritating -- complaint, particularly if it occurs frequently or over an extended period of time. There are many home remedies that people use to treat that tickling feeling in the throat, such as drinking more fluids, humidifying the air or simply resting their throat. But addressing the underlying cause of the irritation may be the best solution to this problem.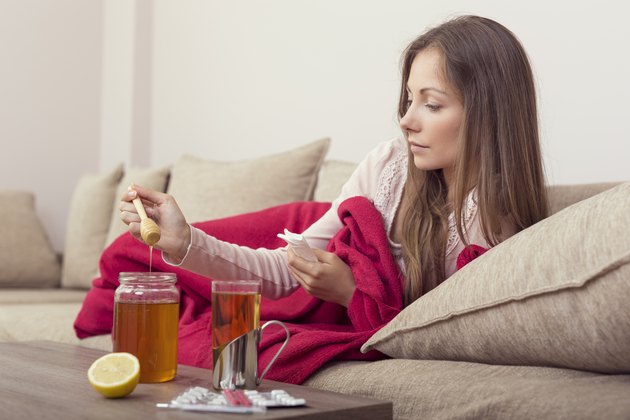 Home Remedies
Despite a lack of research on specific home remedies for a dry, itchy throat, some ideas are worth a try. Increasing fluids will ease the dryness and treat any dehydration that is causing the dry throat. Using a vaporizer or humidifier adds moisture to the air, providing symptom relief. Consuming warm soup or tea can soothe the throat, and adding honey, which has a long history as a medicinal food, may also help. In fact, a February 2016 review of 36 studies, published in "Clinical Otolaryngology," concluded that honey was an effective alternative treatment for inflammation of the lining of the throat, which may cause itching or dryness. Some people find that sucking on a lozenge or hard candy helps produce saliva, which in turn moistens and soothes the throat.
Preventive Strategies
Dry or smoky air or other common irritants in the home or work environment can cause your throat to feel itchy or parched, and addressing or removing those irritants is often effective for symptom relief. Smoke is a very common irritant, so it's wise to stay away from smoky environments and to avoid smoking. Some people are bothered by pet dander, mold, pollen and dust mites, so keeping your house clean may help. Finally, if your throat is dry and itchy due to long periods of talking or perhaps cheering during a football game, simple rest may be all your throat needs.
Seasonal Allergies
Dry, itchy throat is a common symptom of allergies. According to the American College of Allergy, Asthma and Immunology (ACAAI), grass, pollen and mold are the most common triggers of seasonal allergies. The ACAAI recommends working with an allergist to determine your triggers and then trying to minimize exposure. Ways to do this include monitoring mold and pollen counts in the media, keeping windows and doors closed when counts are high, washing up and changing clothes after being outside, and wearing a filter mask outdoors. If your symptoms are related to allergies, your doctor may also recommend medications to help you feel better.
When to See a Doctor
If you have an itchy, dry throat, there are several ways you can provide soothing relief at home. There are many potential causes of a dry, itchy throat, with most being an annoyance rather than a serious medical condition. However, if your symptoms are frequent or longstanding, or if accompanied by fever, vomiting, difficulty swallowing or headache, it is probably time to see your doctor and try to figure out the root cause of your discomfort.