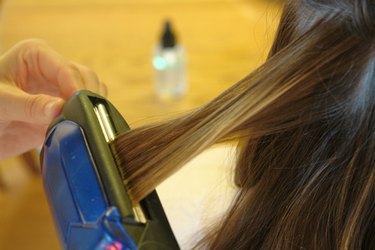 Teasing, coloring, blow drying, curling—women put their hair through a lot in the process of styling their hair. However, these processes can take a definite toll on hair and negate all the effort put into looking good. Hot oil treatments provide a number of benefits to deal with different hair care and styling issues.
Protect Against Dry Scalp and Dandruff
Hot oil treatments before a shampoo are one tool in preventing dandruff and dry scalp, according to stylist Roberta "Robi" Rogers, quoted in Essence magazine. Roberts recommends applying hot oil to the hair and massaging it into the scalp with your fingertips. Apply a plastic cap for 15 to 20 minutes, then rinse hair thoroughly.
Extend Time Between Salon Visits
If it's been a bit too long since your last visit to the salon, a hot oil treatment can disguise the signs of neglect, according to Glamour magazine. A hot oil treatment soaks into split ends and smooths them down until you can schedule an appointment for a trim. With weekly use, hot oil treatments can extend the time between trips to the stylist for one or two weeks.
Minimize Color and Styling Damage
Hot oil treatments, in combination with protective styling products, can minimize damage from styling. All hair types are prone to cuticle damage from hot styling tools, especially fine hair, according to More magazine. Regular conditioning is also a must for colored hair, according to stylist Tre Major, quoted in Essence magazine. Hot oil treatments along with deep conditioning keep colored hair looking vibrant, according to Major. "If your car runs out of oil, it breaks down," he says. "The same is true for your hair. The loss of oil makes it dull and lifeless. A weekly hot oil treatment absolutely makes a difference."
Prevent Frizz
Frizzy hair can strike women during both winter and summer. Hot oil treatment can prevent frizzy hair without weighing down fine hair, according to Allure magazine. Women of color who color their hair should also apply hot oil treatments to their hair weekly to reduce damage to their hair, according to More magazine. Jojoba oil, coconut oil, olive oil and rosemary herbal oil are all good choices for hot oil treatments; petroleum-based oils, on the other hand, such as Vaseline as not, according to Hair Boutique.