The skin around the eyes is thinner and more fragile than the skin of other areas of the body, making this area particularly susceptible to irritating rashes like eczema. Also known as atopic dermatitis, true eczema is a chronic inflammatory skin condition that begins in early childhood and affects approximately 1 to 3 percent of adults, according to the American Academy of Dermatology. Eczema around the eyes can be challenging to treat because of the sensitive tissue in this area. With severe eczema around the eyes, eyelid swelling and involvement of the eye itself may affect your vision. Treatment focuses on keeping the involved area moist, reducing skin inflammation and avoiding exposure to irritants. Your doctor may recommend different treatment options based on the severity of your eczema.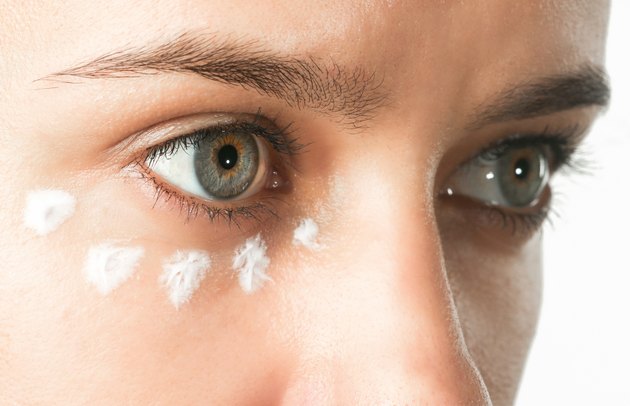 Moisturizers and Emollients
Eczema characteristically causes a dry, itchy, scaly rash. Your doctor will likely recommend daily use of a moisturizer, or emollient, to reduce skin dryness by forming a barrier to prevent water loss, which helps alleviate itchiness. Moisturizers also soften the skin and reduce scaling. Regular use of a moisturizer reduces the likelihood of developing breaks in the skin, which can lead to a bacterial infection.
Ointments are the most effective moisturizers, although their greasiness can be a drawback. Your doctor may recommend a cream for daytime use and an ointment for use at night. Moisturizers used for eye eczema differ from cosmetic moisturizers in that they typically do not contain any fragrance, sunscreen or anti-aging ingredients. Only use a moisturizer recommended by your doctor for eye eczema.
Medicines to Reduce Inflammation
Your doctor may recommend medication to reduce the underlying skin inflammation causing eczema around your eyes. A short course of a low concentration steroid ointment or cream -- such as 1 percent hydrocortisone -- is often the first choice. If your interior eyelids are involved, your doctor may prescribe steroid eye drops as well. Do not use an over-the-counter steroid cream or ointment around your eyes without first checking with your doctor to be sure it's safe for you.
Although short-term treatment with topical steroid medicine is often effective for controlling eye eczema flareups, side effects can occur with long-term use. If side effects are a concern or your eye eczema does not improve with steroid treatment, your doctor may recommend another type of topical anti-inflammatory medication, such as pimecrolimus cream (Elidel) or tacrolimus ointment (Protopic). These medicines are not approved for children younger than age 2. Your doctor may recommend other prescription creams, ointments, oral medications or eye drops to control your eczema.
Other Treatments
People with atopic dermatitis around the eyes often experience involvement of other areas of the face, including the cheeks, forehead, nose and chin. Phototherapy -- which involves short bursts of exposure to a medical form of ultraviolet light -- can be useful if your eczema is severe and does not improve with another type of treatment. The eyes themselves must be kept closed or protected with goggles during phototherapy sessions, which typically occur 2 to 3 times per week. Several weeks of treatment may be needed before noticeable improvement.
Skin affected by eczema is prone to infection due to bacterial overgrowth and breaks in the skin caused by scratching or dryness. Your doctor will prescribe a topical or oral antibiotic if you develop a skin infection related to your eczema.
Measures to Reduce Skin Irritation
Skin affected by eczema is easily irritated, which can make your symptoms worse. The American Academy of Dermatology recommends limited use of a nonsoap skin cleanser, which is less drying to your skin than soap. These cleansers are hypoallergenic, fragrance-free and have a pH close to that of your skin.
Avoiding other potential irritants may also be helpful, including eye makeup, nail polish and certain hair care products. If you have airborne allergies, your doctor will talk with you about how to limit your exposure to substances that may aggravate your eczema, such as pollen, dust mites and animal dander. Applying a cool compress to the skin around your eyes may help temporarily reduce itchiness.
Specialized Care and Warnings
Because eczema around your eyes can potentially affect your vision, it's important to work closely with your doctor to control your condition. Depending on the severity of your eczema and the extent to which your inner eyelids are involved, your doctor may recommend you visit an eye specialist. If you have allergies in addition to eczema, working with an allergist may also be helpful.
Contact your doctor right away or seek urgent medical care if you experience any change in your vision, or experience rapidly increasing redness or swelling around the eyes.
Reviewed and revised by: Tina M. St. John, M.D.
Is This an Emergency?
If you are experiencing serious medical symptoms, seek emergency treatment immediately.