Americans consume 20 percent of the year's total cranberries during Thanksgiving week, according to Food Reference. And while this little red gem wasn't present on the original Pilgrim's table, according to Smithsonian Magazine, today cranberries have become a staple, right alongside the turkey. But why limit your cranberry consumption to one week in the middle of November? The cranberry offers a host of benefits you can take advantage of year-round.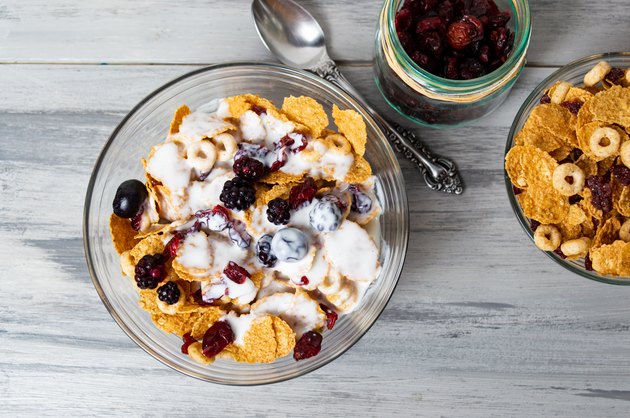 These tiny fruits are pretty powerful, nutritionally speaking, and are often referred to as a superfood. Samantha Cassetty, M.S., RD, nutrition and weight-loss expert says that while there is no standard definition for superfood, the term is often used to describe foods rich in vitamins, minerals and antioxidants.
"Cranberries are rich in antioxidants that may help lower inflammation (and therefore protect against certain diseases), reduce the risk of certain bacterial infections and support a healthy gut," she says.
Ready to incorporate more powerful healthy foods into your diet? Scroll down for nine cranberry recipes that you can easily make all year long.
1. Cranberry Crumble Oatmeal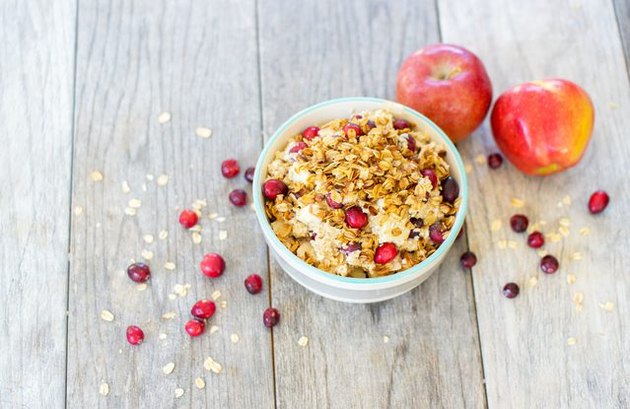 According to a study of 20 common fruits by the Journal of Agricultural and Food Chemistry, cranberries were found to have the most natural phenols, giving them a high antioxidant profile. Antioxidants are essential in helping your body defend itself from free radicals and toxins that can build up in your body. They not only damage your cells, but also increase your risk for cancer and other diseases.
The best way to consume these power players? Raw and through pure juice, according to Joe Vinson, a professor of chemistry at the University of Scranton, who, along with his colleagues, studied commonly available grocery store fruits. To get the most out of your cranberry intake, Cassetty also recommends being mindful by pairing them with foods that don't have added sugars.
"Add them to unsweetened yogurt or overnight oats, or create a trail mix with a blend of dried cranberries, nuts (such as pecans or walnuts) and pumpkin seeds." And if you do eat them with oats, such as in this vegan breakfast, you'll get even more fiber and iron, which is an immune system-supporting mineral that will help you through the cold and flu season.
2. Cranberry Baked Brie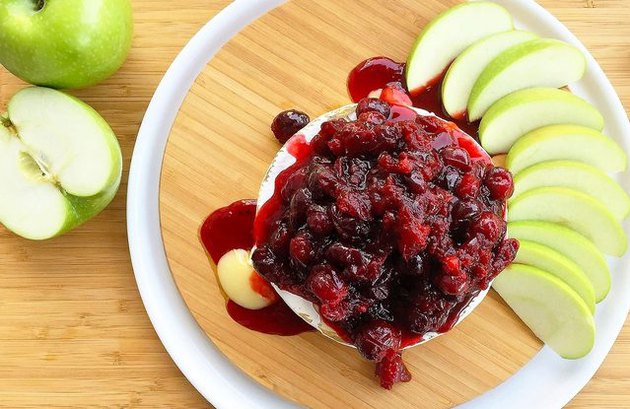 Cranberries are also a good source of vitamin E. This vitamin, also considered an antioxidant, helps protect the body against molecular breakdown from toxins, is essential for your body's immunity to function well and aids in cellular communication as well as in generating red blood cells.
Make this stunning dish to take to your next potluck dinner or Friendsgiving. The mild, earthy flavor of brie pairs well with the homemade vinegar-infused cranberry sauce for a tangy, satisfying finish. Rather than processed crackers that are typically high in sugars, salt and unhealthy fats, use apple slices for dipping.
3. 5-Minute Cranberry Chicken Salad Sliders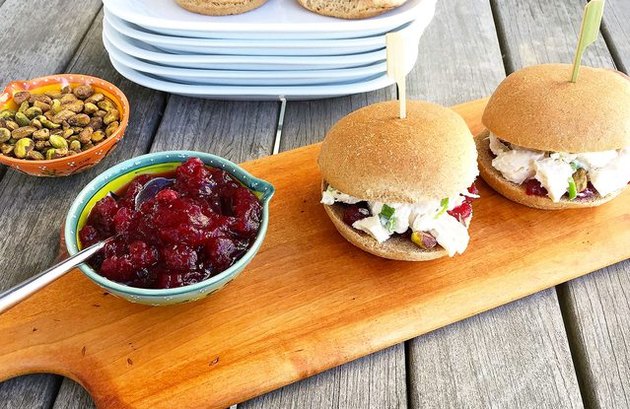 Move over chicken Waldorf salad sandwich, there's a new slider in town. What makes this recipe so appealing is that you can take that leftover cranberry sauce from Thanksgiving dinner and give it a new purpose by using it as a spread for this recipe or any sandwich you make all weekend long.
Along with the benefits you get from the cranberries, pistachios are a good source of a vegetable-based protein, minerals and vitamins, and, according to Science Daily, may improve the health of your heart.
Cassetty also warns against the sugar content found in cranberry-based products. "Since cranberries are tart, they're often found in foods with added sugars, including sauce, dried cranberries and cranberry juice drinks." Make your own cranberry sauce whenever possible so that you can control how much sugar is added to your recipe. Canned varieties are full of added sugars — even the organic canned cranberry sauce ones — so you're better off with a homemade version.
4. Citrus and Arugula Salad With Cranberry Dressing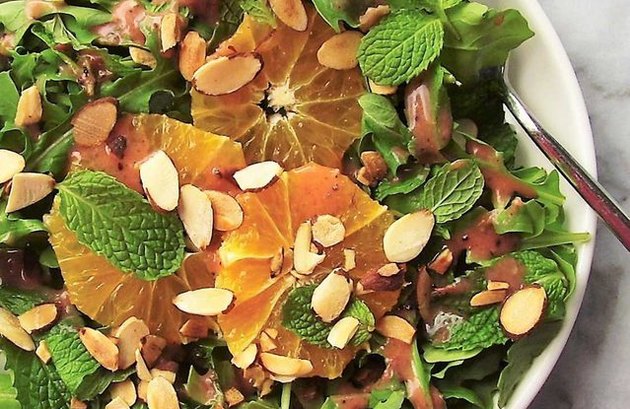 Spicy and tangy, this salad is a great lunchtime go-to that will get you out of your sad-desk-lunch rut. Add some almonds, not just because they are a high-protein food, but for their satisfying crunch. Leafy greens and citrus fruits like oranges are shown to reduce your risk of cardiovascular disease, according to the Harvard School of Public Health.
To avoid unnecessary preservatives and sugars, make your own cranberry salad dressing by repurposing that leftover homemade cranberry sauce from Thanksgiving dinner.
5. Cranberry-Orange Quinoa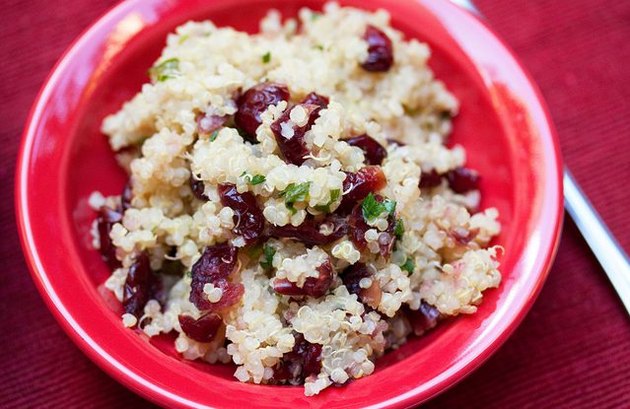 Sweet and tart, cranberries have been shown to have anti-cancer properties. The American Institute for Cancer Research (AICR) supports the link between lowering the risk of cancer and eating foods high in fiber and vitamin C.
And research presented to the American Chemical Society by Catherine Neto, Ph.D., and her colleagues at the University of Massachusetts, Dartmouth, found that when cranberry extract was fed to mice with colon cancer, the number and the size of the tumors diminished.
When it comes to dried cranberries, Cassetty suggests pairing them with other nutritious foods that don't contain added sugars. "Use them to add color and flavor to salads and sauteed greens, add them to unsweetened yogurt or overnight oats," she says.
This gluten-free quinoa dish with cranberry and orange is full of cancer-fighting fiber. And according to the Whole Grains Council, quinoa is one of the only complete proteins offering all nine essential amino acids, is high in potassium and has been shown to help control blood pressure.
6. Cranberry-Orange Spiced Tea Sipper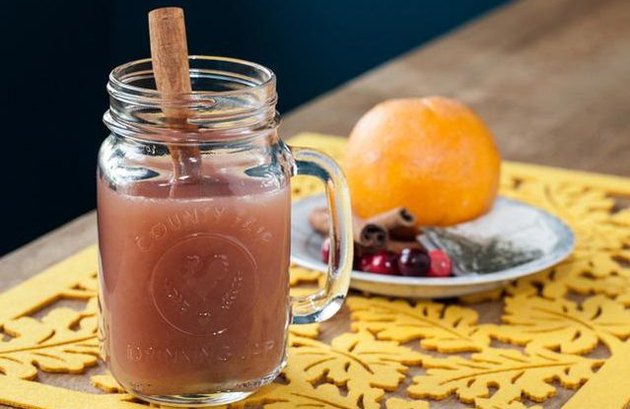 Many researchers have studied the effect of cranberry juice on ulcers and gastritis and have come to discover some excellent news when it comes to treating those afflicted with these bacterial infections. Turns out that drinking cranberry juice can disrupt the bacteria H. pylori, according to the Milton S. Hershey Medical Center.
The reason? Cranberries are high in flavonoids, which are anti-inflammatory agents that stop or inhibit bacterial growth. Pair cranberry juice with tea and you get a double whammy of those agents in just one serving.
Of course, this tea is spiked with vodka (you gotta live a little bit, right?), but just leave it out if you don't want the alcohol.
7. Pear and Cranberry Mason Jar Salad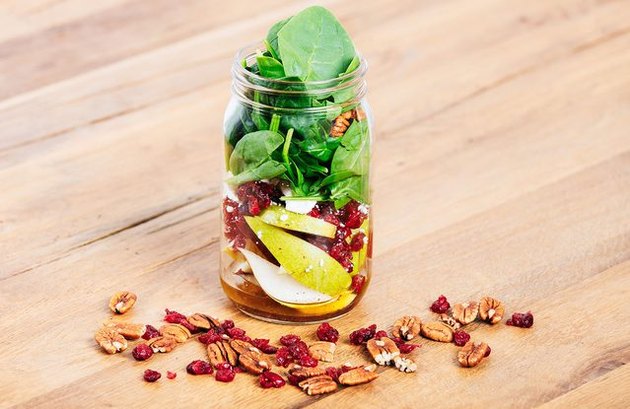 There has been a lot of talk about cranberries and their ability to either prevent or treat urinary tract infections (UTIs), but according to Cassetty, "They need to be eaten regularly in order to get the specific benefit of UTI protection."
Rather, she recommends focusing on eating a "variety of nutrient- and fiber-rich fruits and veggies and staying within added sugar limits. This type of eating pattern has a wide range of health-promoting benefits, including better gut health, improved weight management and healthier aging."
8. Harvest Toast With Peanut Butter, Apples and Cranberries
9. Oatmeal Cranberry Gems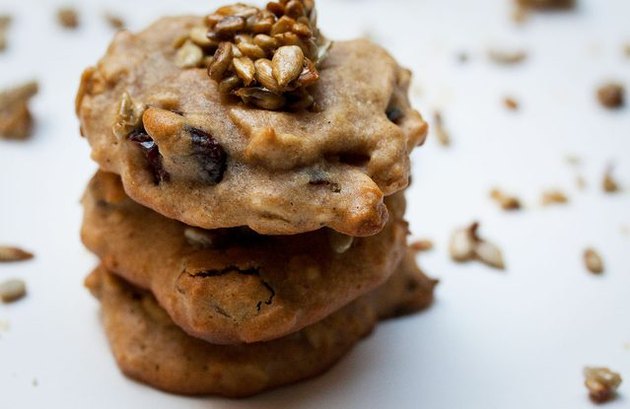 Thanks to the heart-healthy oats and the antioxidant-rich cranberries, these cookies will satiate those sweet-tooth cravings while delivering a host of health-related benefits.
These treats provide a satisfying blend of mild sweetness from the dried fruit, but have a spicy kick thanks to the ginger and cinnamon. Plus, this oatmeal cranberry cookie recipe doesn't use eggs, making them vegan.
Oats, considered a "power food," provide protein, vitamins and minerals as well as more fiber than any other grain, according to Medical News Today.
While this recipe calls for oat flakes, you can up the nutritional benefit of these gems by swapping in steel-cut oats. Steel-cut oats are healthier due to the way they are processed, retaining more fiber and protein when compared to rolled oats or flakes. Simply add 10 to 15 minutes of cooking time to allow the steel-cut oats to soften.