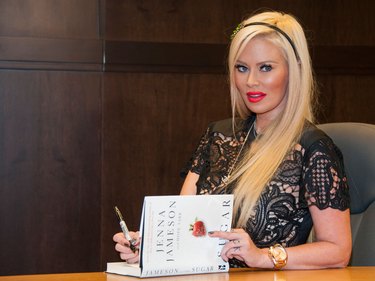 Jenna Jameson's physical transformation on the ketogenic diet has been nothing short of spectacular. In just ten months on the high-fat, low-carb eating plan the former adult film actress has surpassed her weight loss goal, dropping a whopping 80 pounds. But instead of ditching the somewhat controversial diet in order to prevent further weight loss, she has made some modifications to it.
The 44-year-old first tried the diet in March 2018, in order to lose the weight she gained not only during her second pregnancy with third child, daughter Batel, born in 2017, but also as a result of quitting drugs and alcohol. (Jenna is currently over three years sober!) She has been detailing her weight loss journey on social media, sharing images and details about everything from exactly what she eats to her exercise routine.
Within just four months of starting, she dropped 57 pounds, going from a 16 to a six in pants size. By September, she revealed that she weighed just 125, which she believed was her "ideal weight." By December, she was down to 120, crossing the 80 pound weight loss mark. Insane, right?
Now that she has reached her goal weight, and then some, she has no interest in losing any more pounds. "I am in maintenance mode now so I have upped my calories," explained Jameson in her latest Instagram post. While still partaking in intermittent fasting, she has amped up her portion sizes and is consuming more calories than before. Here is an updated version of everything Jenna Jameson eats every day on the keto diet:
Keto Breakfast
When Jameson wakes up she allows herself two cups of coffee, which she sweetens with stevia and sugar-free creamer — all allowed on the diet. "Then I wait until I get hungry," she writes. She usually eats her first meal of the day around 11:00 am. "My favorite go to when I am breaking my nightly fast is my Bomblette (recipe in my highlights) with a huge ice water," she continues. The protein-packed dish basically consists of two eggs cooked in a bed of shredded cheese, and looks something like an omelette.
Keto Lunch
For her second meal of the day, Jameson usually enjoys some fish with a salad. "Lately I have been loving making a tender white fish baked in the oven in butter with garlic," she continues. "I pair that with a arugula salad with olive oil and a touch of vinegar or my savage cabbage." In case you were wondering, her go-to cabbage dish is basically a wedge of the leafy, drizzled with olive oil, sprinkled with Himalayan sea salt, pepper, and perhaps a bit of paprika and baked until crispy. Um, yum!
Keto Dinner
Jameson ends the day with a final meal around 6pm — her version of pasta with meat sauce — hold the pasta! "For my last meal before my fast I am loving my "Beastie Bolognese," she reveals. "I eat it like chili."
Keto and Intermittent Fasting
After dinner, she starts her fast, which lasts a full 17 hours until 11:00 am. She does allow herself "nana," aka Morcocan mint tea. She makes the simple concoction with fresh mint leaves and hot water — no tea bag needed.
Should You Try Keto?
Jenna Jameson, along with Kourtney Kardashian, Halle Berry and Megan Fox are all fans of keto-style diets, but is it right for you? Before you decide to hop on the keto diet bandwagon, you might want to adjust your expectations, as most people don't experience results as extreme as many of its celebrity followers.
"For every 100 people who try the ketogenic diet, 99 of them will fail — and by that I mean they'll either be unable to stick to it at all or they'll lose a massive amount of weight, then gain it all back," weight-loss specialist Charlie Seltzer, M.D previously told LIVESTRONG.
In fact, most health experts aren't fans of the "too extreme and rigid" diet, explaining why it tied for last place in U.S. News and World Report diets ranking. Dr. Seltzer maintains that when it comes to long-term weight loss success, slow and steady wins the race. "To get rapid weight loss, the lifestyle changes need to be extreme, which is a setup for rebound weight gain," he said.
Only time will tell whether Jameson can maintain her weight on keto, but we are totally rooting for her!