Jessica Alba isn't just an actress, but a wellness enthusiast as well. The Honest Company founder is truly devoted to living her healthiest life from the inside out, and her thoughtful approach to nutrition and diet is evidenced by her glowing complexion and overall upbeat demeanor. If you're curious, here's everything Alba eats in a day — as well as what she doesn't — in order to stay looking and feeling her best.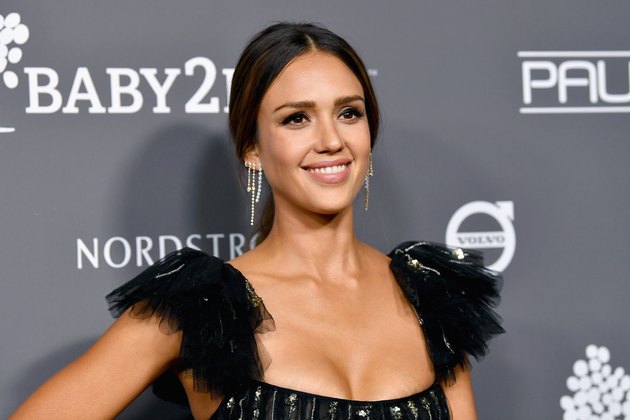 Breakfast
Alba has been working with holistic nutritionist, wellness expert and celebrity health coach Kelly LeVeque for about four years. She first reached out to LeVeque because she wanted to revamp her diet in order to boost her energy and reduce inflammation.
When they first started working together, Alba confessed she would often skip breakfast and be starving by lunch, LeVeque told Well + Good. She prescribed her a new morning regimen — a blood sugar-balancing and fiber-packed "Fab Four Smoothie" to start her day off right.
The blended beverage consists of one serving of protein, one to two tablespoons of almond butter, one to two tablespoons of chia seeds, a handful of greens and one to two cups of almond milk. As for fruit, there's only 1/3 frozen banana in it, to keep blood sugar from spiking too much.
Another one of Alba's go-to morning smoothie recipes is a blend of matcha green tea, banana and chilled coconut water with ice, which gives her caffeine for energy and electrolytes for hydration.
If she's going to a cook a breakfast meal for the family, she'll whip up some super thin flapjacks. "I know they say you shouldn't whisk pancake batter, but I do," Alba told Delish. "I make them out of gluten-free pancake mix, and I just thin out the batter with extra olive oil, egg and almond milk. Then, I whip it to death, and that makes really thin pancakes." And sometimes she'll enjoy some avocado toast.
Lunch and Dinner
According to LeVeque, Alba's other main meals of the day are built on the cornerstone of four healthy essentials: protein, fat, fiber and greens. Examples of her go-to meals include a salad with homemade dressing or a chicken quesadilla with lots of hot sauce.
In fact, Alba spices up most of her healthy meals by keeping a variety of hot sauces on hand. "I have five or six different types in my fridge," she told Delish. Her faves? Spicy buffalo sauce, Tabasco —"love the vinegar flavor"— sriracha, Cholula and habanero sauce. "Anything habanero-Caribbean-flavored, I'm down with," she said.
One thing she's not down with? Soy. According to LeVeque, Alba used to consume too much processed soy — found in soy milk, tofu, tempeh and soy sauce. So one of the first changes she made to her diet was drastically reducing it.
"It's full of phytoestrogens, which research suggests may contribute to health problems," Alba's nutritionist told Well + Good. "Also, more than 90 percent of soy in the U.S. is genetically modified."
Snacks
In-between meals, the California girl loves to snack on guacamole — and LeVeque is totally supportive of the avocado spread, which is full of healthy, monounsaturated fat.
"Fat breaks down into fatty acids, which help facilitate hormone production and are important for cell development," LeVeque said. "It also helps elongate your blood-sugar curve and turn off your hunger hormones."
Alba's other go-to snacks include popcorn and hummus with cucumber, broccoli, carrots, tomatoes and cauliflower.
Splurges
Some of Alba's favorite occasional indulgences include carb-heavy meals like ramen, lasagna and other pasta dishes, and her favorite meal, nachos, topped with homemade black beans and jalapeño-almond cheese.
"I've been trying to use alternatives to dairy... and Whole Foods sells an almond cheese that melts surprisingly well, but you have to grate it. You can't do slices," she told Delish.
And lucky for her, she says she isn't much of sweets person, so desserts, candies and sugary beverages aren't a huge temptation.
Hydration
While Alba enjoys the occasional adult beverage, she also drinks her fair share of hydrating beverages to counteract the damage. In addition to coconut water, she likes to drink salty water which she makes herself by adding a pinch of salt (usually pink Himalayan) to water.
"I actually have low blood sugar and low blood pressure, and I get very woozy if I don't have enough salt," she told Delish. "When I do hot yoga, water isn't enough. I need to have salty water or I'll have coconut water."