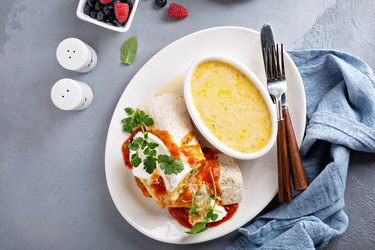 If you've ever traveled south of the Mason-Dixon, you've probably spotted grits on a menu or two. Whether eaten with eggs or as a side dish at your evening meal, the creamy and quintessentially Southern dish deserves a spot in your regular rotation.
Adding to the well-deserved flattery, grits are also naturally gluten-free, as they're made from corn. However, due to risks of cross-contamination, not all store-bought grits are safe for those following a gluten-free diet.
Before you buy, make sure to check the packaging thoroughly. And if you're hesitant to order grits at a restaurant, learn how to make your own shrimp and grits (keep reading!) instead.
Are Grits Gluten-Free?
Grits are made of dried and milled corn, not wheat, rye or barley, making the grain a naturally gluten-free food, according to the Whole Grains Council. Usually, grits are eaten savory and prepared with other gluten-free ingredients such as hot water or milk, served with butter, cheese or meat for added flavor.
When it comes to nutritional value, grits are made up of mainly carbohydrates, with about 30 grams per quarter cup, according to the USDA. A serving of grits can provide about 10 percent of your daily iron intake, too. Nevertheless, you'll want to pair your grits with some lean protein and healthy fats for a more nutritionally balanced (and filling) meal.
As with all grains you buy in the store, always double-check the packaging to verify the product is gluten-free. Cross-contamination is always a risk with packaged or prepared foods and occurs when foods come in contact with other gluten grains or ingredients, according to the Celiac Disease Foundation.
Cross-contact happens during preparation (as in restaurants) or during manufacturing (as in factories).
To confirm your food is free of unwanted gluten, look for a gluten-free label on the package. This label signifies that the food contains less than 20 parts per million of gluten (ppm), a value that's considered safe for those who are gluten-sensitive or gluten-intolerant, according to the FDA.
Or you can look for a certified gluten-free seal on the product. This means that the food has been tested by a trusted third-party organization. A common seal you may see is from the Gluten-Free Certification Organization, which tests with strict standards, verifying the food is less than 10 ppm of gluten, according to the organization's site.
Buy Your Own Gluten-Free Grits
If you want to give grits a try, stock up on these gluten-free grits from trusted brands:
1. Bob's Red Mill Gluten Free Corn Grits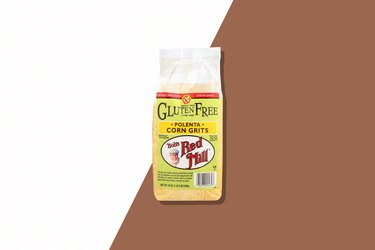 Bob's Red Mill is popular for its grain products, grits included. These grits are gluten-free and contain no added ingredients.
2. To Your Health Sprouted Flour Co Yellow Corn Organic Grits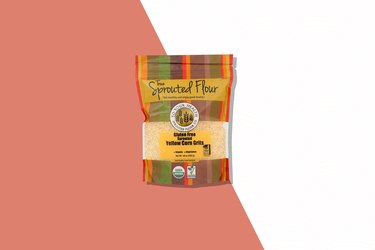 To Your Health Sprouted Flour Co's sprouted grits are not only gluten-free but contain more than 25 grams of whole grains, too.
3. House Autry Yellow Stone Ground Grits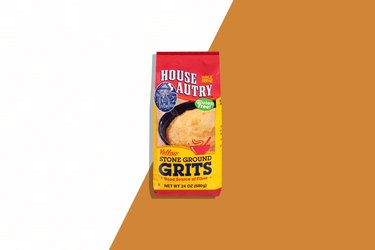 House Autry's gluten-free grits are made the old-fashioned way with stone grinding. They're also rich in corn flavor and yellow in color.
Gluten-Free Grits Recipe
If you want to eat your grits knowing they're free of any potential gluten contaminants, make them in your own kitchen!
Shrimp and Cheddar Grits Bowl with Stewed Okra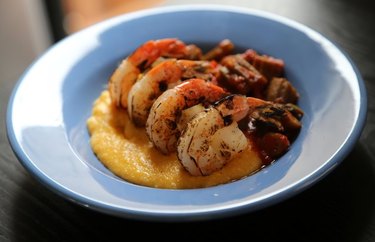 Calories: 299
Protein: 11 grams
A classic Southern dish, shrimp and grits also make an excellent low-calorie lunch. This recipe takes only 40 minutes to prepare and is full of healthy, unsaturated fats and fiber.
The main star of this dish, shrimp is a lean protein that's also a great source of omega-3 fatty acids, according to the National Institutes of Health. Omega-3s are beneficial to your heart health, and most Americans don't get enough. Shrimp is also a good source of zinc, a nutrient that can help support a healthy immune system.
Also a popular Southern ingredient, okra is a high-fiber veggie, providing about 3 grams per cup — that's more than 10 percent of the daily recommended value, according to the USDA. Okra is also an excellent source of vitamins C and K.