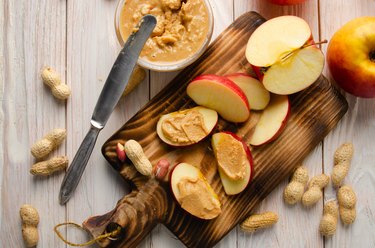 With or without its jelly companion, peanut butter is arguably one of the most delicious foods in your pantry. You can eat it solo, spread it on a rice cake or whip it into a peanut sauce — there are endless ways to enjoy this versatile spread.
And if you're following a gluten-free diet, you'll be relieved to learn that you can stock up on PB without worry as most jars are gluten-free.
Is Peanut Butter Gluten-Free?
In its natural state, peanut butter is a gluten-free food. Simple peanut butter that contains just peanuts (and some salt) is free of gluten grains, including wheat, barley and rye, according to the Celiac Disease Foundation.
Although the healthiest and simplest peanut butter brands make their spreads without gluten ingredients, that doesn't mean they're all gluten-free.
Some specialty or flavored PB spreads may be made with gluten ingredients, so you'll always want to double-check the label for hidden contaminants. Novelty PB spreads may have pretzel or cookie chunks, for instance, which are often made with wheat-based flour. Bottom line: Always check the labels on the jar.
With all processed foods, cross-contact is another risk worth considering before you buy a product. Cross-contamination occurs gluten-ingredients come in contact with gluten-free products either through preparation or manufacturing, according to the Celiac Disease Foundation.
To avoid gluten contaminants in your peanut butter, look for a gluten-free label on the jar. This mark is regulated by the FDA and ensures that the product contains 20 parts per million (ppm) of gluten or less, which is a value that's generally safe for gluten-sensitive or intolerant individuals.
You can also check for a stamp that signifies the peanut butter is gluten-free certified, which means the product has been tested by a third-party organization. A Gluten-Free Certification Organization (GFCO) seal ensures the food has 10 ppm or less of gluten, which are especially strict standards.
What About Products With Peanut Butter?
Although pure peanut butter is naturally gluten-free, that doesn't mean that all peanut butter products are safe to eat. There are plenty of cookie, granola, cereal and chocolate products that contain peanut butter but aren't necessarily gluten-free.
Aside from cross-contamination risks, some peanut butter varieties are actually made with gluten ingredients, which you'll want to avoid.
Gluten-Free Peanut Butter Brands
Make Your Own Gluten-Free Peanut Butter
If you want to get a little creative, you can also make your own peanut butter in just a matter of minutes.
Adding some peanut butter to your breakfast or lunch is a great way to boost your healthy fat intake. Nuts are high in both polyunsaturated and monounsaturated fats, which are linked to helping lower LDL (bad) cholesterol, improving the lining of your arteries and also helping decrease inflammation levels, according to the Mayo Clinic.
5-Minute Homemade Peanut Butter Recipe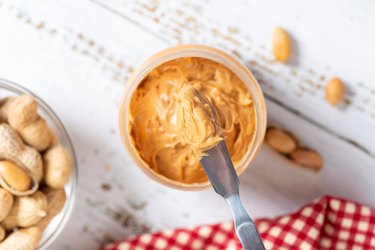 ​Calories:​ 207
​Protein:​ 6.4 grams
This recipe is simple to prep and takes only about five minutes total. Plus, the ingredients are simple and you probably already have them lying around the pantry. Although this recipe uses sugar or honey as a sweetener, these ingredients are optional and can be swapped with your sweetener of choice or omitted altogether.