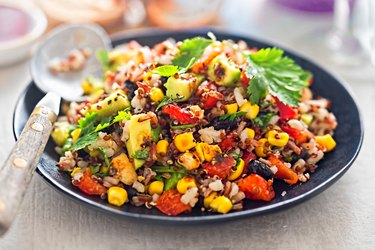 Vitamin K might seem like an obscure nutrient to track, but for those on certain medications like warfarin (aka Coumadin), it's crucial.
These blood-thinning drugs help prevent blood clots or prevent current blood clots from worsening. Vitamin K comes into play because it interacts with these medications.
One of the roles of vitamin K in the body is to help blood clot, so for those who are on medications to prevent this from happening, the two work against each other.
This doesn't mean people on these meds should ban all foods with vitamin K from their diets, but it does mean they should monitor their intake of the nutrient and keep it consistent.
Tip
To make sure the warfarin or coumadin are working effectively and safely, it's important to eat about the same amount of vitamin K every day, per the University of Michigan Medicine.
It's crucial you work closely with a dietitian and your doctor to determine the appropriate amount for your personal needs.
Once you start taking these blood-thinning medications, you don't want to start eating a lot less or a lot more vitamin K.
If you do want to make significant changes to your diet, consult with your doctor. Your dose of medication may need to be adjusted, according to the Cleveland Clinic.
Vitamin K is found in many vegetables (and some fruits), which can make getting your daily dose of produce difficult to navigate.
To help, we've pulled together some salad recipes with varying amounts of vitamin K. Each recipe has about 55 micrograms of vitamin K or less per serving. The salad meals tend to be bigger portions and therefore are on the higher end, while the side salads tend to be lower in vitamin K.
Warning
Keep in mind, all of these salad recipes may not be appropriate for you. It depends on the amount of daily vitamin K recommended to you by your doctor and/or dietitian. Please consult with them if you have individual questions.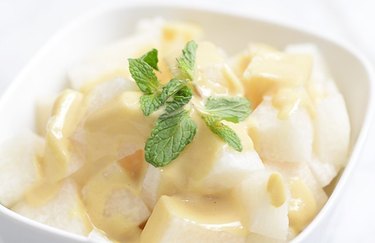 Jicama is a Mexican root vegetable that is conveniently low in vitamin K. It'll give you that fresh crunch you're looking for in a vegetable. You can find it in the store in its natural root form or you can find it pre-sliced in some supermarkets.
We love this side salad recipe because it's simple with just four ingredients. Each serving provides 133 calories, 8 grams of healthy fats from olive oil and 6 grams of fiber.
2. Lettuce-Free Keto Cobb Salad
This cobb salad combines chicken, bacon, hard-boiled eggs, avocado and blue cheese for a filling meal. One avocado provides 35 percent of your vitamin K needs, which pretty high, so consider halving the avocado called for.
The meal is lower in carbohydrates, so if you're on a low-carb diet this may suit you well but if not, you may want to pair with a whole grain like brown rice.
Get the Lettuce-Free Keto Cobb Salad recipe and nutrition info at Kalyn's Kitchen.
3. Cowgirl Black Bean Salad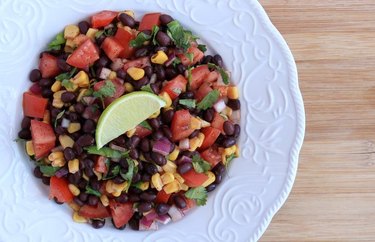 This is a hearty side salad that pairs nicely with a lean protein. It's fresh yet filling with a balance between the vegetables and black beans.
Scallions, or green onions, are high in vitamin K but each serving is only about one-third of a stalk. You could also choose to leave it out altogether.
This salad calls for frozen corn but you can also use corn on the cob and cook it on the grill. Corn is rich in antioxidants like lutein and zeaxanthin. These two nutrients support eye health in many ways, one of which is filtering harmful blue light, according to the American Optometric Association.
4. Edamame Mushroom Salad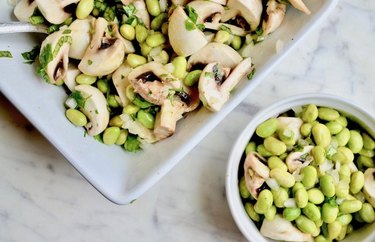 This is a simple salad featuring button mushrooms and shelled edamame. It has a healthy balance of fats, carbs and protein on its own as a snack or as a side salad at dinner. Edamame is a good source of plant .loprotein but it's a unique protein in that it's also a good source of fiber.
You should make friends with fiber for many healthy reasons but especially if you're trying to lose weight. Fiber is beneficial for managing your calorie intake because it promotes satiety, a review published in the Journal of Nutrition and Metabolism in January 2019 found.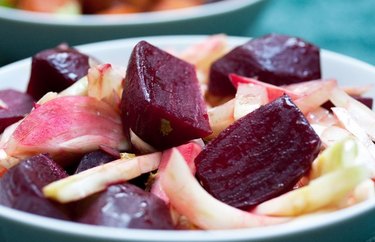 Beets are low in vitamin K but raw fennel is much higher. The good news is, this recipe only serves a one-fourth cup of fennel per serving so the overall vitamin K content is kept fairly low overall, which keeps balancing your intake easier.
Both beets and fennel are nutrient-dense. Pickled beets are high in manganese and folate, while fennel is a good source of vitamins A and C.