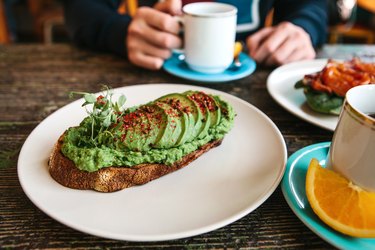 Our Breakfast Meal Prep series streamlines mornings by giving you the shopping lists and recipes you need to prep easy, nutritious breakfasts for the whole week.
Starting a plant-based diet doesn't mean you have to cut out animal products completely — you just have to shift your focus to eating more plants, including vegetables, fruits, nuts, whole grains and legumes.
That simply means that the majority (or more than 50 percent) of what you eat comes from these plant food sources.
Plant-based diets are linked to weight loss as well as a decreased risk of cancer and fatal heart disease, according to the Spring 2013 issue of The Permanente Journal.
However, the study researchers note that a healthy plant-based diet requires planning, reading labels and discipline. And that's where meal prepping comes in handy.
Planning and prepping a week's worth of plant-based breakfasts can easily save you time and provide a healthy and energizing morning meal — all while taking the guesswork out of what to eat.
Below, find out how to prep three delicious plant-based breakfasts from start to finish — including what to shop for, how to prep the meals and how to pack them for freshness.
Simply prep them on a Sunday (or any day, really) for seven days' worth of breakfasts.
This week, you'll be making Chia Overnight Oats, Avocado Toast With Egg and Cumin and Pistachio Banana Oatmeal.
These a.m. meals will last you the whole week — and all you need are nine ingredients (and a few more common staples, such as spices, you probably already have at home) to make all three recipes!
Either buy these online or shop for them at your local grocery store. Click here for a printer-friendly version of this week's grocery list!
Next up, containers! Here are some favorites to make sure you can meal prep and save leftovers properly.
Meal Prep Storage Containers ($19.69 per 6-pack, Amazon.com)
Plastic Pint Freezer Jars (13.95 per 2-count, Amazon.com)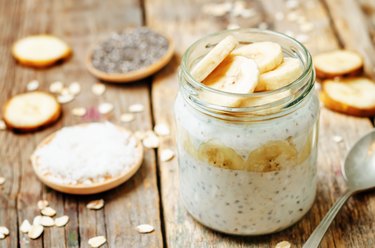 Overnight oats are the make-ahead solution to a busy morning. Simply mix everything together the night before, pop in the refrigerator and let time do the work.
The oats will soften overnight and soak up the delicious flavors, creating a creamy, delicious breakfast treat.
Recipe yields 2 servings for 2 days of the week.
¾ cup rolled oats
1 banana, mashed
1 tablespoon chia seeds
1 ½ cups unsweetened almond milk
Pinch of salt
½ teaspoon cinnamon
Optional: 1 teaspoon vanilla
Mix all ingredients together in mason jar or container.
Place in refrigerator overnight.
Serve half a portion and save the rest for another day, or save the whole thing.
Tip
The plastic pint freezer jars are the perfect size for your Chia Overnight Oats. Since it's a serving for two, you can scoop out half for breakfast and save the other serving in the same container for another day.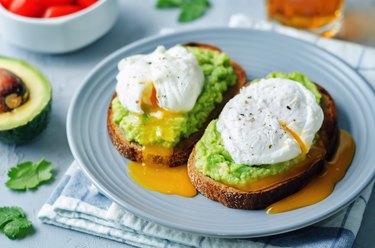 Avocado Toast is a staple on many trendy breakfast menus, but this version is simple enough to make at home any time.
The keys to making this delicious dish are a ripe avocado, toasted whole-grain bread and the perfect combination of spices and citrus.
You'll get a good dose of complex carbohydrates and healthy fat, but feel free to punch up the lean protein with a handful of pistachios or two poached or hard-boiled eggs.
Recipe yields 2 servings for 2 days of the week.
1 avocado, peeled, pitted, diced
1/4 teaspoon kosher salt
¼ teaspoon ground black pepper
¾ teaspoon cumin
Juice + zest from ½ lemon
2 pieces whole-wheat bread, toasted
Optional: 4 hard-boiled/poached eggs
Optional: ¼ cup pistachios, chopped
Optional: red pepper flakes and spritz of lemon juice
In a bowl, mash together avocado, salt, pepper, cumin, juice and lemon zest.
Spread half the avocado mixture on each piece of toast.
Optional: garnish with chopped pistachios, a pinch of red pepper flakes, a spritz of lemon juice, and/or 2 hard-boiled or poached eggs.
Tips
To make this even quicker, mash the avocado, salt, pepper, cumin, juice, and zest ahead of time and keep in a airtight container in the refrigerator until you're ready to eat. The lemon juice should help keep the avocado from browning, but you'll also want to put plastic wrap directly on the avocado mash before placing the container top.
Purchase hard-boiled eggs or add the eggs to your meal prep list and hard-boil (or poach) four ahead of time before you're ready to eat.
3. Pistachio Banana Oatmeal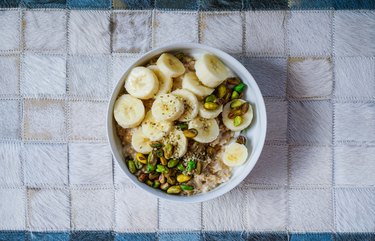 This delicious oatmeal recipe packs pistachios, which contain a combo of plant-based protein, fiber and better-for-you fats that make this meal the perfect way to start the day.
Paired with other nutritious ingredients, including rolled oats and bananas, this recipe makes a power-packed breakfast that will help fuel your body all morning.
Recipe yields 3 servings for 3 days of the week.
1 1/2 cups rolled oats
1 1/2 cups unsweetened almond milk
1 1/2 cups water
1 1/2 bananas, sliced
3/4 cup pistachios, chopped
Pinch of salt
Optional: 1 teaspoon honey or maple syrup
In a medium saucepan, combine oats, almond milk, water and salt.
Bring to a boil then reduce heat to low. Simmer, uncovered, for 3 to 5 minutes, stirring occasionally. Oat mixture should thicken.
Remove from heat and pour a third into one bowl if you're planning to eat it that day. If you're planning to keep for another day, pour it into a meal prep container and store in the fridge until ready to serve.
Tip
Heat it up and then top with banana and pistachios right before serving. To reheat, add a touch of almond milk and microwave for one to two minutes and stir before eating. You can also drizzle it with honey or maple syrup.
Click below to pin and save these recipes for later.