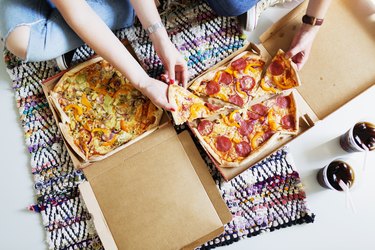 While many consider Pizza Hut their go-to Friday night takeout chain, those following a gluten-free diet will have an easier time picking their pie.
Pizza Hut offers limited choices for those avoiding gluten, which is a protein found in wheat, barley and rye. Although the restaurant does offer several gluten-free menu options, Pizza Hut kitchens are not gluten-free environments, according to the company site. And GF option aren't available at all Pizza Hut locations just yet.
So, any food you order at a Pizza Hut restaurant can be at risk of cross-contamination, which occurs when gluten ingredients come in contact with gluten-free foods, according to the Celiac Disease Foundation.
In restaurants, wheat flour particles can be tossed in the air (during food prep), landing on other surfaces or foods, ultimately contaminating them. What's more, airborne flour can potentially get into the nose, mouth, throat and get swallowed down into the GI tract, causing a reaction to gluten and posing a risk.
All things considered, Pizza Hut says it cannot guarantee that the restaurant itself or any item on its menu is completely free of gluten — and it does not recommend any menu items for people with celiac disease.
Gluten-Free Options at Pizza Hut
Considering pizza dough is usually made with wheat flour, it's no surprise that Pizza Hut's gluten-free menu isn't very extensive. Nevertheless, the popular chain does offer a handful of Certified Gluten-Free crust options, according to Pizza Hut's allergen menu.
The chain offers Udi's certified gluten-free pizza crusts, which are made with tapioca flour and brown rice flour, among other ingredients, rather than wheat flour.
Pizza Hut offers a Cheese-only Gluten-Free Pizza and a Pepperoni Gluten-Free Pizza made with Udi's certified gluten-free crust — both of these pizzas are prepared following a strict preparation process certified by the Gluten Intolerance Group (GIG), according to the company site.
Staff wear gloves and use a designated gluten-free pizza roller cutter to cut the gluten-free pizzas, and your pizza will be packed in a designated gluten-free Pizza box.
But if you're making a create-your-own pizza with Udi's gluten-free crust and select other toppings besides the gluten-free cheese, pepperoni and marinara, know that your pie is not made using GIG-approved procedures.
Udi's Gluten-Free Crust at Pizza Hut
Gluten-Free Pizza Toppings at Pizza Hut
Applewood smoked bacon
Beef
Diced roma tomatoes
Fresh green bell peppers
Fresh mushrooms
Grilled chicken
Italian sausage
Mediterranean black olives
Roasted spinach
Seasoned Pork
Sliced banana peppers
Sliced jalapeno peppers
Slow-roasted ham
Sweet pineapple
Crushed red pepper packet
Grated cheese packet
Gluten-Free Dipping Sauce at Pizza Hut
Barbeque dipping sauce
Buffalo dipping sauce
Buffalo ranch dipping sauce
Cheese dipping sauce
Gluten-Free Pizza Sauce at Pizza Hut
Barbeque pizza sauce
Buffalo pizza sauce
Warning
Although Pizza Hut offers gluten-free menu options, and the gluten-free pizza is formulated without gluten ingredients, there's no guarantee your food will be safe from potential gluten cross-contamination. People with celiac disease should not order from Pizza Hut and people with gluten sensitivity should order with caution.