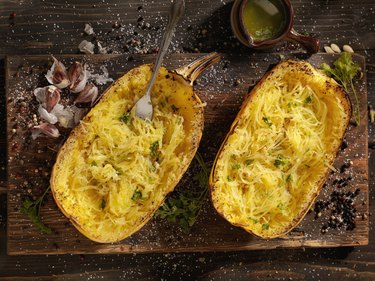 Pining for a plate of pasta minus the calories and carbs? Believe it or not, this pipe dream can be a reality if you get a little creative and substitute spaghetti squash for some (or all) of your noodles.
Spaghetti squash's "rich but not overbearing flavor combines well with vegetable dishes as well as mains with added meat, poultry or seafood," Taub-Dix says.
"Even without pasta, though, spaghetti squash can stand on its own, resembling spaghetti in shape yet being lower in carb content," she adds.
Plus, this wonderful winter squash is richer in vitamins, minerals and fiber than regular pasta. At just 42 calories per cup (that's less than half a slice of bread), spaghetti squash supplies 2.2 grams of fiber (a nutrient all of us need and most of us don't get enough of), antioxidants like beta-carotene and immune-boosting vitamin C, Taub-Dix says.
Try these five flavor-packed spaghetti squash recipes — all under 500 calories — the next time you have a longing for linguine.
1. Instant Pot Spaghetti Squash With Spicy Chicken Sausage and Mustard Greens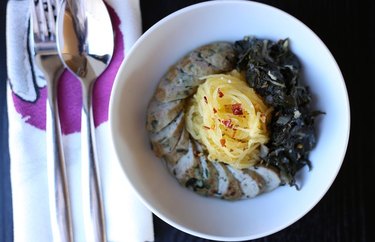 Juicy chicken sausage serves up satiating protein and healthy fats in this spicy spaghetti squash recipe seasoned with piquant red pepper flakes. Meanwhile, mustard greens give this delicious dish more veggie variety and a heap of healthy vitamins and minerals.
Did we mention this mouthwatering meal is super simple to make? Using an Instant Pot cuts down hands-on prep time to a mere five minutes.
2. Simple Spaghetti Squash With Pesto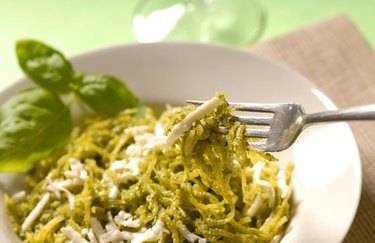 This healthy twist on pasta with pesto nixes the high-carb noodles for spaghetti squash to slash calories and carbs without sacrificing lip-smacking flavor. And since spaghetti squash is so diet-friendly, you don't have to skimp on servings — enjoy two heaping cups, which clock in under 350 calories.
Pair your pesto with juicy tomatoes, crunchy pine nuts and fresh basil leaves for a ton of tastebud-tickling texture.
3. Cheesy Spaghetti Squash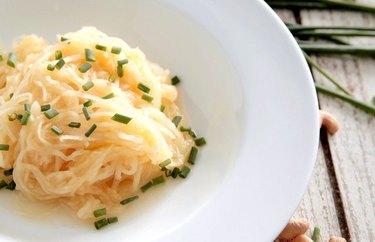 Think you can't enjoy cheesy pasta if you're vegan or dairy-free? This scrumptious spaghetti squash will change your mind. Made with cashews and nutritional yeast, this thick, creamy, "cheesy" sauce is stellar served over squash noodles (or licked straight off a spoon). And with only 158 calories (and 2 grams of saturated fat), it won't break the calorie bank like a heavy Alfredo sauce.
4. Cheesy Baked Spaghetti Squash Noodles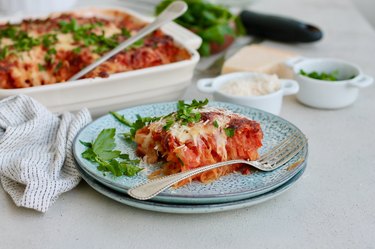 There's nothing like a comforting casserole to warm you up on a cold day. And this baked spaghetti squash dish — smothered in mozzarella until it's brown and bubbly on top — is the epitome of comfort food. This vegetarian casserole also delivers your daily quota of veggies thanks to a homemade red sauce of crushed tomatoes (technically a fruit, but still!), onions, celery and carrots.
​Get the Cheesy Baked Spaghetti Squash Noodles recipe and nutrition info at Hey Nutrition Lady​​.​
5. Super Food Spaghetti Squash Recipe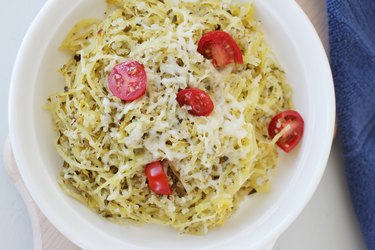 In this beautifully balanced meal, spaghetti squash is stuffed with super seed quinoa and fresh mozzarella for a marvelous mix of macros. Speaking of balance, the acidity of tangy tomatoes slices through the oily pesto for a flavor combination made in culinary heaven.
And with 20 grams of protein and 10 grams of fiber per serving, your belly's bound to be satisfied for hours.