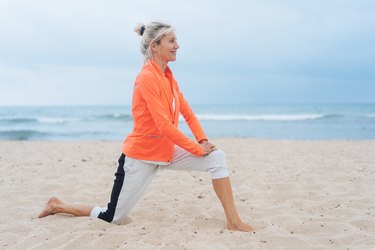 While some workouts may be harder on your joints as you age (think CrossFit, plyo and HIIT), there's no reason to stop strength training once you're 50, 60, 70 or even 80. On the contrary, it's even more important to maintain a workout routine as you get older, since you naturally lose muscle mass with each passing year.
"Fat gradually replaces some of the volume and our muscles become weaker and less able to contract," Maria Delgado, PT, certified personal trainer with Blink Fitness Hunts Point, in the Bronx, New York, tells LIVESTRONG.com. This makes every day activities harder, especially those that involve lower-body movement.
"Paying special attention to our lower-body strength is vital, since our lower body is made up of our largest muscles [quads and glutes], and it's the foundation for our daily movements such as walking, dancing, jogging, bending and lifting," Delgado says.
"Training the lower body provides the most gains in overall body health and strength," she says. "It increases bone density and helps prevent common injuries such as strains, sprains, fractures, knee and hip injuries, all while improving balance and boosting stamina and confidence."
Performing exercises like squats, lunges, bridges and hip thrusts can help you build lower-body strength while improving overall performance. You can perform these movements individually or follow order of the 20-minute workout below, as designed by Delgado.
Try This 20-Minute Workout for Your Legs and Butt
Do: each of the following exercises for the given number of reps and sets, keeping your rest between sets short (10 to 20 seconds) — just enough time to catch your breath.
Move 1: Squat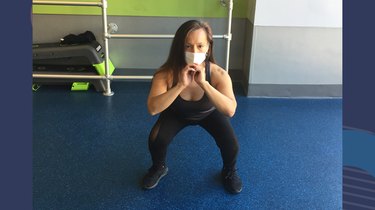 Stand with feet hip-width apart, toes slightly turned out.
Tighten your core and keep your chest up as you push your hips back and you lower your butt down and back.
Continue to lower yourself until your thighs are almost parallel to the floor (or however far your mobility allows). Your feet should remain flat on the ground, knees tracking over your first or second toe.
Drive through your heels as you press yourself back up to standing, finishing with a butt squeeze (but don't push your hips forward).
Tip
Squats target your quadriceps, hamstrings, glutes, abdominals and calves. Just make sure to keep your core braced and feet (heels and toes) grounded throughout the exercise.
Move 2: Lateral Walk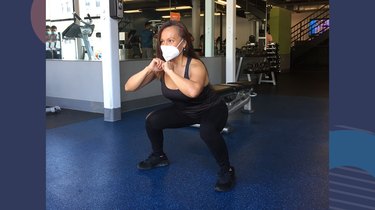 Stand with your feet hip-width apart. Take a squat position, with feet grounded and hips pushed down and back.
While squatting, take a wide step to the right with your right foot.
Step your left foot toward your right until your feet are hip-width apart again.
Take 4 small steps to the right, then repeat with 4 small steps to the left.
Repeat for a total of 16 steps and complete 2 more sets.
Tip
Make sure to fully engage your glutes and hip abductors (muscles around the hip that move your legs away from the midline of your body) by staying squatted throughout the exercise.
Move 3: Side and Reverse Lunge
Stand with feet shoulder-width apart, toes pointed straight forward.
Step out to the right side with your right foot.
Drop your hips down and back while keeping your left leg straight, continuing to point toes forward. Make sure your right knee is tracking over your right foot.
Press through the right heel to push yourself back to standing.
Take a big step backward with your right foot until both knees reach a 90-degree angle. Your back knee should hover just about the ground and your front knee shouldn't go beyond your toes.
Lift your front leg and return to standing.
Do 5 reps (1 side lunge + 1 reverse lunge = 1 rep) on each leg and complete 3 sets total.
Tip
"These single-leg movements activate your stabilizing muscles, thus forcing your core and spine to work harder to develop balance, correct imbalances, and improve coordination and stability," Delgado says.
Side lunges work your inner and outer thighs, training your body to move side to side, while reverse lunges put less stress on your knees and provide more stability in the front leg. "They are ideal for those experiencing knee problems or difficulty balancing, as well as who have less hip mobility," she says.
Always find your balance before you bend your knee down and brace your core as you push body up.
Move 4: Glute Bridge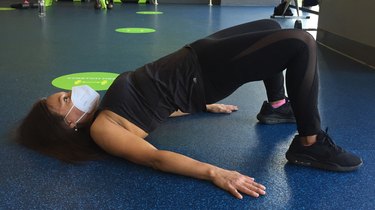 Lie on your back with knees bent and pointed to the ceiling.
Exhale and lift your butt off the floor. Keep both feet grounded on the floor and your thighs and feet parallel. Your body should form a straight line from your shoulders to your knees.
Rest your arms with hands palms down by your sides or clasp them together and extend them along the floor beneath you.
Squeeze your glutes tightly and hold the contraction for 3 seconds.
Release and lower your butt to the floor and repeat.
Tip
Bridges target and strengthen your glutes and hamstrings. "This exercise can also improve core stability by targeting your abdominal muscles and the muscles of lower back and hip," she says.
For added tension and to get a greater burn to the glutes, use a resistance band around the thighs or hold the contraction for longer (4 to 10 seconds).
Move 5: Quadruped Side and Back Kick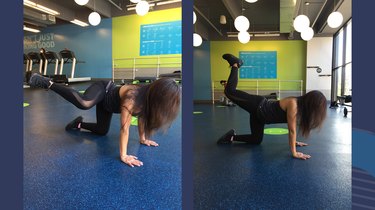 Get on all fours, keeping your ab muscles tight.
With your right knee bent, lift it out to the side until it's parallel to the floor.
Hold for 2 seconds, then bring it back to starting position.
Then, keeping the right knee bent, lift it up toward the back until your foot is parallel to the ceiling.
Hold for 2 seconds, then bring back to starting position.
Repeat for 20 reps (10 side kicks and 10 back kicks), then switch legs.
Complete 3 sets total.
Tip
Glute kicks primarily target the gluteal muscles: the gluteus maximus, medius and minimus. "The sidekick works particularly the quads, glutes, outer thighs and core," Delgado says. "The back kicks or butt kicks work the hamstrings and glute muscles, which will help shape the buttocks and strengthen it."
Imagine the kick movements being led by the knees for a better lift/kick.