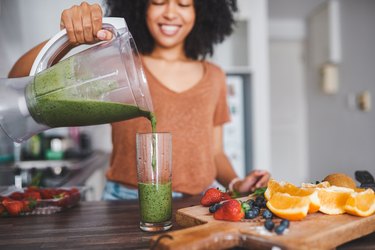 Eating gut-healthy foods first thing in the morning can help your health in a number of ways.
First off, foods high in fiber like whole grains, fruits and vegetables can keep you from feeling bloated and they may help you "go" or prevent you from becoming constipated.
Fermented foods like yogurt and kefir nourish our guts by introducing more beneficial bacteria into our systems. And prebiotic foods like oats, bananas and apples are a fuel source for these healthy bugs. These beneficial bacteria also eat foods high in polyphenols (aka antioxidants) like berries, beets, nuts and spices.
Other foods, such as pineapple, mango, avocados and papaya (and kefir) contain digestive enzymes, which help our bodies digest different foods and better absorb the nutrients in them.
Smoothies are one of the easiest ways to get a healthy mix of gut-healthy fruits, vegetables, whole grains, nuts and spices first thing in the morning — and these seven breakfast smoothies for digestion fit the bill.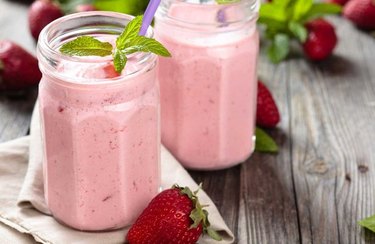 ​Calories:​ 407
​Fiber:​ 9 grams
This berry-banana smoothie is on the sweeter side yet remains free of added sugars. Strawberries are high in polyphenols and the smoothie is filled with probiotics from the Greek yogurt. Frozen bananas and strawberries are called for in this recipe because they make the smoothie extra thick and creamy without having to overdo it on the ice, which can dilute the flavor.
2. Lemony Pear-Ginger Smoothie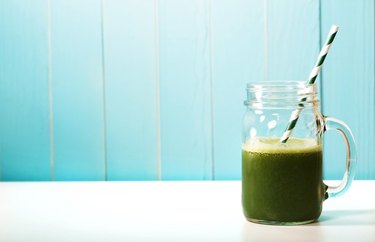 ​Calories:​ 250
​Fiber:​ 14 grams
There are a lot of different flavors in this Lemony Pear-Ginger Smoothie but somehow they all work together well. Fresh ginger root adds bite and it helps to fight bloat. Avocados give this a creamy, milkshake-like texture while also providing important digestive enzymes. If you're looking for a little more natural sweetness, try adding half of a frozen banana.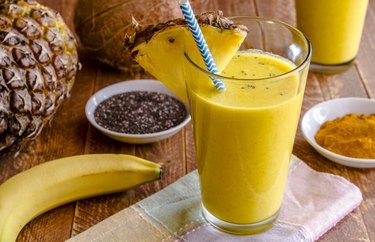 ​Calories:​ 279
​Fiber:​ 6 grams
The beautiful golden hue of this smoothie comes from turmeric. Tangerines add sweetness along with honey and coconut water although their slight tartness provides balance as well. Ground oats are rich in gut-healthy fiber and they add thickness to this breakfast smoothie.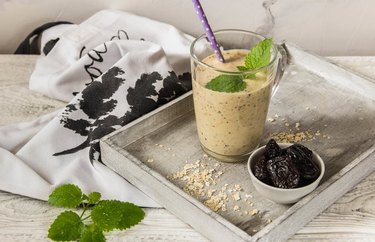 ​Calories:​ 321
​Fiber:​ 8 grams
This smoothie is aptly named. Dried plums, ginger and quinoa all provide nourishment to the gut. Pomegranate seeds are full of polyphenols and fiber, but they have a short season so if you're unable to find fresh pomegranate, try adding 100-percent pomegranate juice to your smoothie instead.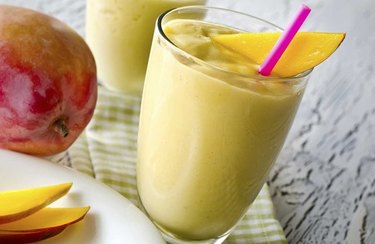 ​Calories:​ 272
​Fiber:​ 4 grams
This bright smoothie is a delicious way to start the day and get your fill of gut-healthy foods. Probiotic-rich kefir is a thicker liquid, providing perfect texture to this smoothie. Frozen mango manages to be sweet and tart at the same time. It's also an excellent source of amylase, a digestive enzyme also found in bananas.
6. Tummy-Flattening Papaya Pineapple Smoothie
​Calories:​ 505
​Fiber:​ 13 grams
The "tummy-flattening" comes from the banana, papaya and pineapple, which are all-natural sources of digestive enzymes including amylase, papain and bromelain, respectively. You won't even taste the kale because it's masked by the fruity sweetness from coconut water and the other tropical fruits.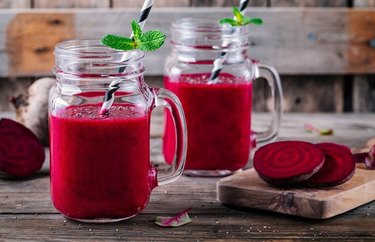 ​Calories:​ 175
​Fiber:​ 10 grams
The rich red color of this smoothie comes from the antioxidants found in beets but it's also an indication of the polyphenols found in raspberries and strawberries. The beet and ginger give this smoothie an earthy flavor. If you find it to be overwhelming, consider using a whole banana instead of the half banana called for in the recipe.