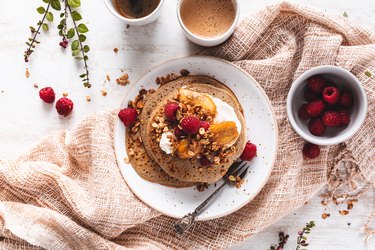 Spoon some Greek yogurt into a bowl, top with a few strawberries and sprinkle some granola on top. Is that snoring we hear in the background?
Let's face it, it's time to retire the overdone Greek yogurt parfait. While the popular breakfast option is healthy — Greek yogurt is packed with gut-healthy probiotics and satiating protein, after all — it can get boring pretty quick.
Instead of falling into the same a.m. meal rut, keep the yogurt but shake up your usual parfait with these creative and protein-rich Greek yogurt breakfast recipes.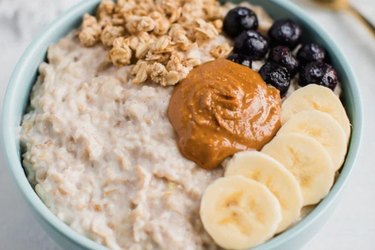 ‌Calories:‌ 267
‌Protein:‌ 10 grams
Just when you thought your bowl of oatmeal couldn't get any better, in walks Greek yogurt. This added ingredient will not only give your breakfast a boost of protein but also lends your oats a creamy, fluffy texture.
Oats are a whole grain filled fiber, which helps regulate your blood sugar levels, ultimately keeping you satiated throughout the morning, according to the Whole Grains Council. Then, combined with some extra protein, this Greek yogurt recipe makes for quite the satisfying breakfast.
2. Blueberry Protein Muffins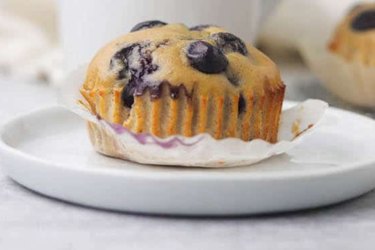 ‌Calories:‌ 165
‌Protein:‌ 11 grams
How often do you scarf down a muffin for breakfast and feel hunger pangs about an hour later? Given the protein content in this recipe, you won't have to worry about reaching for the snack cabinet right after your a.m. meal.
A few tablespoons of oil and butter can tack on quite a few calories without too many nutritional benefits. Taking a healthier approach, these muffins use applesauce as a binding agent, which is why these are so low in fat and calorie-friendly.
3. Greek Yogurt Oat Pancakes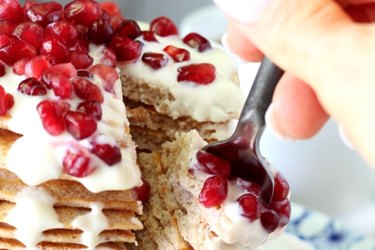 ‌Calories:‌ 273
‌Protein:‌ 16.5 grams

Greek yogurt pancakes topped with a maple syrup yogurt sauce? Sign us up! You'll get 16.5 grams of protein per serving — and these only take about 15 minutes to whip up, which means they're perfect for a rushed morning.
Instead of whole eggs, this recipe calls for egg whites, which is what really takes the protein content to the next level. Low in fat, the egg whites in this recipe will also supply about 7 percent of your daily vitamin B12 content, according to the USDA.
4. Savory Yogurt Bowl With Sliced Veggies and Fried Mustard Seeds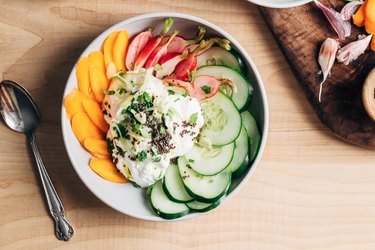 ‌Calories:‌ 447
‌Protein:‌ 23.7 grams
If a sweet yogurt parfait loaded with fruit and granola isn't your thing, why not try a savory version? Just as a standard parfait, this bowl begins with a Greek yogurt base but is filled with veggies and topped with savory ingredients like cilantro, scallions and mustard seeds.
One of the main stars in this recipe, radishes, contribute much-needed nutrients to your breakfast. One cup of radishes pack about 19 percent of your daily vitamin C content, according to the USDA.
While Vitamin C is best known for its immune-boosting benefits, this antioxidant also helps the body produce collagen and process protein, according to the National Institutes of Health (NIH).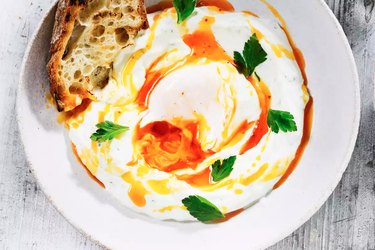 A shakshuka-like dish, Turkish eggs are a yogurt lover's fantasy. Served with a side of crunchy sourdough bread, this recipe makes the perfect brunch dish.
Alongside the Greek yogurt, the eggs add some essential nutrients, including choline. This lesser-known nutrient supports your overall metabolism and brain function, especially your mood, memory and muscle control.