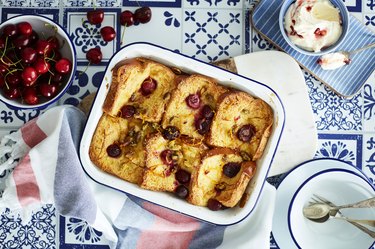 Whether you're celebrating Hanukkah or you just have a loaf of pillowy, soft challah bread sitting around and no clue what to do with it, fret not — we're here to put that leftover challah to good use.
Challah bread is simply made with flour, yeast, eggs, water and salt. What makes it different from other types of bread is the hearty amount of eggs used in the recipe. Not only do the additional eggs make the dough extra rich, but it's also what gives it its signature yellow color.
Ahead, find five simple recipes with challah bread for meals and desserts with at least 10 grams of satiating protein.
1. Apple Pie Overnight French Toast Casserole
​Calories:​ 615
​Protein:​ 15 grams
Enjoying french toast for breakfast is a treat and this recipe makes serving this decadent breakfast a breeze since most of the prep work is done the night before. "I like that this Apple Pie Overnight French Toast Casserole recipe contains protein-rich eggs as well as fiber-boasting apples," says plant-based dietitian Amy Gorin, RDN. If you're looking to reduce the calories here, use low-fat milk instead of half and half.
2. Sausage, Apple and Sage Stuffing
​Calories:​ 372
​Protein:​ 10 grams
If you're looking for a recipe that sneaks in healthy ingredients without having your picky eaters notice, this Sausage, Apple and Sage Stuffing is a must-try. "This stuffing includes several sources of fruits and veggies, like apples, onion and celery," Gorin says. Consider adding even more leftover produce to this stuffing to boost its fiber content.
3. Overnight Ham Breakfast Strata
​Calories:​ 703
​Protein:​ 48 grams
If you've never heard of strata, it's essentially a baked dish filled with eggs and bread with a custard-like base. And because this recipe uses pillowy, soft challah as the bread filling, it's super-rich and hearty. "Consider halving the serving and pairing this Overnight Ham Breakfast Strata with a green salad," Gorin says.
4. Blueberry French Toast Casserole
​Calories:​ 341
​Protein:​ 11 grams
This delicious casserole is the perfect go-to when you want a sweet breakfast or dessert without undoing your healthy-eating wins. Sticking to the serving size ensures you get a reasonable amount of calories, plus 11 grams of fueling protein, Gorin says. To balance out the meal, consider serving with a side of scrambled eggs to keep you fuller longer.
5. Breakfast Strata With Pancetta and Caramelized Onions
​Calories:​ 325
​Protein:​ 16 grams
Whoever said eggs were solely for breakfast didn't know about hearty dishes like this one. This Breakfast Strata With Pancetta and Caramelized Onions is another dish that allows you to prep the night before for a delicious meal for the next morning (or evening). "I like that this includes whole eggs, which boast protein," Gorin says. She recommends reducing the sodium content by swapping for low-sodium pancetta and reducing the amount of salt you sprinkle in, too.