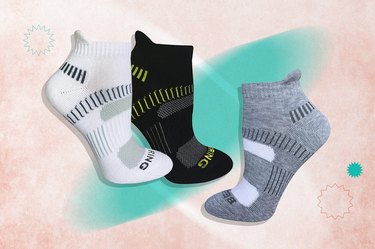 I grew up playing all the sports: basketball, soccer, track and field, you name it. My love for being active stayed with me into adulthood, as did the lessons I learned along the way. One lesson was about the importance of socks, from the record-breaking UCLA basketball coach John Wooden.
I vividly remember my mom and I listening to an interview with Wooden where he says, "The first thing I would show our players at our first meeting was how to take a little extra time putting on their shoes and socks properly. The most important part of your equipment is your shoes and socks."
Socks? Really? Workout socks aren't especially exciting, and they're likely the item in your outfit you think about the least. Sure, you can use them to accent an outfit or make a statement. But if you don't need a special type of sock for a medical reason, does it really matter what pair you throw on to hit the gym or go on a jog? Coach Wooden would tell you yes, absolutely — and after discovering the Bering Performance Athletic Ankle Socks on Amazon, I, too, am telling you: Yes, absolutely.
The socks you wear while exercising, whether during an intense HIIT workout or a neighborhood walk, can affect your performance and comfort. Brands are constantly trying to perfect the design of socks, from where to add padding to the rise of the ankle tab. Bering has managed to come close to perfection — and at an excellent price point.
Bering Ankle Socks: Functionality and Features
A pair of truly good socks enhances your workout and isn't distracting. Here are all the reasons the Bering Performance Ankle Socks have become my go-to workout socks.
Most running socks have added cushioning around the heel and ball of the foot, and the amount of cushion on this pair is just right. Rather than a separate section of the sock that adds uncomfortable seams and bulk to the design, this pair features a subtle increased thickness just where it's needed, and not so much cushion that it changes the way your shoe fits.
Another thing not uncommon to running socks is a higher heel tab to protect the Achilles tendon from blisters. In the past, I've run into problems with the height of this tab. Often the heel tab makes the sock come up to a weird height on the ankle, where it starts to look more like a quarter sock. This Bering sock offers protection while still maintaining a true ankle sock height.
Possibly my favorite feature, these socks have a ribbed fit around the arch of the foot. This section of the sock is responsible for keeping the sock in place, which allows for no rubbing in the shoe and cuts down on your chance of blistering. This specific pair gives your foot, "a hug, not a squeeze," as one Amazon reviewer stated, and I couldn't agree more.
These Bering socks hold their shape for a long time, even after lots of sweaty activities and turns in the washing machine. Eventually there is some stretching, I have lost a sock here and there and I've snagged them on something — but I've bought these socks again and again over the years, and it's never because of a lack of quality.
At a budget-friendly price of $3 a pair, these ankle socks are worth a try. And once you take this first step, you'll start to see that good socks make for a good workout, and these are the best.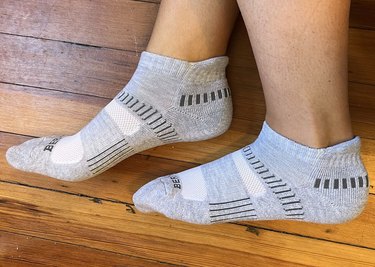 ​​​Ready to upgrade your workouts? Gear up with these inexpensive, comfortable ankle socks.​