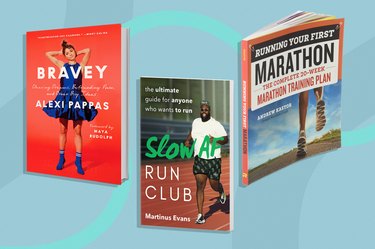 Running is more than a sport; it's a cultural institution that connects people through movement, grit and perseverance. Historically, running has been predominantly white and thin, but more people are looking to change the face of the sport and make sure that ‌everyone‌ feels represented and heard.
Running books are looking different these days, too. In the past, running books have largely covered what you can do to become a faster and more efficient runner. And while these types of running books are essential, real athlete stories about overcoming injury and whistleblowing racism and abuse in the sport are important for building resilience and mobilizing change.
On your next rest day, kick back with one of these illuminating running reads. Whether you're looking to improve your technique, create a better recovery and meal-planning routine or simply want to read an empowering story, these running books will give you inspiration and knowledge to move mindfully and lead your pack.
We surveyed our staff about the best running books, past and present, that appeals to every type of runner in mind. Whether your goal is to run your first mile or first marathon, we made these picks based on the following criteria:
Educational materials backed by research and science
Relevancy to today's social and cultural issues
Powerful and unique storytelling
Speaks to a range of runners of different backgrounds
Provides helpful resources for improving performance
1. Running While Black: Finding Freedom in a Sport That Wasn't Build for Us
In this eye-opening read, activist and author Alison Mariella Désir exposes the deeply racist history of the United States and how it has long prevented Black and brown runners from being seen and included in the sport of running.
By drawing examples from history, like exclusion laws that prohibited Black people from living in Eugene, Oregon, Désir shows us why the running industry and its institutions lack diversity and what we can do to change the system and promote representation of marginalized folks.
"Désir deftly intertwines personal details of her experiences facing bias in the running world with a broader look at the history of how running has excluded athletes from marginalized backgrounds for decades. She challenges hierarchy, privilege and access in the running community and society at large," says Sarah Klein, CPT, LIVESTRONG.com editorial director and editor-in-chief.
"This book inspired me to think more critically of some of the most esteemed running institutions, like the Boston Marathon, and my own privilege to move freely through the world as a white runner."
2. Choosing to Run: A Memoir
You might know professional runner Des Linden for winning the 2018 Boston Marathon and being the first American woman to finish first in the race in 33 years. Linden recounts that day in her moving memoir, waking up to a rainy and windy day in Boston.
But even under tough conditions, Linden found strength and persevered, running faster than she ever could have imagined, eventually crossing the finish line in first. In this page-turner, you'll learn more about how Linden got her start in running, how she trains and what motivates her to run every day.
"I have long admired Linden as an accomplished athlete who doesn't compromise who she is for anyone, but learning more about her grit, race mentality and integrity through this memoir made me appreciate her even more," Klein says.
3. The Longest Race: Inside the Secret World of Abuse, Doping, and Deception on Nike's Elite Running Team
Kara Goucher is one of the most celebrated distance runners who has shattered countless records. Having finished third in the New York City Marathon in 2008 and making history with the fastest marathon debut by an American woman, Goucher has cemented her place in the professional running world.
But behind the facade of success lies a darker side of elite women's running, which she reveals in her memoir. Written with former ‌New York Times‌ sports reporter Mary Pilon, Goucher reveals the culture of abuse and mysogyny that her former coach Alberto Salazar and other Nike executives promoted during her time with the Nike Oregon Project.
Goucher's memoir brings to light the huge disparities in pay between male and female athletes, as well as the lack of respect and support for maternal health and paid leave that female athletes experience at the highest level of the sport. It encourages more female athletes to sound the alarm on the systems of abuse so that there can be radical change.
4. Slow AF Run Club: The Ultimate Guide for Anyone Who Wants to Run
Running is a sport that's built on a hierarchy of athletic ability: The faster you are the better. But running can mean different things to different people. Slow AF Run Club founder Martinus Evans defies all of the industry's conventions and notions of how a runner should look and how fast one should be able to run.
In this empowering book, Evans offers training and recovery tips, as well as gear and nutrition advice, for those who don't fit the so-called running mold. No matter how you look or how fast you can run, there's no reason you shouldn't get out there and start reaping the benefits of running. (Discover our favorite mantras from ‌Slow AF Run Club‌ here.)
"Evans has created the most inclusive book about running I've ever come across. He has welcomed everyone with his honest, humorous tone and packed this book to the brim with helpful, actionable tips for becoming a runner when you didn't think you belonged in the running community," Klein says.
5. Born to Run 2: The Ultimate Training Guide
In this new book, author and journalist Christopher McDougall and running coach Eric Orton break down what it takes to run well, providing practical nutrition advice and recipes, running shoe recommendations, and training tips to help you cross the finish line, whether you're running your first 5K or ultramarathon.
The masterful storytelling that was such a big part of the first ‌Born to Run‌ is also present, providing inspiration alongside the practical.
6. Let Your Mind Run: A Memoir of Thinking My Way to Victory
Running is as much of a mental sport as it is a physical one. In this memoir, Olympic medalist and American record holder in the marathon Deena Kastor gets raw and real about burnout. But by prioritizing your mental health and training your mind to endure challenges with stride, you can gain the competitive edge you need.
Kastor shares how she combats frustration and negativity and builds and strong and resilient mindset. A must for the everyday athlete and professional runner, you'll learn how to take your running to new heights by cultivating positivity.
7. 26 Marathons: What I Learned About Faith, Identity, Running, and Life from My Marathon Career
If you're looking for some inspiration during your marathon training, take it from Meb Keflezighi, who is the only athlete to have won an Olympic medal, the New York City Marathon and the Boston Marathon.
In 2017, Keflezighi cemented his place in long-distance running history during his final marathon: the New York City Marathon, which also happened to be his 26th marathon. This book is a celebration of all the marathons he's ran and the lessons he learned from them.
Throughout ‌26 Marathons‌, Keflezighi takes readers on the road, through every hill and turn on the course, and shares how he overcame the mental and physical obstacles. He also offers his own training and nutrition tips. Whether you're running your first mile or a marathon, every runner will be inspired and empowered by Keflezighi's uplifting accounts and insight.
8. Good for a Girl: A Woman Running in a Man's World
As one of the most decorated American distance runners, Lauren Fleshman has won five NCAA championships at Stanford and two national championships as a pro athlete. Now an activist for female athletes, she's calling for major reform in the sports systems that have been specifically designed by men, and therefore, only cater to men and boys.
Written as both a memoir and critique of the elite sports world, Fleshman lays out research that that shows how girls are more likely to stop playing sports when they hit puberty and how female college athletes are at high risk for injuries, eating disorders and mental health issues.
Filled with her own personal stories, ‌Good for a Girl‌ is Fleshman's ode to running and a call to action for creating a better future for young women in sports.
9. North: Finding My Way While Running the Appalachian Trail
Embark on an unforgettable journey on the Appalachian trail with world-class ultrarunner Scott Jurek. Jurek started his 2,189-mile journey in the spring of 2015 and set out to run about 50 miles a day for seven weeks. Along the way, he reckoned with challenges that pushed him to the mental and physical brink.
Through the support of family, friends and strangers and sheer perseverance, Jurek completed his journey. Although his story is a unique personal challenge, the positivity and resilience he harnessed during his trip is something all runners can learn from.
10. How She Did It: Stories, Advice, and Secrets to Success from Fifty Legendary Distance Runners
If you've ever wondered how female running trailblazers like Paula Radcliffe, Deena Kastor, Brenda Martinez and Molly Seidel overcame challenges that threatened their careers, this is the book for you.
Written by professional distance runner Molly Huddle and college coach Sara Slattery, this book is filled with 50 empowering stories and tips from some of the most celebrated female runners.
You'll learn about their regrets, hard-fought wins and funniest moments. This book also features professional advice on recovery, injury prevention and nutrition from trainers, doctors, nutritionists and sports psychologists to help you become a healthier and more well-rounded female runner.
11. Run Fast. Cook Fast. Eat Slow: Quick-Fix Recipes for Hangry Athletes
Nutrition is the basis for performance and recovery, and these delicious and quick recipes designed by Olympic runner Shalane Flanagan and chef Elyse Kopecky will feel nourishing while still satisfying your cravings.
As the second installment of their best-selling ‌Run Fast. Eat Slow.‌, this cookbook is packed with plenty of convenient and wholesome recipes, including pre-run snacks, recovery breakfasts, on-the-go lunches and super quick dinners. From savory granola to Kopecky and Flanagan's signature superhero muffins to miso butter salmon and pesto tuna melts, this book will inspire you to make time to cook as much as you do to run.
"I bought the very first version of this book when I was running a ton in college and it started changing the way I saw nutrition and food as fuel, rather than something you need to restrict when competing," says Bojana Galic, CPT, associated fitness editor and certified personal trainer.
"I've bought all of Shalane Flanagan and Elyse Kopecky's cookbooks and they have a beautiful variety of recipes, from easy, quick meals to more elaborate dishes. I highly recommend the muffins!"
12. Running Your First Marathon: The Complete 20-Week Marathon Training Plan
Andrew Kastor, head coach for the Mammoth Track Club and coach for Olympic medalists — including his wife, Deena — wrote this ultimate marathon training plan for the everyday runner.
Running a marathon is more than just logging miles. Kastor offers a daily look at what marathon training entails, including strength and endurance workouts, and provides professional advice on how to find the right running gear, prevent injuries, properly fuel your body before, during and after your runs and create a network of support.
13. 80/20 Running: Run Stronger and Race Faster by Training Slower
Sports journalist and best-selling author Matt Fitzgerald explains the performance benefits of doing 80 percent of your runs at a lower intensity and 20 percent at a higher intensity. That's right: To run fast, you have to take things slow.
By making the majority of your runs at a lower intensity, you'll help prevent burnout and feel more rested to do your runs. Fitzgerald lays out the research behind this method and shows you how to apply it for all of your training needs, whether you're running a 5K, 10K, half-marathon or marathon.
14. Science of Running: Analyze Your Technique, Prevent Injury, Revolutionize Your Training
If you're looking for an in-depth read about the science of your running style and an explanation of what happens in your body during the different stages of the running cycle, this book is for you.
Written by sports physiotherapist Chris Napier, this book analyzes the anatomy and physiology behind different running styles and includes customized training programs to help you improve your performance. You'll also find injury prevention, hydration and nutrition tips, as well as strength exercises.
The book is also full of high-quality anatomical illustrations to help you wrap your head around what's happening in the body when you stretch and run.
15. Bravey: Chasing Dreams, Befriending Pain, and Other Big Ideas
Alexi Pappas wears many hats: Olympic athlete, filmmaker, writer and actress. In this emotional memoir, Pappas explains how she discovered running after her mother died by suicide. Her father had her join multiple sports teams to keep her occupied.
Then, in 2016, Pappas, a Greek American, made her Olympic debut in Rio competing for Greece and setting the national record in the 10,000 meters. In the same year, Pappas starred in and directed her first feature film, ‌Tracktown‌.
But not everything is as rosy as it seems. Pappas shares how she suffered from depression after the Olympics. Through her moving story, you'll learn how to overcome obstacles and hardship while celebrating well-deserved wins.
"This memoir is certainly about running and Pappas' experience chasing her Olympic dreams, but it's so much more," Galic says. "She talks about her experience with depression, her mother's suicide and so many of the other hardships she experienced in life, all while training as a pro. Whether you're a runner or not, this book is really enlightening and I highly recommend it."
16. Depression Hates a Moving Target: How Running With My Dog Brought Me Back From the Brink
At 49 years old, Nita Sweeney struggled with chronic depression and wasn't able to jog more than a minute at a time. But when she discovered running as therapy, Sweeney was able to harness her inner strength. And with the support and company of her furry training friend, Sweeney completed her first marathon.
Through this powerful and inspiring story, you'll learn how running can help you overcome challenges and improve your mental health.
"This is a raw and heartfelt story about how running saved Nita Sweeney's life. Sweeney shares how movement got her through some of her toughest life events and an ongoing battle with depression," says Ciara Lucas, CPT, LIVESTRONG.com's health writer and RRCA-certified run coach.