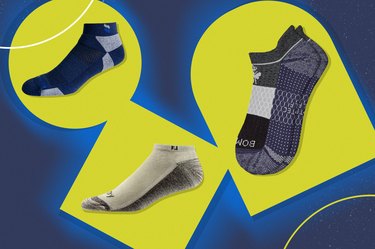 Whether you're hitting the driving range on a warm summer evening or walking 36 holes on a chilly winter weekend, the best golf socks keep feet dry, supported and blister-free — so you can focus on your swing.
Brent Witcher, former professional golfer, says that regardless of handicap, players should choose lightweight, moisture-wicking fabrics with ample cushioning to maximize comfort and performance in all seasons.
And don't even think about going sock-free: "Most golf shoes are leather and would give you blisters, plus you do a lot walking and swinging on uneven terrain, so they would rub badly without socks," says Billy Daniels, former high school golf champion.
Add these expert-approved golf socks to your cart now.
In addition to sharing Witcher, Daniels and other experts' top picks, we read dozens of online reviews to choose the nine best pairs based on the following criteria.
Taking into account their recommendations, we chose the best 10 pairs based on the following criteria. You can learn more about how we cover products here.
Comfort
Value
Durability
Breathability
Style
Design
1. Kentwool Classic Ankle
Witcher has been a longtime fan of these classic, neutral-hued ankle socks. Made of a lightweight merino wool fabric, he says they "keep feet cool or warm, depending on the conditions. The higher ankle style keeps feet dry on even the most humid or rainy days."
The design also reduces the risk of friction that can cause blisters after walking 18 (or more) holes. Plus, with the "unique cushion and support, they can be worn on or off the golf course," he says.
Even better? The stylish socks fit most sizes, with women's and children's options. Stock up on your favorite in advance, as the smaller and larger options sell out quickly.
2. Bombas Golf Ankle Socks
Known for its sustainable practices, Bombas has made our lists of best hiking, running and tennis socks, and its golf socks are equally comfortable and durable.
The brand's proprietary support system provides arch support and all-day comfort for extended days walking the links, while the moisture-wicking, cotton-poly blend yarn is sweat-wicking and breathable. Reinforced toes and heels keep blisters at bay, while under-toe ventilation keeps feet from overheating on the toastiest days.
Craig Barrett, a Houston-based recreational golfer, says he wears these ultra-comfortable socks year-round: "They're great in the heat and humidity and in cold and frost. I love them."
The socks come in men's and women's sizing, although the size range is limited. But with discounts for multi-packs (often in fun, limited-edition colors) the price point is budget-friendly, and you can feel good while shopping: The company donates one pair of socks for each pair purchased. While machine washable, opt for a cold cycle wash to keep them from shrinking.
3. FootJoy ProDry Low Cut
Minneapolis golfer Jeff Shelman says this low-cut style is comfortable and durable. Daniels also wears these socks and says "they're not so thin that my feet slide around inside my shoes, but not so thick that they're hot in the summer."
The socks feature FootJoy's DrySof technology, which lifts moisture from the skin, keeping feet dry and blister-free. A reinforced nylon/lycra heel gives a snug but comfortable fit while providing extra cushioning for delicate heels.
At $10 and under per pair, the socks are affordable while letting your shoes be the star of your golf outfit. "I don't want the socks to steal the thunder from my custom-designed golf shoes with a houndstooth accent," Daniels says.
4. Feetures Elite Light Cushion No Show Tab
Sara Miller, a Chicago-area recreational golfer, says these fashion-forward, no-show socks are her go-to for tee time.
"They're lightweight and breathable, so they don't make you warmer on hot days, and they provide compression and support without being super thick," she says. These socks are made with an eco-friendly yarn and designed with high-density cushioning for arch support.
"Most no-show socks are annoying, but these come up high enough that they stay put on your foot," Miller says. "They're the best socks I own, hands down."
Feetures come in fun, bright colors like plum and coral, but you can also choose from more muted colors like gray and black. While on the pricier side, the brand does offer discounts on 3- and 6-packs.
5. Outdoor Voices Rec Doubles Ankle Sock
Rachelle Medina, a novice golfer and digital program manager in Georgia, says these ankle-length socks are her "go-to pair" every time she heads out to the range or plays a round after work.
"The extra cushioning keeps me comfortable walking hilly courses, and there's always a fun new colorway every few weeks," she says. "Plus, they're the right balance of breathable and cozy, so I can wear them through the summer and fall golf seasons."
While not specifically designed for golf, the all-purpose athletic sock has a reinforced toe and heel for blister protection, plus cushioning on the bottom and a rib around the ankle for a secure fit.
And like all of Outdoor Voices' socks, the brand's RecKnit features odor-wicking properties that keep socks smelling fresh enough to wear into the clubhouse for a celebratory post-round meal. However, sizes are limited to S/M and L/XL (up to a men's 11.5), so finding the perfect fit may be a challenge if your feet fall between or outside this range.
6. G/Fore Ribbed Compression Crew Socks
Try this crew style from G/Fore for fuller coverage on cooler days. The bold, striped patterns are fun and fashionable, while the compression technology boosts circulation — and your endurance on the links.
Mesh venting and antimicrobial fabrics keep odors at bay, while the soft, microfiber blend cushions and cools feet in all seasons. The socks are more expensive than other brands but can double as a recovery tool on your off days.
G/Fore only sells socks in combination sizes like L/XL (up to men's 13), so they may only fit some feet. And while the styles are fun and vibrant, there are very few color options, so buy in bulk if you fall in love with a specific pattern and hue.
7. Mizuno Breath Thermo Racer Mid Sock
Don't let dropping temps keep you from the course. Designed for runners, Mizuno's high-tech Breath Thermo Racer Mid Sock works just as well for golfers.
The brand's patented technology traps body heat to warm feet, and the mid-length design protects the lower body from exposure to cold air and wind. The lightweight sock is also breathable and moisture-wicking, with cushioned arch support.
Don't expect fancy colors or designs — this no-frills sock is available only in black. And at $20 per pair, it's on the pricier side for golf socks, but worth the investment if you play frequently in cold weather.
8. Hot Sox Golf Crew Socks
Do you care more about your look than your scorecard, or just want to add fun to your golf 'fit? Looking for a gift for your favorite golfer? Available in both men's and women's sizes, these crew socks come in several bright golf-themed patterns, many with cheeky sayings like "Talk Birdie To Me."
The crew length protects from the elements in cooler months and stands out when paired with shorts or skirts in warmer ones. What the socks lack in performance-enhancing and comfort features like sweat-wicking and compression fabrics, they make up for with style and fun.
There's a reason Swiftwick is a go-to for runners and cyclists. Like all products in the brand's Aspire line, this ankle-length sock features arch compression to boost circulation and fight fatigue during long hours on the course.
A thin, four-fiber design wicks away sweat, while a mesh footbed provides ventilation to keep feet cool and dry. And a micro-tab heel and arch band support deliver a snug fit — no annoying bunching, slipping or friction that could cause blisters.
The all-gender socks are available in several cuff heights, from no-show to knee-high, in colors ranging from classic white to cobalt blue and neon yellow. They are a bit more expensive than other golf socks, but you can snag a discount by purchasing multipacks.
5 Things to Consider Before Buying
Our experts agree the best golf socks are the ones that make you feel comfortable and secure so that you can focus on your swing. Some players prefer a simple yet breathable no-show style, while others like compression, ankle and crew-length styles for more coverage and support.
Whichever sock you choose should fit snuggly but comfortably to minimize the risk of blisters or hot spots on the toes and ankles.
2. Materials and Performance Features
The best golf socks are made from breathable, sweat-wicking fabrics like merino wool and nylon/spandex blends that keep feet cool and dry, regardless of season. Experts also recommend choosing socks with comfortable, performance-enhancing features like cushioned arches and light compression to support feet and boost circulation.
3. Colors and Unique Features
Are you into basic black ankle socks, bold colors or clever sayings? Golf socks come in a variety of hues, styles and designs, and choosing your pair is often a matter of personal preference. Classic no-shows get the job done, but fun ankle and crew styles let you show some personality and style while protecting lower extremities from the elements on cold and windy days.
While golf socks come in a wide range of men's, women's and unisex sizing, several styles on this list are only available in combination sizes like S/M and L/XL. So, if your feet fall outside these ranges, your options might be limited, or you may have to try a few pairs to find the perfect fit.