On a hike, there are too many factors outside of my control — lightning, bears, snowfields — that could cut short a great day outdoors. So I don't leave the factors within my control up to chance.
And as unglamorous as it may sound, one of those factors is my choice of socks. So when sweat, odor, friction and blisters are absolutely not invited, I always turn to my favorite pair of Bombas hiking socks.
I've been playing sports and generally staying active for decades and writing about fitness for 15 years, so I've had the opportunity to try plenty of socks. Not all of them live up to their sweat-wicking, blister-preventing, heel-cushioning claims.
The beloved Bombas brand has become a go-to for me in many categories — but the quarter hiking socks are the ones I'm routinely sad to find in my dirty laundry.
A Note on Language
Here at LIVESTRONG.com, we believe sex and gender are spectrums, not binaries, and typically use inclusive language that reflects that belief. Socks are largely still marketed to women or to men, but the main difference is size. We encourage you to wear the socks that fit you best.
Features and Functionality
I'm a generally sweaty person and I like to hike in all seasons, so it's crucial that my socks keep me warm and comfortable but not too hot. The moisture-wicking polyester and cotton blend and temperature-regulating vents of this pair do just that.
I've comfortably worn these socks in snow in winter on Mount Monadnock and in summer in Glacier National Park (receipts below), in mud and rain traipsing around my home base in Massachusetts and even in Portland's record-breaking 2021 heat wave.
The heel and toe of each pair — where you're most likely to encounter friction with your boots or sneakers — are reinforced for durability, but without compromising the comfort of a seamless toe.
Speaking of comfort, I've found all Bombas socks hug snugly throughout the arch without feeling constricting. Instead, that hug adds an extra layer of support for my high arches. The level of cushion is just right, too: These socks soften each footfall in the heel and ball of the foot without adding any bulkiness in my boots.
Perhaps the most reliable feature of all is the brand's "sure-fit cuff" — meaning Bombas socks seriously stay up, a must-have for any kind of physical activity. Slouchy socks lead to seriously distracting discomfort for me, even before I veer into blister territory. (I also happen to think Bombas are the only no-show socks that actually stay put.)
I know some Bombas-lovers swear by the calf-height socks; I find the quarter-height to have a more comfortable fit and allow for more breathability. The quarter-height socks rise above the lip of both my trail runners and my hiking boots to provide protection from blisters without digging into my calves or making me too hot.
I've stayed true to this single pair of socks for several years now — which means they've survived countless washes and held up perfectly. Technically, all Bombas socks can be washed in cold water and tumbled dry, but mine have held up through higher heat (hey, I had to get the mud out somehow!).
That staying power definitely makes the $18 price tag worth it. Yes, they're pricier than the average pair of socks, but the average pair of socks wouldn't last through countless wears and washes while maintaining peak comfort, either.
And even though my plain gray pair is still going strong, the latest eye-catching colors and patterns have me ready to add another pair to my rotation. Today you can choose from Husk (cream, gray and red-orange with neon yellow details), Great Lake (blue, orange and gray with neon pink details), or Black (black and gray with neon orange details), as seen below.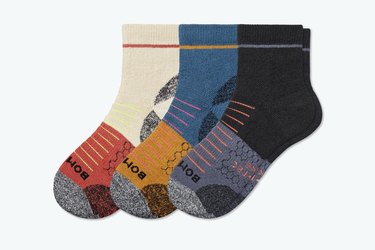 And if you prefer wool hiking socks, Bombas has a merino wool blend option for you, too. These are a little pricier than the polyester and cotton blend, but merino is typically considered your best bet for temperature and moisture control — even though I don't think you'll be disappointed by the poly blend, either.
Get Your Own Pair — or Several
Inevitably, whenever I travel to hike, I end up washing and rewearing my Bombas instead of any of the other hiking socks I've packed. Save yourself the trouble and consider a 3-pack or 6-pack of Bombas socks. (You'll benefit from 5 percent savings on the bundle of six!)
And as always, for every pair purchased, Bombas donates a pair to organizations helping clothe those in need.