Cystic acne, whiteheads and blackheads find their way onto the faces of 40 to 50 million Americans, according to the American Academy of Dermatology. Acne is the most common skin disorder, which means acne-related products are big business. Part of your acne cleansing routine can include a benzoyl peroxide or sulfur facial mask that can sop up oil, kill bacteria and soothe inflamed skin. However, masks alone can't cure acne scars, pits and lesions. In-office procedures performed by board-certified dermatologists can reduce acne scars and leave you with a smoother complexion.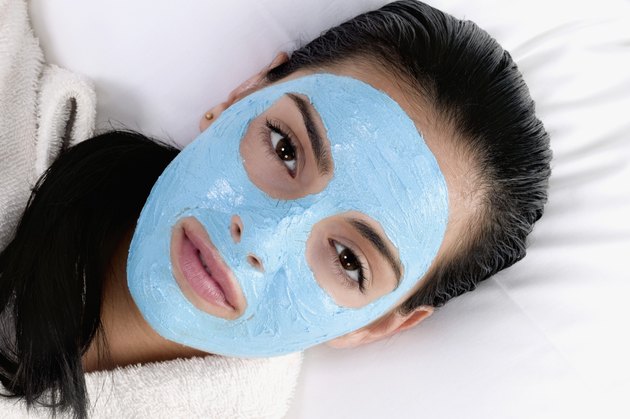 What a Mask Offers
Acne scars are deep indentations that are usually caused by extracting your own blemishes and blackheads. They can only be cured with laser treatment, according to New York-based, board-certified dermatologist Dr. Whitney Bowe. However, using an acne-fighting facial mask with glycolic or salicylic acid can help exfoliate the skin and bring dark skin cells -- left from blemish extractions -- to the surface. Also, masks with retinoids can brighten acne-marked skin. Try an over-the-counter remedy like RoC Retinol Correxion Instant Facial Smoother or Shiseido's Benefiance Pure Retinol Intensive Revitalizing Face Mask.
Facts About Fillers and Chemical Peels
Fillers injected by a dermatologist can diminish the appearance of acne scars, but the result is only temporary -- lasting anywhere from three to six months -- and not meant to cure acne scars. An injection of collagen, hyaluronic acid, polymethylmethacrylate or another filler is used to plump up the scars to smooth out your complexion. One filler option can last from one to three years, but it requires the use of your own fat obtained through liposuction. Another option is a chemical peel, which removes the top layer of skin with a high-potency acid. Over the following couple of weeks, new skin appears. It's crucial you stay out of the sun during this time to ward off infection and scarring.
Microdermabrasion
Microdermabrasion is reserved for mild acne scarring and consists of a small machine that removes the top layer of your skin through a series of office visits. As the skin repairs itself, surface scars become less visible. The side effect from this procedure is mild; you may look slightly pink or swollen for a couple of days.
Look to Laser
Laser resurfacing uses light to heal the acne scars. The laser burns the epidermis off while warming the dermis layer underneath. New collagen fibers are formed, and the results are a smoother complexion and tighter skin. You are given a sedative or local anesthesia, and the procedure can take anywhere from minutes to hours. The risks of this scar-removal option include an undesirable lightening or darkening of your natural skin color, infection, inflammation and scarring. Recovery time depends on the extent of the treatment, but you can count on redness, mild discomfort and possible itching.