Brain tumors are abnormal masses in the area of the brain. They may be small or large, grow slow or fast, and be cancerous or benign. Tumors can be found in many different areas of the brain; symptoms are dependent on the location of the tumor and whether it is affecting vital brain structures. Symptoms such as seizures and headaches are commonly known, but other signs may be more subtle. It is important to seek a medical evaluation for brain tumor symptoms.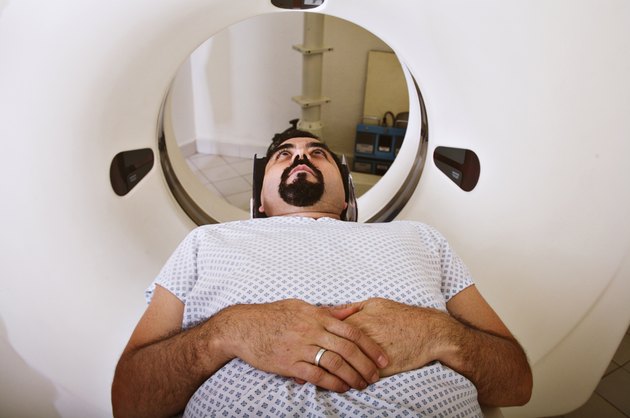 Erectile Dysfunction
Erectile dysfunction is an uncommon symptom of a brain tumor. Merck Manual explains that a tumor affecting the pituitary gland can cause an increase in the level of a hormone called prolactin. Increased prolactin can lead to impotence or erectile dysfunction in males.
Incontinence
When an individual becomes incontinent of the bladder or bowel, a brain tumor is not the first consideration. A growing tumor can, however, cause sudden incontinence as it interferes with normal brain activity. A tumor such as this may be in one of several locations in the brain.
Change in Taste and Smell
Other subtle symptoms of a brain tumor include a change in taste or smell. The senses may not work at all, or they may be altered. It may be impossible to smell certain odors, or they may smell differently than they did previously. Foods may have no taste or a different taste than normal.
Hearing Changes
A subtle change in hearing may signal the presence of a brain tumor. Hearing sounds of low volume may become difficult. An irritating noise may be sensed in one ear--this often sounds like a buzzing or a ringing. Hearing loss may become more pronounced as the tumor grows.
Lack of Periods
A woman of child-bearing age who suddenly stops having a menstrual cycle is unlikely to consider a brain tumor as the source. Occasionally, a tumor near the pituitary gland can be the cause of this change. Her breasts may also begin to swell and leak a small amount of milk.
Hand Tremor
Another subtle sign of a brain tumor is a hand tremor, according to MedlinePlus, a website of the National Institutes of Health. One-sided muscle weakness may be present as well, causing the individual to fall, or drop heavy objects.
Obesity
Occasionally, a brain tumor is the root cause of obesity. These tumors affect the pituitary gland.This symptom is often attributed to another cause until the tumor grows and causes other symptoms as well.
Loss of Inhibition
Brain tumors can cause personality changes, including a loss of inhibition. The sufferer may say things that are out of character and engage in risky behaviors he would normally avoid. The sufferer is usually oblivious to the change, while his family and friends may be very concerned.