There are many types of allergens that can cause a physical reaction in your body; however, food allergies can be some of the most dangerous because the allergen is consumed. An estimated 6 to 8 percent of children under age 3 and about 4 percent of adults have some kind of food allergy, states the Mayo Clinic. Common food allergens include milk, shellfish, peanuts and eggs, but other foods, such as garlic, can cause mild to serious reactions depending on how your body processes them.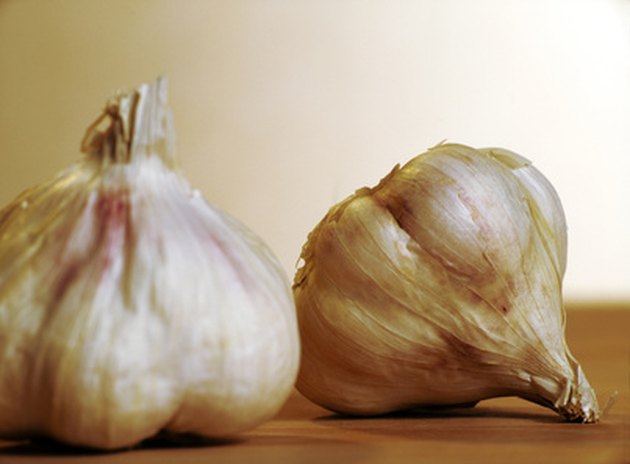 Skin
One way that your body can signal that it's allergic to garlic is how your skin reacts to contact with the food. Common allergic reactions on the skin include swelling, hives and rashes, or itching. These skin reactions will vary depending on how severely allergic you are to the garlic and how much of the food you were exposed to.
Swelling
Besides the skin, swelling can also occur on the face, lips, mouth, tongue and throat in reaction to exposure to garlic. In some cases swelling can be so severe that it affects your ability to breathe. This can lead to wheezing, dizziness, a feeling of being lightheaded and even passing out due to lack of oxygen to the body.
Digestive Reaction
Symptoms of an allergic reaction to garlic can also be felt in your digestive tract as the food makes its way through your body. These symptoms can include vomiting, abdominal pain and cramping, diarrhea and general nausea. These symptoms typically occur within a few minutes of eating the food, states the Journal of the American Medical Association.
Anaphylaxis
The most severe reaction that can occur with a garlic allergy is anaphylaxis. Many who have a food allergy will never experience anaphylaxis, but if you have a family history of the reaction, or if you have experienced the reaction before, you are at risk, according to the Food Allergy and Anaphylaxis Network. Symptoms of anaphylaxis include a noticeable drop in blood pressure, trouble breathing due to constriction of the airways, increased pulse, dizziness and fainting. Anaphylaxis must be treated immediately as it can cause you to go into coma, or can even kill you.
Is This an Emergency?
If you are experiencing serious medical symptoms, seek emergency treatment immediately.