If you have eczema, also known as dermatitis, you may already understand the importance of skin care in your treatment plan. Washing and moisturizing the dry, itchy skin associated with this skin disorder can help manage symptoms, but irritants such as soap can be a trigger for eczema. Guidelines published in the 2014 issue of "Journal of the American Academy of Dermatology" outline that soap should be avoided in people with atopic dermatitis, the most common type of eczema. According to these guidelines, limited use of nonsoap skin cleansers is acceptable.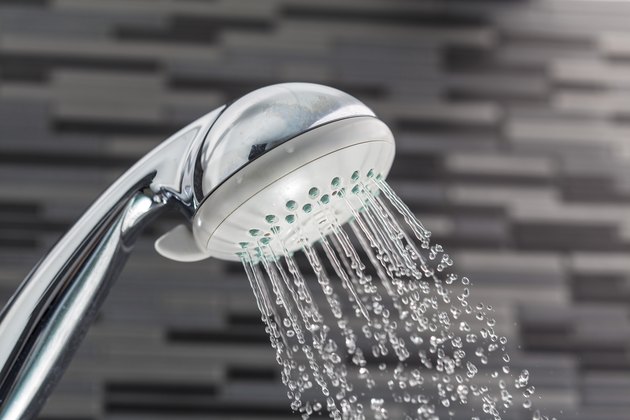 The Problem With Soap
The inflammation that occurs with eczema disrupts the barrier of the outer skin layer, making skin dry, red and itchy, and increasing the skin's susceptibility to irritants, such as soap. Regular soap also contains surfactants, which help break down dirt and debris on the skin. But these surfactants can strip the skin of moisture and aggravate eczema. According to the American Academy of Allergy and Immunology, most soap has a pH of 9 or 10 -- more alkaline compared to the skin's pH of 4 to 5. Any soap that increases the skin's pH level, including bar soaps, shower gels, cosmetic washes and bubble bath, can worsen eczema symptoms.
How to Cleanse Skin
Bathing is an important part of eczema therapy, as baths or showers can hydrate the skin and remove dirt, allergens, dead skin and other irritants. The American Academy of Dermatology (AAD) recommends up to once daily bathing, which can be accomplished by soaking in a bathtub or showering and rinsing the skin with warm water. According to the AAD, the application of moisturizer right after bathing is an essential step to ensure the skin stays hydrated -- a step which can improve symptoms and reduce the need for medications.
Using Alternative Cleansers
Water alone may not be effective for cleaning certain areas, such as the armpits and groin. The AAD recommends limited use of nonsoap cleansers, which include products that are neutral to low pH, hypoallergenic and fragrance free. These cleansers are milder than regular soap, yet should be used only as needed. These nonsoap products may be labeled as gentle cleansers for sensitive skin, and may be marketed for people with eczema or dermatitis. However, if any of these cleansers causes the skin to feel irritated, stop using it and either try other nonsoap options or seek advice from your doctor.
Precautions
If you have eczema, be sure to discuss your treatment plan with your doctor. In addition to skin care, eczema management may involve the use of medications, skin creams and light therapy. While symptoms common with this skin condition include dry, itchy skin, redness and swelling, in severe cases, oozing and bleeding may occur. If your rash bleeds or becomes raw, or if your skin has any signs of infection such as pus or red streaks, seek medical attention.