The inner ear is made up of two distinct, fluid-filled parts: the vestibular labyrinth, which contains a series of loops called the semicircular canals, and the cochlea. The cochlea transmits the sound waves captured by the outer ear into electrical impulses that travel to your brain along the auditory nerves. The semicircular canals help you perceive and maintain your balance. If either of these inner ear organs are damaged or infected, you will experience a number of characteristic signs and symptoms related to hearing and balance disorders.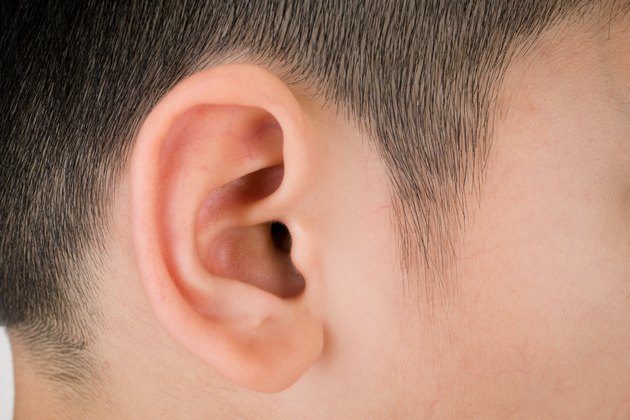 Consult a physician if you are experiencing these symptoms for a professional diagnosis.
Dizziness
One of the most common symptoms of an inner ear problem is dizziness, sometimes accompanied by nausea and vomiting. Individuals experiencing inner ear-related dizziness often cannot balance well enough to walk without assistance. In some cases, the dizziness takes the form of vertigo, the sensation that the person is spinning in circles or moving even when they are sitting or lying still. The vertigo may worsen sharply when you stand or walk and bring on violent episodes of vomiting.
The dizziness can be caused by an infection that upsets the balance of the fluid within the organ structures in the inner ear, by fluid build-up or by calcium carbonate crystals that break loose within the inner ear organs and stimulate sensory cells into falsely perceiving motion.
Hearing Loss
Temporary or fluctuating hearing loss can result from viral ear infections that cause the tissue lining of the inner ear organs to swell and trap fluid behind the eardrum. The build-up of fluid makes the ear less able to effectively absorb and transmit sound wave information to the auditory nerves. In the same way, Meniere's Disease, a condition that causes the inner ear to fill with excessive fluid, can cause intermittent hearing loss.
Pain
A persistent earache is another common symptom of inner ear problems. The pain normally stems from the pressure of fluid build-up within the semicircular canals. Along with the earache, you might also experience a fever ranging between 100 to 102 degrees and an uncomfortable feeling of pressure or blockage within your ear. If the fluid build-up is left untreated, the pain can continue to increase until the eardrum ruptures, releasing a thin stream of blood and pus from the ear.
Tinnitus
Tinnitus is a persistent ringing, buzzing or monotonous noise in the ears when there aren't any noises of that sort present. Some people have described the noises as a roaring or clicking, while for others, it is more of a clicking or faint whistling sound. Tinnitus can be caused by a wide variety of inner ear conditions, including damage to the sensory hairs lining the inner ear organs caused by excessive exposure to loud noises, large amounts of uncleaned earwax and the build-up of inner ear fluid caused by Meniere's disease.
Is This an Emergency?
If you are experiencing serious medical symptoms, seek emergency treatment immediately.