A rash under the breast usually develops when the lower breast rests against the skin below. Trapped moisture, perspiration and friction between the skin of the breast and chest wall causes an inflammatory rash called intertrigo. The affected skin can become secondarily infected with yeast, bacteria, or both. Women with breasts large enough to rest against the skin below and those with diabetes are at increased risk for intertrigo of the breast. Home and over-the-counter remedies can help treat breast intertrigo, although prescription medications might be needed if the rash is complicated by a bacterial or yeast infection.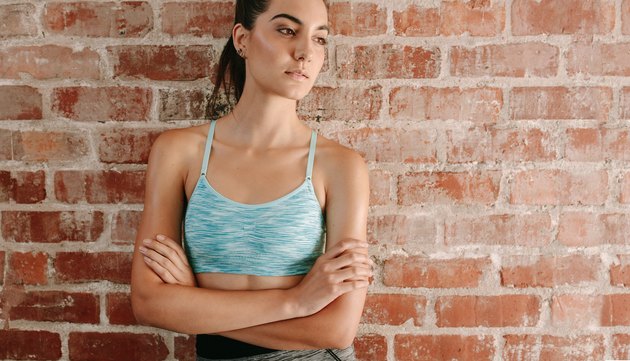 Drying Agents
Excess moisture is an inciting factor for breast intertrigo, so keeping the area dry is a cornerstone of treatment. This includes strategies such as staying cool, wearing loose clothing made of breathable fabrics, and drying the skin beneath your breasts completely after bathing. Drying agents, such as absorbent body or antiperspirant powder, also help keep the area dry throughout the day. Cornstarch, however, is not a good choice as it can promote the growth of yeast.
To keep the area dry during the day, especially in hot weather, you might try placing a piece of soft, absorbent fabric below each breast. Some products are available over the counter that can be used for this purpose, such as ABD pads and silver-infused fabric (InterDry). Avoid paper products -- such as paper towels, or facial or toilet tissue -- which can further irritate the inflamed skin. Fabric or pads used to absorb perspiration must be changed when they become moist.
Astringent Solution and Barrier Agents
If the area below your breast is chafed to the point of oozing or weeping, application of a compress soaked in astringent solution (Domeboro) can help dry the overly-hydrated skin, and reduce inflammation and itchiness. Astringent compresses are typically applied for 15 to 30 minutes up to 3 times per day.
Friction is another key factor in the development of intertrigo below the breast. Barrier products can help protect the chafed, irritated skin and reduce further skin-to-skin friction. Zinc oxide creams or ointments, such as products used for diaper rash, are good options, as is petroleum jelly. However, it can be challenging to keep these products from spotting your clothes. Wearing a loose-fitting cotton or linen blouse might help you overcome this potential drawback. Otherwise, you can apply a barrier cream or lotion only when you're home, wearing "at-home only" clothes that you can easily launder.
Other Tips
Skin affected by intertrigo is damaged and fragile. Therefore, you want to treat the area gently. Using a mild skin cleanser rather than soap reduces the risk of further irritating the inflamed skin. When drying the area, pat the skin rather than rubbing it with a towel. You can use a hairdryer set to the cool or air-only setting to thoroughly dry the skin below your breasts after bathing.
Wearing a well-fitting bra is also important. A bra with good support limits friction between your breasts and the skin below them. It's also important that the band below the cups is not too tight, which can be very uncomfortable when you have intertrigo. Finally, it's best to select a bra made of breathable or wicking fabric so it doesn't hold moisture against your skin when you perspire. After exercising or working out, change into a dry bra and shirt as soon as possible.
When To Seek Medical Care
If you catch it early, you might be able to treat an intertrigo rash below your breast at home. However, secondary infection with yeast or, less commonly, bacteria occurs frequently with this condition. When such an infection develops, medical evaluation and treatment are needed. Additionally, there are other skin conditions that appear similar to intertrigo but are treated differently. Thus, it's important to get an accurate diagnosis.
See you doctor as soon as possible if you have a rash below your breast that fails to respond to home treatment within 5 to 7 days. Seek immediate medical care if you develop a rash below your breast accompanied by any warning signs and symptoms, including: -- fever or chills -- rapidly spreading redness or warmth of the affected skin -- drainage of pus -- a lump at the site of the rash
Reviewed and revised by: Tina M. St. John, M.D.
Is This an Emergency?
If you are experiencing serious medical symptoms, seek emergency treatment immediately.