The skin surrounding your eyes is very delicate. Due to its thin nature and constant exposure, the skin in this area has a higher risk of developing several types of skin problems. However, with the right skincare, you can combat some of these common problems to restore the natural health and appearance of your under-eye skin.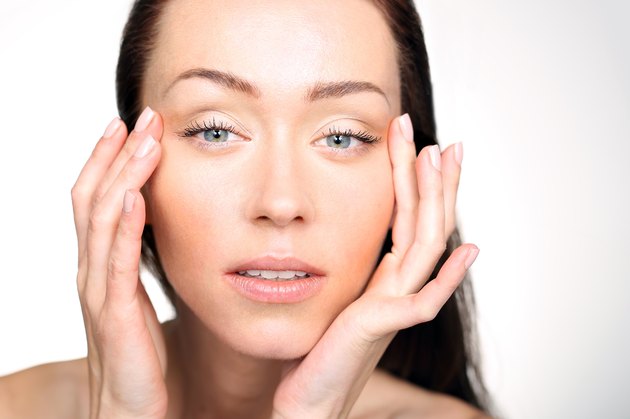 Poor Skin Tone
A build-up of dead skin cells can leave your under-eye area looking dull. Exposure to damaging environmental factors like the sun can create surface skin discolorations like brown spots, which can be especially common on the thin skin around your eyes. Chemical exfoliants like alpha hydroxy acid and beta hydroxy acid can help get rid of the top layer of skin cells to reduce dullness and lighten discolorations, reports skincare expert Paula Begoun. Such exfoliants are better than granular, scrubbing exfoliants, which are often too irritating for the sensitive skin near your eyes.
Puffy Bags
Mild skin inflammation leads to bags under your eyes, which not only detract from your eyes' appearance but can also make the application of makeup more difficult. Although such bags aren't usually a symptom of a medical condition, the Mayo Clinic says they can still cause "cosmetic concern." To reduce bags, the clinic suggests avoiding allergies that may increase puffiness or congestion in your face; sleeping with your head raised above your body; and cool compresses like a moist cloth chilled in the refrigerator.
Dry Skin
The areas immediately surrounding your eyes are sometimes missed when you apply your facial moisturizer, and their delicate nature can make them especially prone to dehydration. Dry skin under your eyes can make the area more susceptible to damage, may take on an irritated and red appearance and may make fine lines and wrinkles more apparent. Begoun suggests using a moisturizer with effective hydrating ingredients, like glycerin.
Dark Circles
Dark circles are a relatively common skin problem for the eye area, according to Columbia University's health services. The university says they're often caused by veins that darken the surface of the skin because the skin is especially thin and transparent near your eyes. For the best results, the university says over-the-counter eye creams fomulated with alpha hydroxy acids, retinol, vitamin K or vitamin C can help contract blood vessels and thicken your skin for a less-dark look.
Is This an Emergency?
If you are experiencing serious medical symptoms, seek emergency treatment immediately.