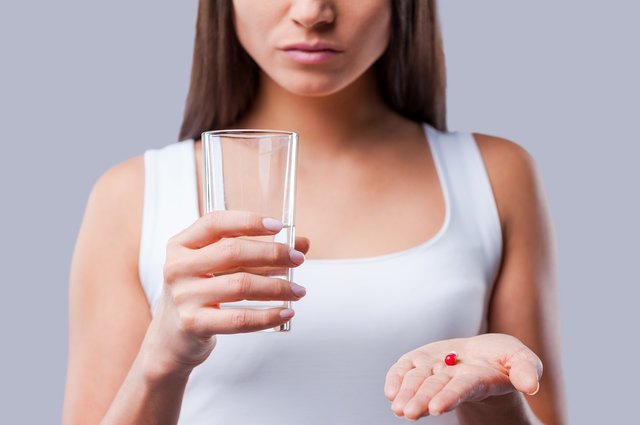 Cystic acne represents the most stubborn, difficult to treat acne. These bumps are large and deep, having a diameter of 5mm or more, and are filled with pus. In addition to their unsightly appearance, they can be painful and cause scarring. Although over-the-counter treatments can be helpful for most acne sufferers, they are typically ineffective at treating cystic acne. For those who experience this severe form of acne, seeking medical intervention is important because the acne can damage the skin.
Oral Antibiotics
Oral antibiotics have been an effective remedy for cystic acne for many years. These antibiotics work to reduce inflammation by treating contributing factors to acne, such as P. acnes, a bacteria linked to acne lesions. To begin treatment, high doses of the oral antibiotic are prescribed. Then, as acne diminishes, the medication is reduced. The amount of time a patient uses oral antibiotics may vary, though treatments typically last for a few months and should clear the acne for a period of time, perhaps even years.
Probiotics
Those taking an oral antibiotic to treat cystic acne should also take a probiotic, because good bacteria can be destroyed along with harmful bacteria. The result for some women can be yeast infections. A probiotic will help add the bacteria back into the body, balancing the system. Probiotics are widely available at health food stores.
Resistance
When taking oral antibiotics, there is a danger that the bacteria will become resistant to the antibiotic over time. When this occurs, the acne may once again persist. The next step of treatment may be another approach altogether or trying a new antibiotic. The following antibiotics are common treatments: erythromycin, tetracycline and its derivatives, doxycycline and minocycline. All of these medications have proved effective for the treatment of severe acne, though various side effects are possible and should be discussed with your doctor. The biggest danger is posed in pregnancy, as birth defects can result from the use of certain medications.
Topical Antibiotics
Topical antibiotic treatments for cystic acne are applied to the skin and may cause irritation with initial use. Reducing the application of these medications until the skin adjusts is often effective. Such medications are thought to work by reducing inflammation and fighting P. acnes. Commonly prescribed topical antibiotics include erythromycin and clindamycin.
Bacterial Resistance
Bacterial resistance may also occur with topical antibiotics. To reduce the chances, topical remedies may contain or be used in combination with benzoyl peroxide, to which bacteria have not shown resistance. Benzoyl peroxide is available in over-the-counter formulations, as well as prescription strength, in a variety of products, including creams, lotions, soaps and cleansers.