The skin of the eyelids is the thinnest of the body, making this area highly vulnerable to irritation. Eyelid irritation commonly provokes itchiness, which can be intensely aggravating and potentially vision-endangering. Many disorders can cause eyelid itching, including genetic and acquired skin conditions, allergies and infections. Some causes of eyelid itchiness are limited disorders that quickly resolve with treatment. Other causes are chronic and require ongoing treatment to control the underlying disorder and minimize symptoms.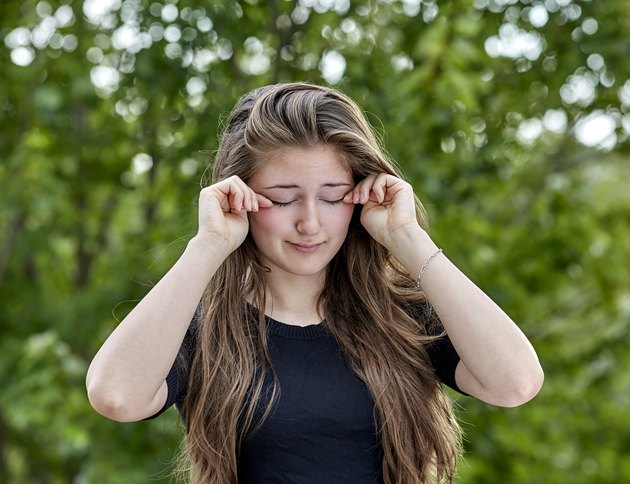 Contact Dermatitis
Contact dermatitis describes an inflammatory skin reaction caused by direct contact with an inciting substance. This condition commonly affects the eyelids and is divided into allergic and irritant types. With allergic contact dermatitis, the provoking substance provokes an allergic skin reaction. Common causes include airborne allergens such as pollen, pet dander, dust mite debris, mold spores and antibiotic ointments. With irritant contact dermatitis, the triggering substance causes a nonallergic inflammatory skin reaction. Common culprits include perfumes, facial cosmetics, hair care products, artificial nails, nail polish and eye drops.
Typical symptoms of contact dermatitis of the eyelids include redness, itchiness and a fine scaly rash. Dark circles around the eyes can also occur. Avoiding contact with substances that trigger eye contact dermatitis is a cornerstone of managing this disorder. Antihistamine and anti-inflammatory eye drops may prove useful in relieving the symptoms of allergic eyelid contact dermatitis.
Atopic Dermatitis
Atopic dermatitis, or hereditary eczema, refers to a chronic skin condition characterized by dry, scaly, intensely itchy skin patches caused by increased skin reactivity to substances in the environment. Eyelid involvement occurs commonly in people with atopic dermatitis. Atopic dermatitis of the eyelids typically causes inflammation of the outer and inner eyelids. The itching may be so intense that the front of the eye, or the cornea, becomes deformed due to persistent rubbing of the eyes. Eyelid itching due to atopic dermatitis is often accompanied by burning, redness, mild swelling, excessive tearing and eye discharge. The eyelid skin might appear darker or lighter than the surrounding skin, and other areas of the skin typically also exhibit signs of eczema.
Treatment for atopic dermatitis of the eyelids may involve use of a gentle moisturizer and topical medication. Antihistamines might be recommended to control itchiness.
Blepharitis
Chronic inflammation of the eyelids, or blepharitis, is a frequent cause of eyelid itching. Causes of blepharitis include seborrheic dermatitis, staphylococcal infection and abnormal function of the oil glands of the eyelids. In addition to eyelid itching, common symptoms of blepharitis include: -- eye dryness, redness and scratchiness -- excessive tearing and burning -- flake-like crusts in the eyelashes that resemble dandruff
Blepharitis is a chronic condition, requiring long-term management. Warm compresses and eyelid scrubs are cornerstones of treatment for blepharitis. Oral or topical antibiotics may also be used to control this disorder.
Ocular Rosacea
Rosacea is a chronic disorder characterized by redness and swelling of the skin. The face is the primary site for rosacea, but the ears, scalp, neck, back and chest may also be involved. Approximately half of those with rosacea have eye involvement, known as ocular rosacea. Symptoms may include itching, burning, excessive tearing, redness, scratchiness and eye discharge. The surface of the eye itself may be involved with ocular rosacea, leading to blurry vision.
Treatment usually involves warm compresses, eyelid scrubs and extended treatment with oral antibiotics. Use of artificial tears can help relieve eye dryness, which often occurs with ocular rosacea.
When To Seek Medical Care
Determining the cause of eyelid itchiness can be challenging because the symptoms associated with the varying causative disorders significantly overlap. See your doctor as soon as possible if you experience frequent, recurring or worsening eyelid itchiness. Seek urgent medical evaluation if your eye itchiness is accompanied by blurry vision, eye pain, spreading redness or swelling around the eyes, or pus-like eye discharge.