Enlarged pores and blackheads not only muddy your complexion but also make your skin look more aged. Remove blackheads and clean clogged pores with an all-natural homemade paste made from simple household ingredients that you likely have in your pantry already. This recipe not only thoroughly cleans your face without harsh chemicals or exfoliation, but it also takes the sting out of insect bites and is an effective cleanser, as well. It is a gentle cleansing recipe that has been a home remedy for generations.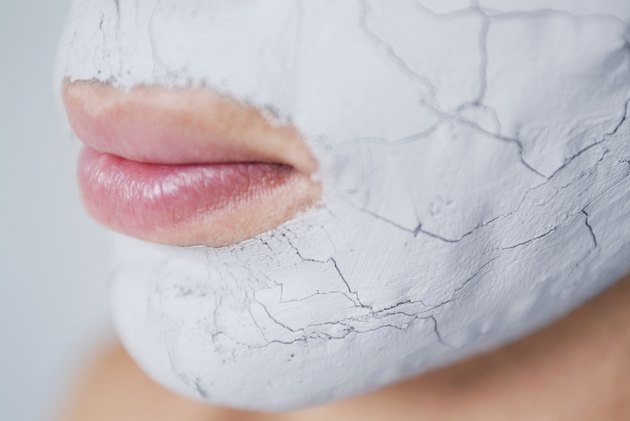 Baking Soda and Vinegar Blackhead Cleansing Facial Mask
Step 1
Measure the 2 tbsp. baking soda into the bowl.
Step 2
Pour the apple cider vinegar into the baking soda in small parts, to keep the mixture from bubbling over.
Step 3
Mix the two ingredients together until thoroughly blended.
Step 4
Using your fingers, spread a thick layer of paste over your face. Avoid the eye area.
Step 5
Lie back and relax for 20 to 30 minutes while the mask sets. Keep your head as still as possible to prevent drying chunks of the mask from falling off of your face.
Step 6
Rinse with warm water until no visible signs of the baking soda and vinegar mask remain on your face.
Step 7
Cleanse and rinse any unseen mask residue from your face with your normal daily facial cleanser.
Step 8
Pat dry with clean, soft towel.
Things You'll Need
2 tbsp. baking soda

2 tbsp. apple cider vinegar

Bowl

Measuring spoon
Tip
Prevent a mess by applying this mask while leaning over a sink or in the shower or bathtub as it tends to fall in chunks as you apply the mixture to your face.
As the mask begins to dry, it will also begin to itch. This itching sensation is not due to skin irritation but is an indication that the mixture is soaking up your facial impurities and pulling them away from your skin.
Warning
For sensitive skin, do not rub the baking soda and vinegar mixture into the skin but rinse from the face without scrubbing, as this may cause irritation.