Ringworm, or tinea infection, is a general term used to describe a group of common infections caused by several different types of fungus. These infections can occur on your body, scalp, beard, groin or on your feet or toes, where the condition is commonly known as athlete's foot. Steps to promote ringworm healing may include a variety of self-care options, in addition to the use of prescription medications.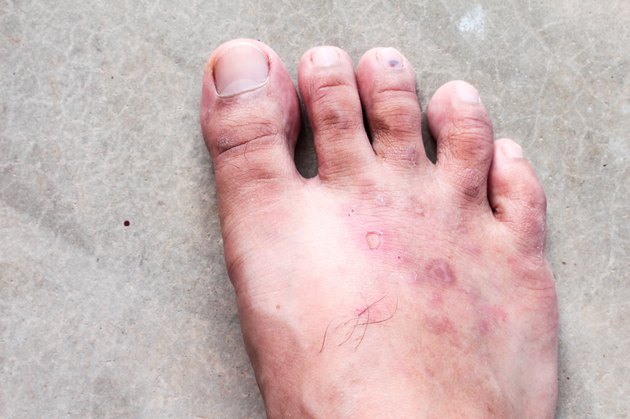 Self-Care
The U.S. National Library of Medicine's Medline Plus lists general self-care options for ringworm healing that include cleaning and drying of your affected skin and daily washing of your bed linen and any clothes you sleep in. You may also use nonprescription lotions, creams or powders designed to fight fungal infections. Active ingredients in these products may include clotrimazole, miconazole or other effective compounds. In many cases, use of self-care methods can heal a ringworm infection within a period of roughly four weeks.
Body Ringworm
To heal ringworm infections on your body, you will need to continue treatment with antifungal gels, lotions or creams for seven to 10 days after all signs of infection have disappeared, the Merck Manuals Online Medical Library reports. In some cases, anti-fungal treatments may not produce any symptom reduction for several days. If this is true for you, your doctor may recommend the use of nonprescription or prescription corticosteroids to reduce ringworm-related itching. If you develop a bacterial infection and associated skin oozing, your doctor may also prescribe topical or oral antibiotics.
Athlete's Foot
If you develop athlete's foot, you can promote healing by changing your socks frequently, wearing open-toed shoes and thoroughly drying the spaces between your toes after showering or bathing, according to the Merck Manuals. Typically, topical medications provide the safest forms of healing, but your doctor may recommend the use of oral anti-fungal medications, such as terbinafine or itraconazole, for persistent or recurring cases of the condition. In some cases, the combined use of oral and topical medications may help reduce recurring athlete's foot symptoms.
Scalp Ringworm
If you develop scalp ringworm, your doctor may recommend the use of itraconazole or terbinafine to promote healing, the Merck Manuals note. If you develop severe inflammation or a pus-filled patch of skin called a kerion, your doctor may also recommend the use of a corticosteroid called prednisone. In some cases, your child may also develop a case of scalp ringworm. If this occurs, potential treatment options include shampoo that contains selenium sulfide, topical anti-fungal medications and an oral anti-fungal medication called griseofulvin.
Additional Ringworm Forms
If you develop groin ringworm, or jock itch, options to promote healing include various topical antifungals, in addition to oral antifungals designed to combat widespread infections and inflammation, the Merck Manuals explain. If you develop ringworm in your facial hair, treatment options include oral doses of terbinafine, griseofulvin or itraconazole, in addition to short-term use of prednisone. Please note that beard ringworm is rare, and most infections in this area result from bacteria rather than fungal sources.