You can improve your muscular tone and strength level at any age, including in your 70s. Regular exercise can help you to stay active and independent while also making everyday activities like grocery shopping and playing with grandchildren easier to perform. Strength training can also help alleviate some of the common conditions that come with aging, such as weight gain, stiff joints and depression. Don't let your age keep you from becoming fit.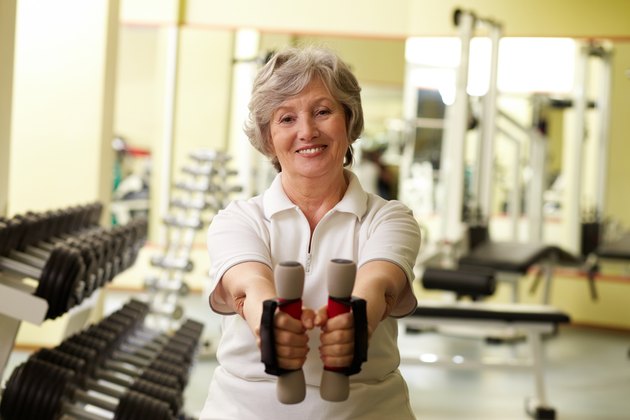 Step 1
Consult with a physician before starting a new strength-training or exercise program. Your doctor can help you determine the proper amount of exercise for your health and fitness level. Tell your doctor about all medications that you are currently taking and about any medical conditions or injuries that you may have.
Step 2
Warm up at the beginning of every exercise session with at least five to 10 minutes of light cardio, such as walking, stationary cycling or using the elliptical trainer.
Step 3
Ease into your fitness program slowly; attempting too much too soon can cause injuries. Increase the intensity of your workouts every two to three weeks with gradual progressions of either heavier resistance levels or more complex exercises. For example, start with beginner-level exercises if you have been sedentary for a while, such as squats with a chair for support, wall pushups and toe raises. Increase the challenge after a couple of weeks by progressing to exercises like biceps curls, step-ups, overhead presses and hip abductions. Continue this pattern and regularly add new and challenging exercises to your fitness routine.
Step 4
Complete at least two full-body, strength-training sessions per week. Allow 48 hours rest between sessions to give your muscles a chance to recover. Mix up your resistance by incorporating free weights, machines, cable pulleys, resistance bands and medicine balls into your workouts. For example, you may use dumbbells for biceps curls during one workout and then possibly resistance bands the next time you train. Keep the effort constant; all forms of resistance should yield eight to 12 repetitions per set with proper form.
Step 5
Develop a proper breathing pattern; holding your breath while lifting weights can negatively affect aspects of your health, such as your blood pressure. Avoid jerking or dropping the weights; lift the weight for a count of three, hold the contraction at the top of the exercise for one count and then take another three counts to return to starting position.
Step 6
Stretch at the end of your training session for approximately 10 to 15 minutes; stretching helps to elongate the muscles and aid with recovery. Target every muscle group that you exercised that day. Hold each stretch for 20 to 30 seconds. Breathe in through your nose for a count of five while stretching and exhale through your mouth, also for a count of five.
Things You'll Need
Free weights

Machines

Cable pulleys

Resistance bands

Medicine balls
Tip
Seek the assistance of a personal trainer to determine the appropriate exercises for your fitness level, along with how to execute them with proper form.